And just like that, they're back at home full time for two weeks! No more homeschooling, though, thank goodness. But it's almost harder to think of ways to keep little holidaymakers busy, so we thought we'd round up a few ideas of ways to pass the time – some inspired by our recent hat collections! Also, food is involved, so there's always that satisfying moment at the end of the activity where you get to enjoy the fruits of your supervision which makes it all more worthwhile!

MAKE
Winter trees craft
A cute wintery craft. Get the kids outside to gather some sticks. Then they can glue them to a piece of coloured paper into a tree shape and then use a cotton tip to add some white paint as snowy dots. The perfect craft inspired by our Scout winter print hat!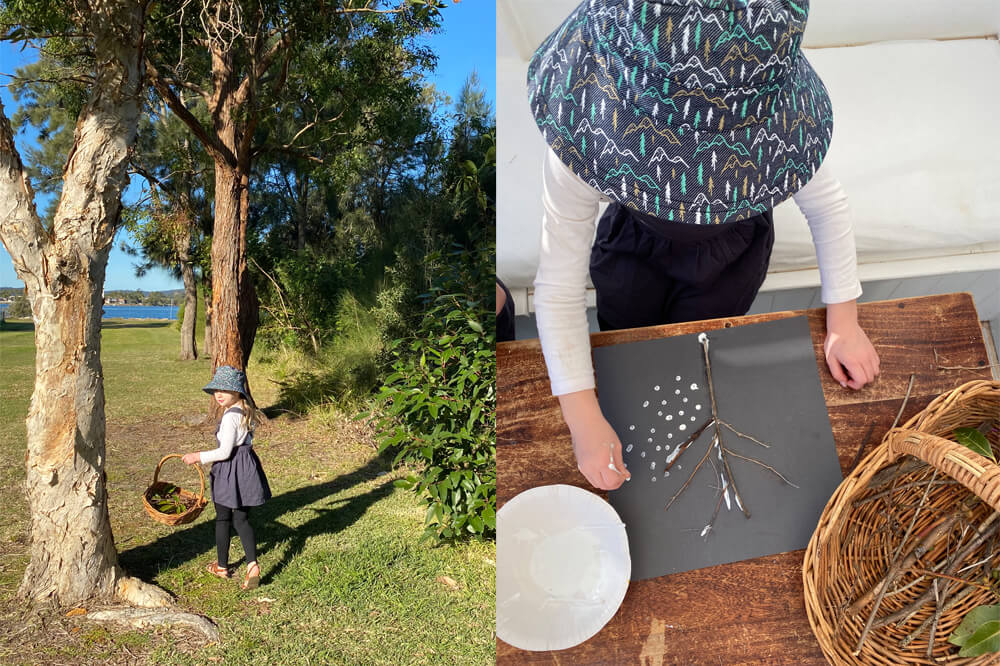 Paper flowers


These pretty tissue paper flowers look great strung together as a garland in a kids room, as a party banner, or wrapped around a gift wrapped in brown paper. You could even use a pipe cleaner or florist's wire instead of string at the end and then wrap onto collected sticks and pop in a vase around the house to brighten up in lieu of spring flowers which still have a while to arrive!
You'll need: tissue paper, string, scissors
1. Cut several layers of tissue paper into a four-petal flower.
2. Layer three of the tissue paper flowers on top of each other, slightly askew.
3. Fold the three layers in half gently.
4. Fold again into quarters and pinch the bottom.
5. Tie string to the pinched bottom and repeat, tying each flower along the same string.
Snowflake reveal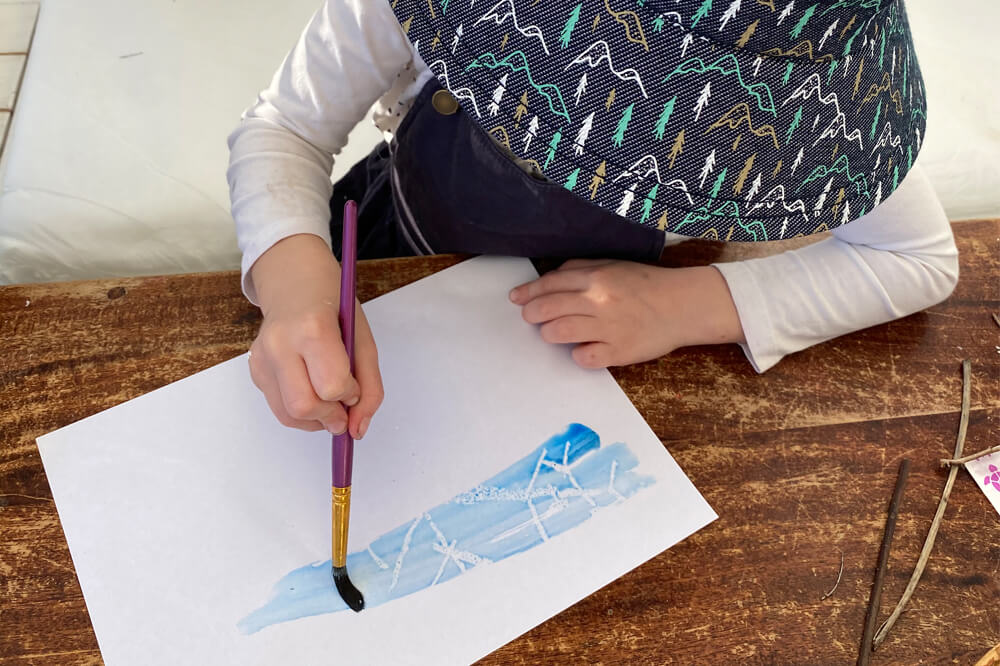 The whole "reveal" thing is huge in Kidland at the moment. Even Barbie is in on the action with a doll you put in water to "reveal" her look. Here is a simple craft version. Draw snowflakes on a white piece of paper with a white candle – it's hard to see what you're doing but that's the fun. Once you're done, paint over the paper with watercolour paints to "reveal" your artwork. This is a fun one to do with someone else – write a secret message or draw a picture and let the siblings uncover the surprise.
BAKE

Sugar cookies
The best sugar cookie recipe around – we use it for making mini gingerbread houses at Christmas time too (cause kids don't always love the taste of gingerbread). Maybe make the dough a few hours before you tell the kids they can make cookies as there is a bit of a wait time and no one wants that harassing "can we make them NOW?" demands!
Ingredients
225g butter, softened
85g cream cheese, softened
½ cup caster sugar
1 egg
pinch of salt
2 tsp vanilla extract
3 cups plain flour

Method
1. Use a mixer to cream the butter and cream cheese until fluffy. Add sugar and mix.
2. Add egg, salt and vanilla and mix well.
3. Add flour to create dough. Wrap dough in Cling Wrap and place in fridge to chill for several hours or overnight.
4. Roll out on a floured surface and cut out cookies in shape of your choice. Don't make them too thin. Bake on a tray covered in baking paper at 190C until the edges start to brown. Remove onto cooling rack and let cool completely before icing.
5. Ice with royal icing and decorate however you desire!

Royal icing
1 egg white
1.5 cups icing sugar + extra in case
Milk
Vanilla extract
Food colouring

Whisk the egg white and a few drops of vanilla extract and slowly add the icing sugar until you have a smooth, slow-moving liquid. Add more icing sugar if too runny; add a drop or two of milk if too thick. Add food colouring

Cheat's version of sugar cookies
If you prefer to NOT bake, you'll love this news. Both the bee and koala biscuits (inspired by our bee print and koala beanies) were actually made on Arnott's biscuits! The bees are on Milk Arrowroots and the Koalas on Marie biscuits. You're welcome!
Campfire treats
Make while camping OR in the kitchen if you're not the camping type. There is lots of yumminess in this blog post.
DO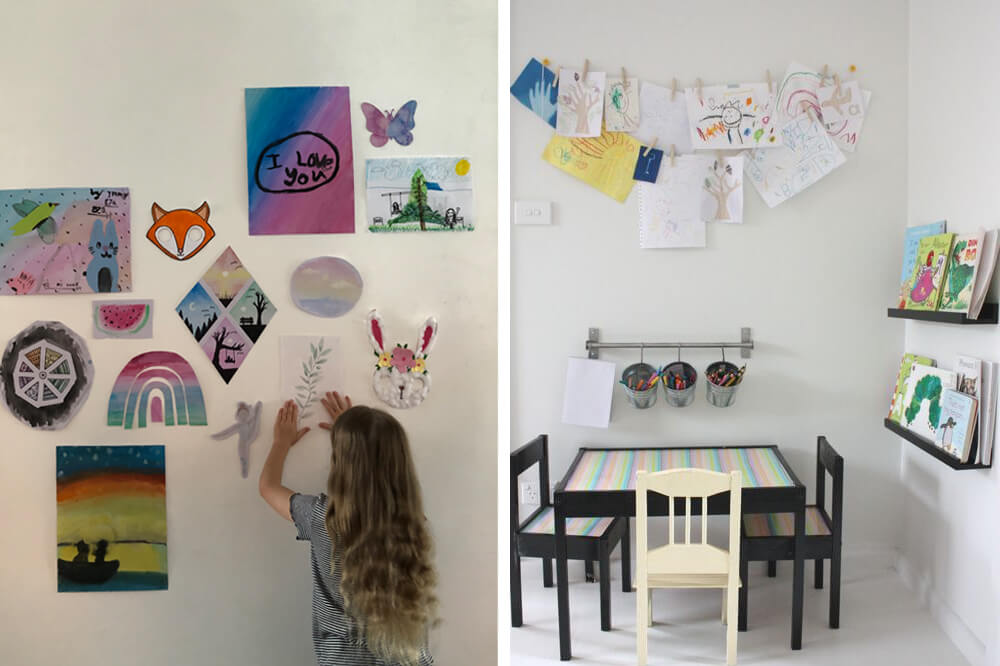 Make a gallery wall of all the arts and crafts the kids make this holiday. Blu-Tak them to an empty wall gallery-style (it might make them more determined to sit still and do more crafts if they get to be displayed for a period of time!). Or make a simple display with a piece of string tied to two nails or hooks and have the kids peg their pictures on.
Let them paint with their cars! Pour some different coloured poster paints onto paper plates, grab some large sheets of butcher's paper or a roll of paper and let them drive their cars and trucks through the paint and then all over the paper. Pop a big bucket of warm soapy water nearby, some sponges and a hand towels, and they can give them a carwash when they're done!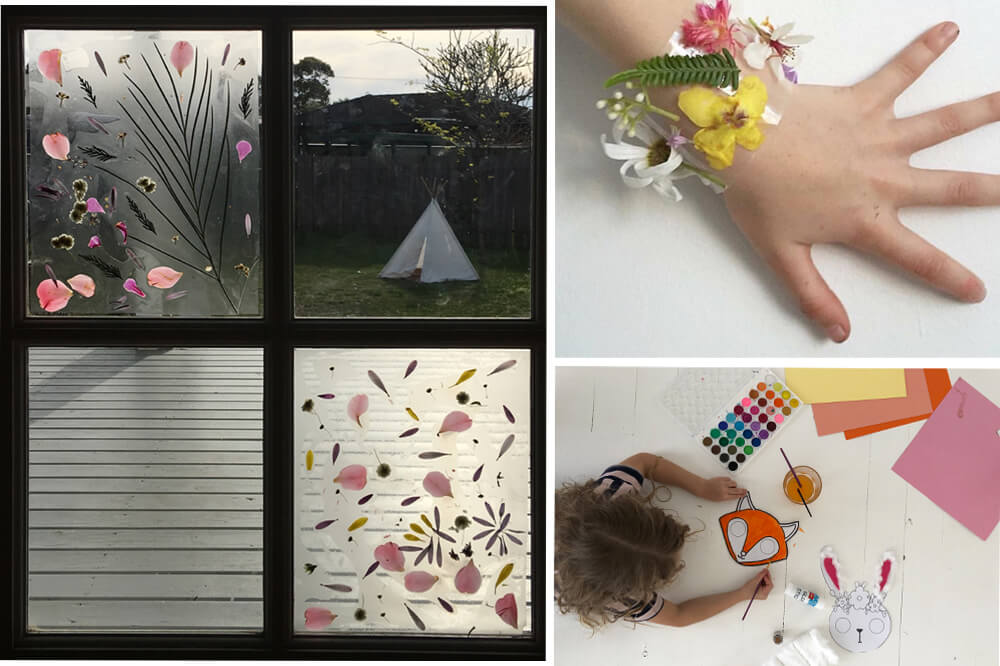 Go for a nature walk and collect bits and bobs for various projects along the way. Wrap some packaging tape around their wrist so it's sticky-side out and have them press on some flowers and leaves they find on their walk. Collect autumn leaves to draw faces on or to make people out of. You could press all the pretty flowers and leaves onto some contact paper and stick onto windows for a wintery window wonderland for a week or so.
Download and print out some of our printables. We've got colouring in sheets, masks and a Bingo travelling game too. Should keep them busy for a few minutes while you enjoy an uninterrupted cuppa.
Monster Truck colouring in

Want more ideas? Check out these posts with some other ways to enjoy the holidays.
Ways to survive a road trip with kids