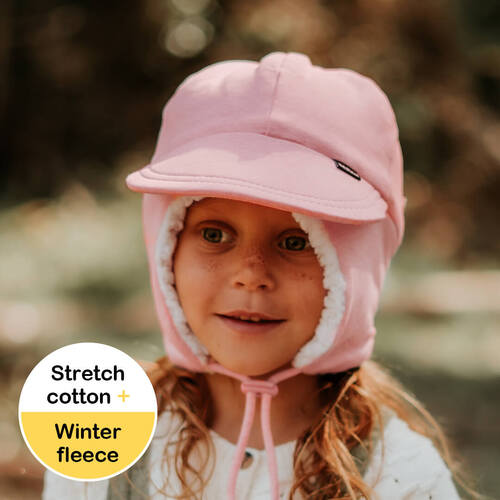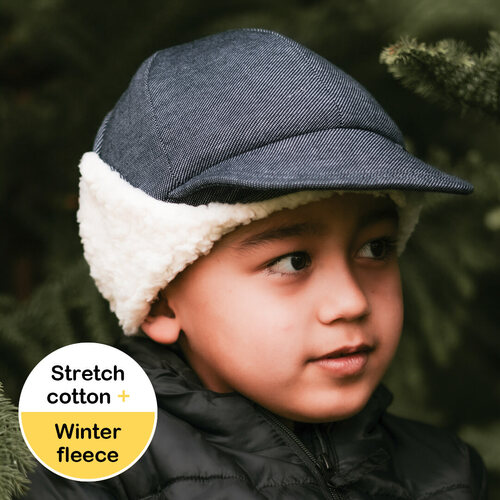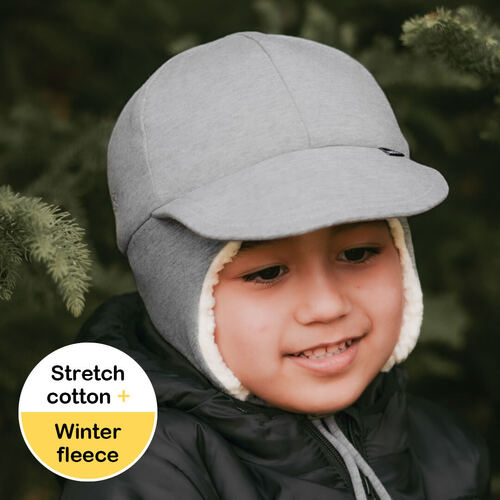 ---
We know kids love to play and be adventurous – and they don't want anything to get in their way of fun! So be sure to start their day off right with the sun protection they need for non-stop play – including a hat. Even in winter! Yes, they'll need a winter hat! Despite the cold, there are really only four weeks in the year when the UV is low enough that it's safe to venture outside without sun protection. All other times? That sun will burn! And because children's skin is more susceptible to sun burn than an adults, any UV exposure in their early years greatly increases the risk of them developing skin cancer later on, and we don't wish that on anyone, having experienced it a lot in the Bedhead team.
For those sunny but chilly days, our Fleecy Legionnaire style is ideal for the bigger kids. The brim protects from sun and glare, while the Sherpa-style lining ensures heads are nice and toasty. The ear flaps can be worn down for extra warmth or buttoned up for a little more airflow. Complete the wintery cosy factor with matching winter fleecy legionnaire hat or koala beanie and fingerless mittens – they match the colours of our Fleecy legionnaire hat perfectly.
We recommend children begin their hat journey from the day they're born to set them up with the skills to being sun safe for life. The younger they start wearing baby hats or beanies, the more accustomed they become to having something on their heads, so by the time they are able to move their little hands, hats will be as normal daily attire as a nappy and they won't pull them off. And it is much more preferable to have happy hat wearers than grumpy ones! Introducing hats to older children can be a little more of a struggle. The best way to get them excited about wearing a hat is to choose a pattern or colour that reflects their personality. We have a huge range of bucket and broadbrim hats in fun, stylish prints like dinosaurs, flowers, transport and dogs, as well as bright and cheery colours. In fact, if your child chooses the print themselves, they'll be much more inclined to wear it without fuss. You can find some other helpful tips and tricks to getting kids to keep their hats on in our blog post.
Our job is to help parents like you protect your precious kids any time they're in the sun – whatever the time of year or occasion. All of our kids sun hats and rash vests are rated UPF50+ Excellent Protection for your peace of mind. Our Originals Classic bucket and ponytail bucket hats are perfect for everyday wear at the park, the backyard, at daycare or just out and about on a walk. Filter by colour, gender or size to find your child's perfect hat! If you like your prints and colours a little more muted, check out our Heritage range of hats. For waterplay, we suggest our Swim Classic and Ponytail Bucket hats and rashies. To find out what style is best for your baby's age and development, you might like to read this detailed blog post.
Protecting your child from the harmful damage caused by the sun isn't an option, it's a necessity. Shop Bedhead Hats for the best collection of kids sun hats in Australia.