It's around this time of year the camping grounds are usually packed with holidaymakers setting up camp and roasting their marshmallows on the fire. And then a little bug came along and ruined everyone's plans.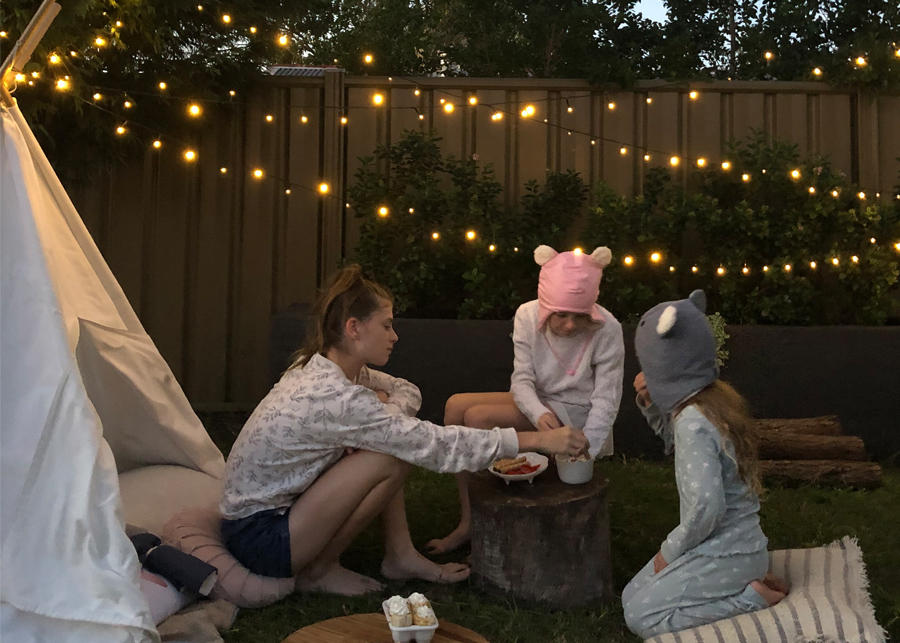 But being confined to the home doesn't mean you can't camp! Neither does not having a backyard! Do you have a sheet in your house? An oven? Then you can bring the magic of the campgrounds to wherever it is you call home. In fact, you can make it super luxe and cosy – you might never go rough camping again! Whatever you do, the kids will LOVE it.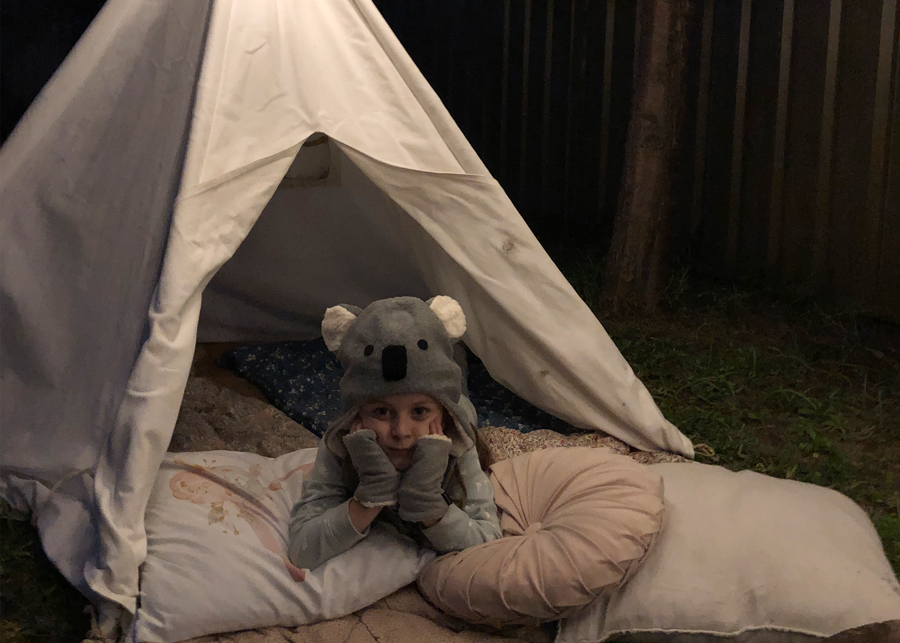 Tent ideas
If you can't pitch a tent in your backyard or open up the caravan for a night, here are some other ideas.

+ Transform the dining table: A couple of sheets, a mattress or two on the floor and pillows and doonas will transform your dining area to a cosy cave.
+ Teepee living: Kids got a tepee? Set it up outside for the afternoon and yummy treats and campfire games, then move it into the living room for sleep time. Fill with cushions, sleeping bags, throws and blankets.
+ DIY sheet shack: The kids can turn anything into a tent. Let them find where they want to build their night's hotel and hand them a pile of sheets and pegs to do so! Then they can outfit it as they see fit!
+ Newspaper tent: This is an activity that might take them all day to do – yay for time-wasting! Use hooks on your walls or stick on 3M hooks to various walls and attach string to at least three hooks on two walls to create a triangular "house" (or go for four hooks for a bigger space). Then get the kids to tape sheets of newspaper together to create "walls" and have them fold over the string and stick in place, letting the rest of the sheet hang done. They can cut out windows and a door and cover the entire string with paper to create a house. Divide the house with more string to create more rooms if space allows and then let them eat in the "dining room", watch a movie in the "living room" and sleep in the "bedroom"!

It's all in the details…
+ If you're inside, your fanciest cushions, throws and rugs will take your camping to a glamping level!
+ Dig out your Christmas lights and string them up outside in the trees, inside your tent or through the living room so the kids can sleep under the stars.
+ Got a fire pit? Willing to make one? While Bunnings do sell them (check these out from $39 ), if you've got some spare bricks, pavers or rocks hanging around you could make your own on cleared ground. Check out Pinterest for great ideas.
+ If you have some logs or stumps hanging around, use those as stools, toast your marshmallows on sticks from the garden and don't forget to pile on the winter warmers like our beanies and gloves to really set the mood!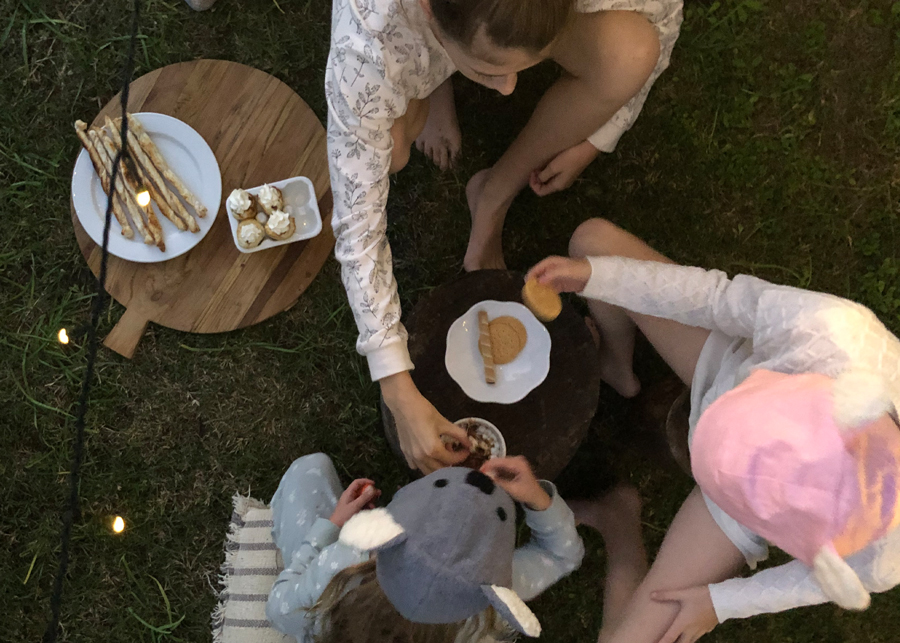 Easy, yummy campfire treats (with or without the fire)
We know not everyone has the capacity to whip up a fire and toast their treats! So, these oven-friendly recipes will mean everyone can enjoy campfire desserts!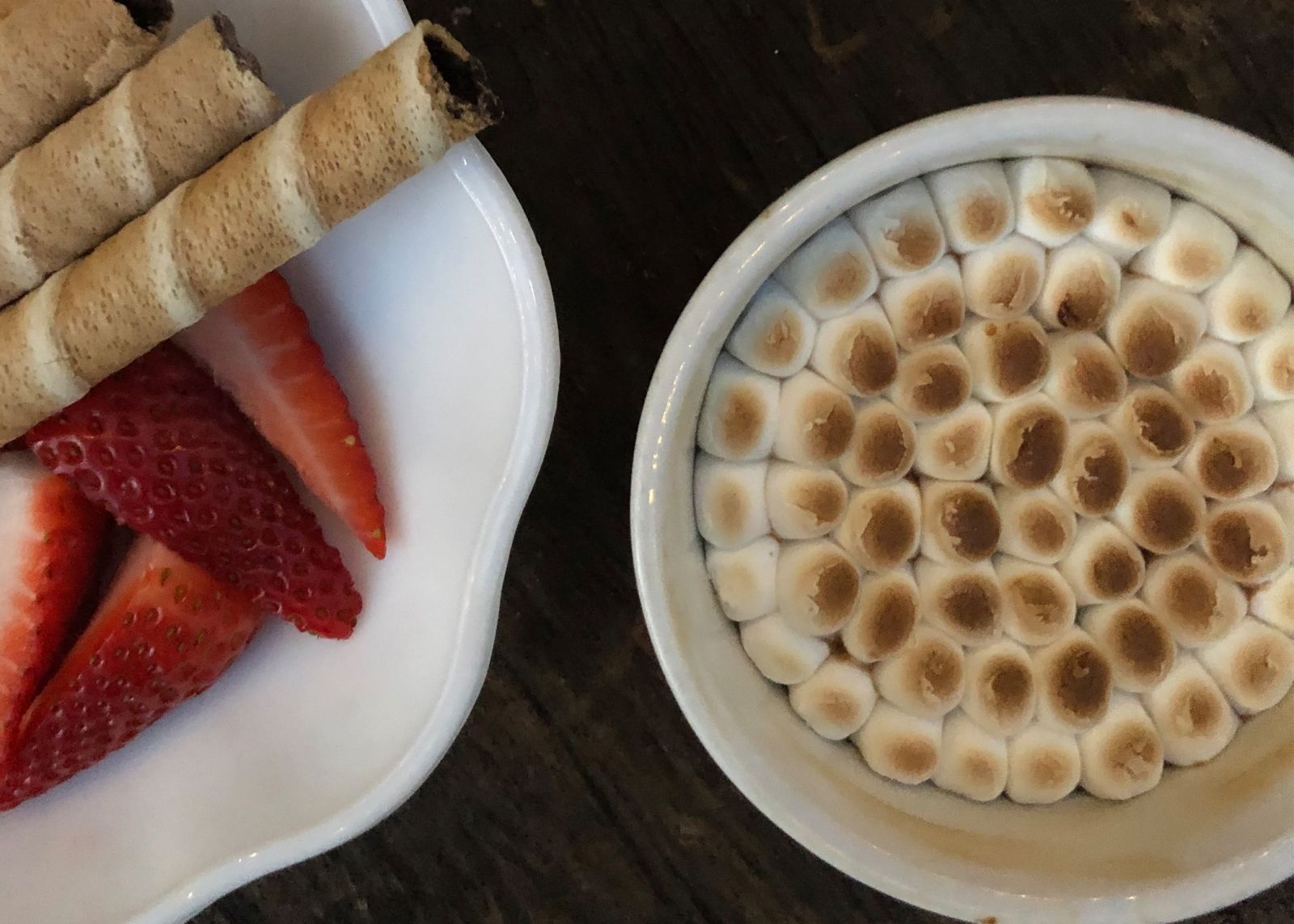 'SMORES DIP
You'll need:
Milk chocolate bits
Thickened cream
Golden syrup (not essential, but does give it a more real fudge texture)
Mini marshmallows
Strawberries, plain biscuits, wafers to dip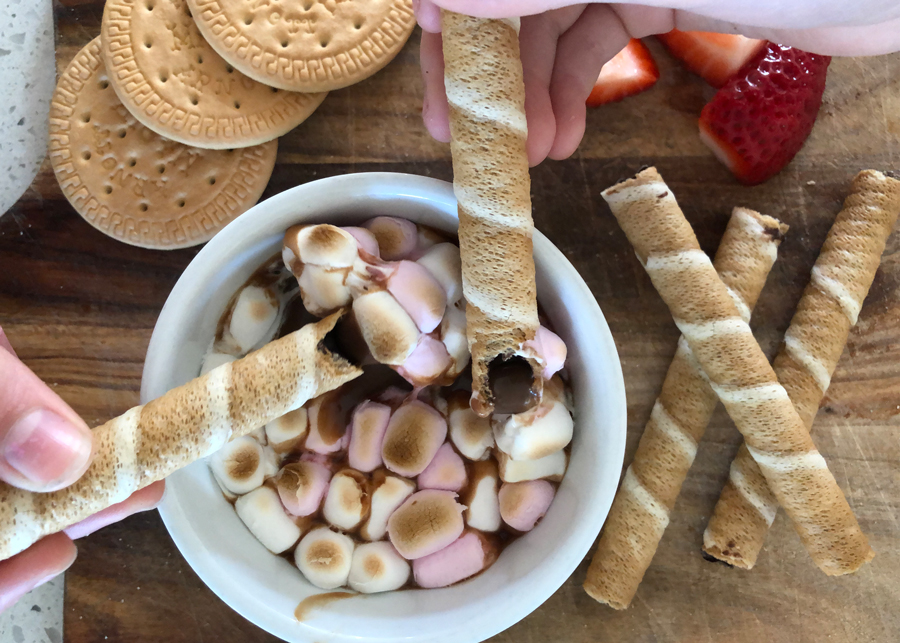 How to:
In a microwave bowl add about ¼ cup thickened cream and ¼ choc chip bits plus a good squirt of golden syrup. Pop in microwave for about 40 seconds and stir to combine into a fudge. Pour into oven-safe ramekin and top with mini marshmallows – kind of squish them into the fudge for the neat look (top) or sprinkle randomly on top for a much easier version (above - yes, we did it twice. Taste-testing was required!). Place into oven for a few minutes until the tops of the marshmallows are golden brown. Dip strawberries, wafer sticks, biscuits into the mushy yumminess and enjoy!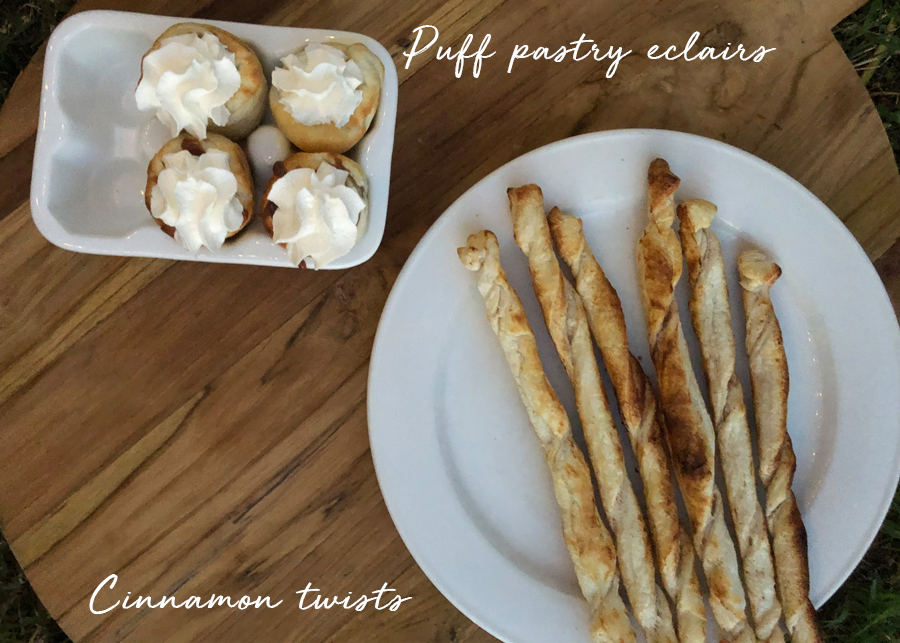 CINNAMON TWISTS
You'll need:
Puff pastry sheets
Cinnamon sugar
Milk
How to:
Cut puff pastry into strips around 1.5-2cm in width. Brush with milk and sprinkle cinnamon sugar over them. Gently twist and squeeze the ends to keep in place. Lie on an oven tray lined with baking paper and brush over each twist with milk again and sprinkle more cinnamon on top. Place in oven until pastry has puffed and slightly browned. Turn over each twist and repeat with milk and cinnamon sugar if required. Remove once slightly browned.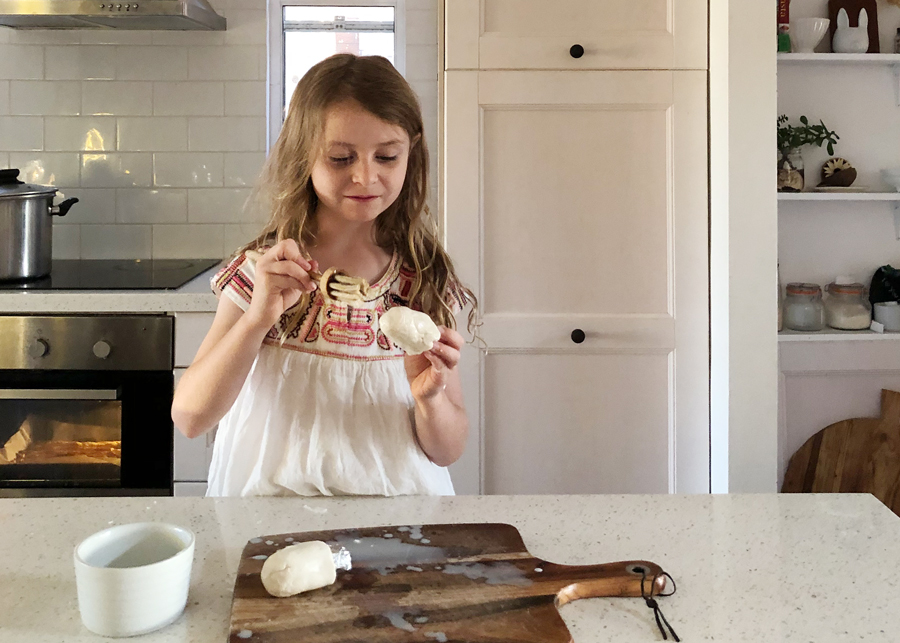 PUFF PASTRY ECLAIRS
You'll need:
Puff pastry sheets
Custard
Chocolate fudge or sauce (see our 'Smores dip recipe above)
Whipped cream
How to:
Scrunch some aluminium foil into an oblong ball and wrap a square of puff pastry around it, molding it loosely around the foil so it can be removed easily once it's cooked into a "cup". Brush with milk and place on an oven try lined with baking paper. Pop in oven until pastry has puffed and is golden brown. Turn over if other sides needs a bit more "puffing". Remove and let cool. Pour in a little custard, then some chocolate fudge or sauce, and top with whipped cream.