The world has changed – suddenly and dramatically. And all those things you never thought you could do – work from home, homeschool, not have a break from your kids, not get out and explore – are now the everyday. It's hard, it's strange, it's exhausting! But it's essential – and as a species, we're pretty good at adapting! We've outlined three key areas to help you survive the great coronavirus lockdown of 2020. It'll help you all keep sane and well while keeping safe too.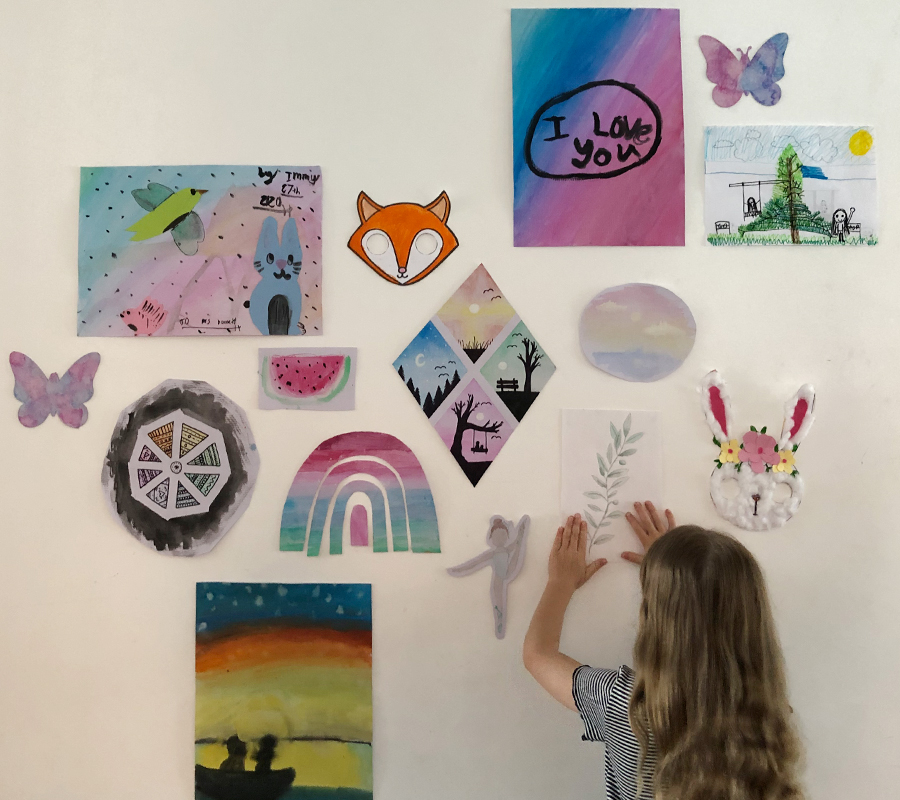 Keeping well
The importance of safe sunshine and fresh air There is nothing like a good dose of the great outdoors to lift moods and shake off the blahs. The sunshine – for all its nastiness – is one of the best ways to boost your immune system. So take some time each day to hit up your backyard, balcony or even sit by the window to get that all-important dose of vitamin D and fresh air. Get out and have a picnic lunch with the kids. Work-from-home outside while the little ones watch a movie in the shade. Get the whole family together and plant your winter veggies – now, more than ever, a home-grown garden is quite the advantage! Life may have confined some of us to a smaller world, but make that backyard your sanity-saver - our range of hats for newborns up to teens will keep your little ones sun-safe.
Get yourself – and the kids - moving In most states, only a few reasons are acceptable for being outside – and exercise is one of them. So put that privilege to good use and go for a walk, bike ride, bushwalk or swim. Kick the ball around the empty field near your house, have races on the grass or do some yoga on the beach. If the weather, sickness or total isolation prevents you from heading outside, look to the internet for indoor workouts – you can find a home-version workout for every kind of sport or fitness if you look hard enough. We especially like the short and sweet routines found via Instagram Live. Find someone you can relate to and ease into it. Some faves: @kayla_itsines @morganfaithsuarez @caraloren and @tracyandersonmethod Some of the bigger gyms and fitness stars are also offering free trial versions of their platforms which might be another way to give it a go. For a more random assortment to find the perfect workout for you, try these hashtags: #athomeworkout #athomefitness #fitmom #homeworkout #noequipmentworkout
To get the kids moving and grooving, try Cosmic Kids Yoga Go Noodle and PE with Joe Wicks
Keeping busy
Things to make + do
Schoolwork, exercise and technology only goes so far. It's time to put on your creative hat and get plenty of activities ready for the kids to do! Stock up on those craft supplies if you can, but don't feel like you need to be constantly forking out $$. Many of the best crafts can be made with nature and items you likely already have at home. We've written before of great inexpensive things to make and do including painting the fence with water, having a newspaper "snowball" fight or dress design competition, having mummy races, making a play, costumes and props and recording it, and making time capsules – in fact, now is the best time to create a time capsule for those future generations. What an incredibly strange time we're experiencing…
Here is our previous post with a link to a download with 101 things to make and do (not all will be allowed or possible right now, but many are incredibly relevant)
Fun things to download + print
Can one have too many printables at a time like this? Probably not! We've joined the printable party and made some masks and colouring-in sheets of some of our recent prints.
Blossom mask + colouring in
Foxy mask + colouring in
Rainbow colouring in + window art
Koala colouring in
Dogs colouring in
Tropical colouring in
Monster trucks
For more great printables, check out the collages at Pete Cromer , the indoor and outdoor scavenger hunts at Olliella and the beautiful, creative ideas at Mer Mag.
Keeping connected
There's never been a better time in history to be confined to the home. Thanks to the internet, we can still remain close while isolating, distancing or in full-blown quarantine. Here are a few ways to stay connected with absent lover ones and the wider community.
Get involved in community initiatives We saw how the Italians made music on their balconies and the daily clap in the UK for the exhausted health workers on the front line. In Australia, we're putting out teddy bears for the kids to go on a bear hunt while they're out exercising. We're also putting rainbows in windows as a symbol of hope and love, and in our area, at 5pm the kids have a Cooee chain across several suburbs. Join your local area's community groups on Facebook to see what activities and community events are near to you.
Join fun challenges to keep your mind busy: Many businesses and brands on Instagram are holding daily or weekly quarantine challenges – including our own #bedheadbackyardchallenge You could join the #30dayhomechallenge #interiorsaddictheartyourhome and the original Photo a Day #FMSPAD
Introduce the grandparents to the wonders of video calls They can not only chat about their day, but be remote babysitters. Have them read the kids a story, let them listen to the kids recite their spelling words, help with maths, be history interview subjects, let them bake cookies together, have the kids make up a play and then perform it for the grandparents, or let them play Bingo together with this automatic version from Youtube:
Have virtual playdates with friends big and small – Zoom allows many video screens at once so you can see all your family and friends for birthdays or Easter celebrations. The kids could all try a craft together and have some show and tell time with their classmates, while the parents can have well-earned Friday night drinks with their friends or play a round of online trivia.
Get writing and creating for those who need cheering up With so many nursing homes on lockdown from visitors, now more than ever they could do with some cheering up! Have your children write some letters and draw some beautiful pictures and mail them off to local nursing homes for the elderly to brighten their day (maybe call ahead first and ensure this is ok!)
In some ways, technology has prepared a lot of the world for this period of isolation - we shop online. We self-serve and self-checkout. Most transactions are contactless. We socialise online, are entertained online and work online. We're not new to being alone. And yet there is nothing quite like the freedom to do what you want to do when you want to do it. And so, until our freedom is reinstated, make your home your sanctuary. Your backyard your adventure playground. Your kitchen your restaurant. Your creativity an outlet for frustration. Look to the past to learn timeless new skills that might come in handy in weeks and months to come. ⁠
⁠
And finally, don't forget to smile at the stranger 1.5m away from you - it might make their day.⁠