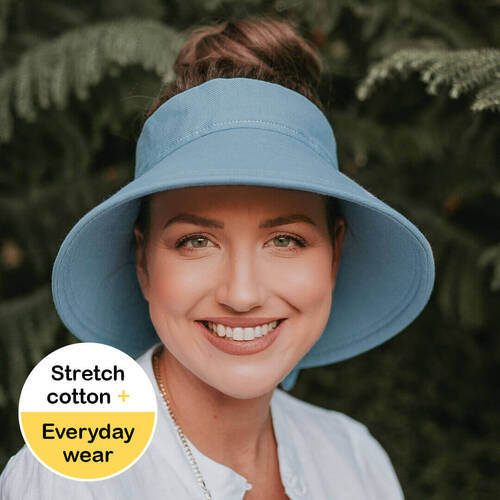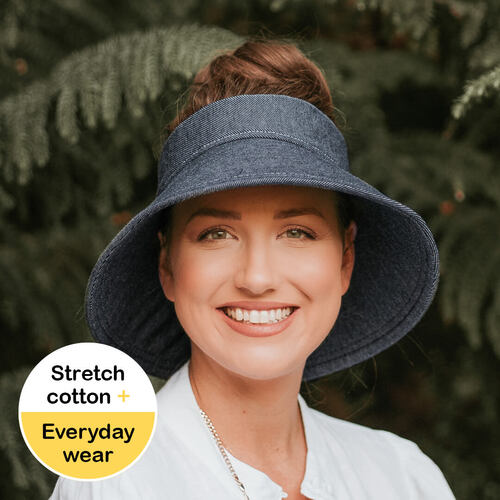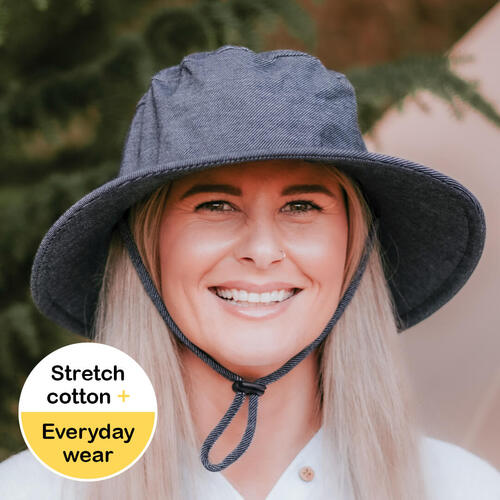 ---
Found the everyday hat of your children's dreams but struggled to find something for yourself? Luckily, Bedhead Hats has adult's hats too! So you can match your mini with our everyday Originals adult's bucket hat.
Our Originals Adult's hats allow you to model great sun-safe behaviour for your kids, take care of your skin and look great doing so too if we do say so ourselves! Our soft cotton Adult Originals Bucket hat features a wide brim and chin strap, making it protective in all the required areas and allowing it to stay on heads! This adult broadbrim sun hat is popular with childcare teachers who have to lead by example with their centre's no hat, no play policy. The classic denim colour will also go with all outfits and suit everyone!
For those who love to wear their hair up in a bun or ponytail, our Ladies Original Sun Visor is sure to be a fave! Made from the same stretchy cotton fabric as our kids hats, it's got a nice wide brim with our famous anti-flop fabric and adjustable ties at the back to get the perfect fit. The open-topped style allows hair to be up in a bun or ponytail – or for those who just don't like the feel of hats on their heads but who still want to be protected and a good role model for their children.
For those beach days, we've got a great Swim hat for those who love to wear their hair up while swimming. In quick-dry, chlorine-friendly swim fabric, our swim visor hats match the same patterns as our children's swim hats. The patterns also match our wet bags which are handy little leak-proof bags perfect for the beach, swimming lessons or even sleepovers or as plastic-free daycare bags for a change of clothes or cloth nappies.
For those who want a good-looking, protective hat that is also value-for-money and has eco benefits, Bedhead's Heritage collection is for you! A fully reversible 100% linen range of hats, it has styles for adults and children in matching prints, making it the perfect mum-and-me look that is not only stylish, but sun-safe too thanks to all styles being rated UPF50+ excellent protection. Made from 100% linen, the Heritage range is perfect for those who love to match their children – with adult hats in the same prints and colours as the children's styles. Not only is linen cool in summer and warm in winter, its manufacturing process is one of the most eco-friendly options: flax, from which linen is woven, is grown without the use of pesticides or water other than rainwater and leaves no waste. Linen is also recyclable, biodegradable, hypoallergenic and antibacterial. With the success of our first ladies sun hat in our Heritage range, we expanded the range to include a frayed bucket hat for both men and women, and an open-topped wide-brimmed visor for those who love to wear their hair up but find hats so uncomfortable when they do so.
A hat is an essential part of daily wear in Australia to protect us from the harsh sun. Starting kids early wearing hats is also a good step to ensuring your child is a happy hat wearer, as once they start daycare or school, those hats will need to be staying on heads! By wearing one of our beautiful adult's hats, you'll be the best role model for your children who love to mimic their heroes (their parents!) by copying them. Wearing a hat when you go outside is teaching children through actions. Our hats, combined with other sun-safety elements like sunglasses, sunscreen and shade, are the best start to staying #sunsafeforlife.