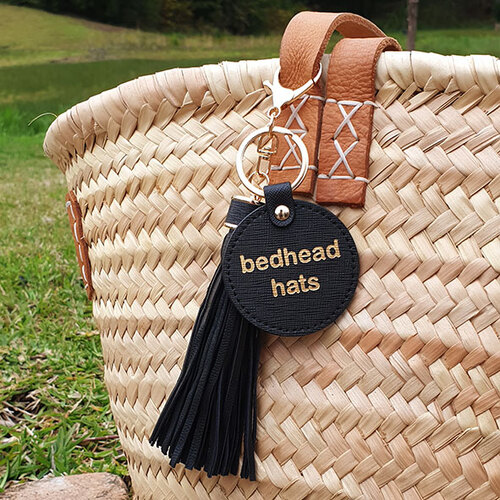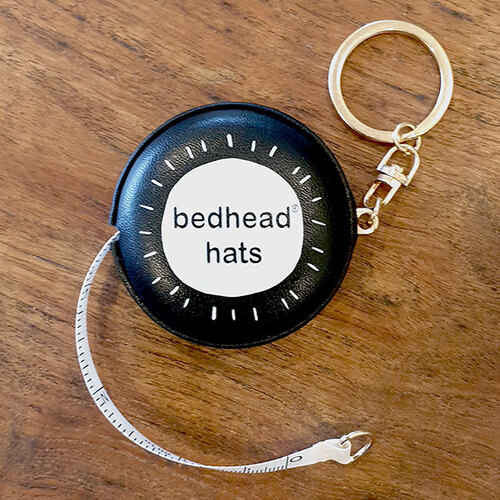 ---
Sometimes it's the things you don't even know exist that you need the most! Our small range of accessories is actually a huge help to those looking for the perfect sized hat and then keeping it in tip-top shape by following our care instructions!
The best way to ensure a great fit? Measuring! We're big on getting the right size for your sun hats and so measuring heads is an important part of the process when you're shopping online. Our measuring tape stretches up to 1.5m long – ideal for measuring all parts of the body for clothing and accessories.
Easy to use, the tape simply pulls out of the leather-like yoyo-style case and retracts again easily when you're done by pressing the Bedhead logo (it's a hidden button!) Plus, the keyring allows you to hook onto your keys so it's with you at all times – for those Bunnings trips, furniture or rug shopping, when you're planning the redesign of a room, or when you're shopping for things without the kids (be sure to carry their measurements with you so you can measure the clothes).
While our hats are quite easy to look after with a gentle machine wash and air dry, there are a few good reasons to wash our hats and rash vests in a wash bag. The chin straps on our Originals, Swim and Heritage ranges could get tangled in other clothes in the wash, causing them to stretch or break – the wash bag keeps the items contained in the same cycle. It will also prevent zippers, sequins or other sharpish items on other clothing coming into contact with the hats causing damage to the fabric. Our wash bags are also great for other delicate items such as underwear, swimwear, hosiery or beaded items.
For those who love a little luxury on even small things, our black leather key chain with tassel is a simple way to dress up your essentials! Both tassel and disc of the key chain with Bedhead logo are made from a super-soft black leather, while the gold foil letters match the gold finish of the key chain clip. Great quality; practical and pretty essential items – we've taken the same mottos for our hats and applied them to some fun Bedhead accessories too!