It's that time of year again: swimsuit shopping. We know it's not everyone's favourite item to shop for – there is a seemingly endless supply of cute cossies you just can't imagine yourself ever wearing.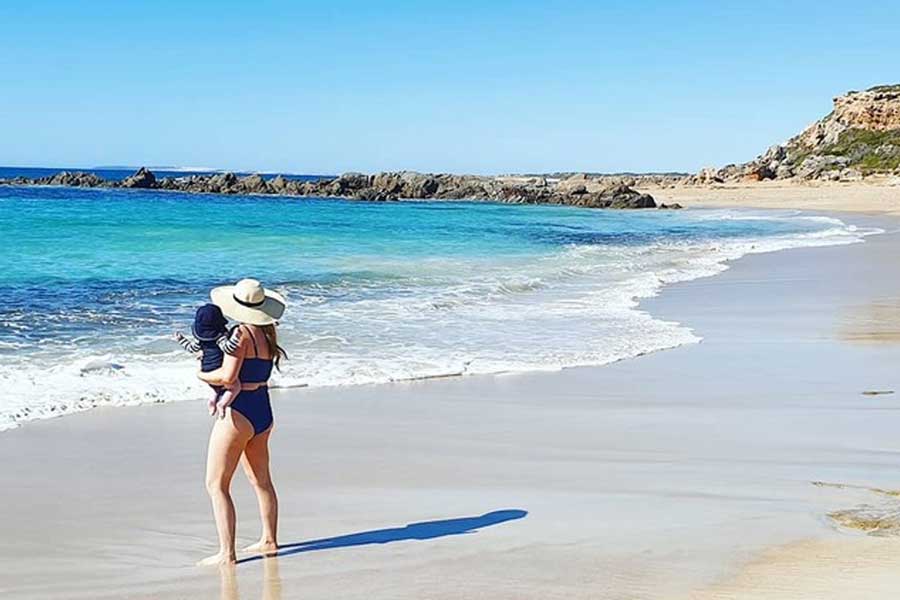 But here is the secret to swimsuit shopping: like parenting, there is no one-style-suits-all out there in swimsuit land – you've got to get to know yourself really well, and shop your shape. We drilled Swimsuit Galore for all their expert tips on swimsuit shopping to make it a little less painful for you this summer!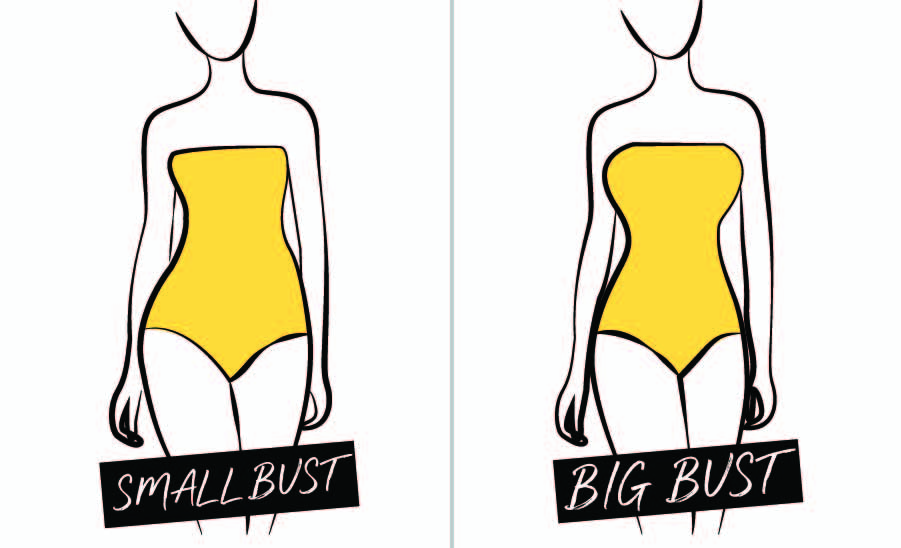 SMALL BUST
If your melons are more like mangos, there are ways to enhance or embrace what you've got. Here are some tips to keep in mind when browsing.
• Look for a style with cute features like frills, ruffles, embellishments and ruching in the bust area as they will add some volume.
• Halter styles work great as they will lift and push the bust together.
• Look out for moulded cups and booster padding for extra oomph!
• Sweetheart and plunge styles contour the bust and help them appear fuller.
• Busy prints will help make the bust appear wider and fuller than it actually is.
BIG BUST
Sometimes it's hard to see through the tiny triangles that wouldn't even cover one boob let alone support both the girls! But never fear... there are plenty of options, you just need to know what to look out for.
• Swimsuits with boning, gripper tape and underwire offer structure and support so you aren't worrying about any wardrobe malfunctions!
• A balconette style's bra-like design will offer you the best support and comfort.
• Try styles with wide adjustable straps to ensure you are comfortable and can manage the fit of your swimsuit.
• Moulded cups will assist with offering a smooth and perky shape while also being a facilitator of support.
• Tie backs can allow you to upsize or downsize depending whether you would like to go up a cup size or if you have a small back.
• V-neck styling can elongate the neckline and give subtle cleavage.
• Swimsuits with eye-catching mid and lower sections can help offset a top heavy appearance and create balance.

TUMMY FIX
We are all about confidence and feeling comfortable in swimwear, so if for you that's finding a way to help flatter and smooth your tummy, try these tricks…
• Tankini styles with ruching offer support and are excellent at flattering the mid section.
• Muted darker tones are best when wanting to disguise your mid section.
• Flatter your silhouette with A-line styles as they aren't going to cling or feel restricting. Match with a high waist pant underneath to smooth out any lines.
• Look for swimsuits with powermesh fabric to assist with support and create a smooth shape that slims and trims in a matter of seconds.
• An alluring décolletage can be enhanced with plunging necklines, tie front features, frills and ruching to bring the focus away from the tummy.
• For those wanting to elongate the leg line and bring the focus to the lower body choose bottoms that have a high cut or a tie side feature.
CURVY QUEEN
If you've got the curves, embrace them and show them off!
• Cross-over styles both accentuate the waistline and flatter the bust.
• Feel more secure and comfortable with swimwear using powermesh for extra hold to create a smooth shape and disguise any unwanted bumps.
• Panelling is a great option for emphasising curves. Side panelling in darker shades can minimise the waist further while princess-style design lines help contour curves.
• Diagonal design lines and features that lead toward the waist help give an hourglass illusion.
• High waist options can help define curves.

PETITE
Being slim and straight through the middle definitely has its benefits; if you would like to enhance and maybe create some curves these tips are for you.
• Small minimal coverage styles won't swamp the petite figure and can help increase curves.
• Define your silhouette with cut-out designs and monokinis for an ultra daring look.
• Details such frills and ruffles, mesh and ruching or delicate embellishments will complement your petite frame.
• Tie side and Brazilian bottoms can add volume and elongate legs.
• Moulded cups and booster padding will help enhance shape.
• Stripes and directional prints can elongate your body.
• Small scale prints aren't as overpowering and look great on smaller frames.
• If you have an athletic figure show off your toned arms with a high neck bikini top, which will give you some shape too!
BOOTYLICIOUS
Whether you want to embrace your booty or distract the eye and focus on your other assets, these tips are for you.
• The Kardashian look with the high-cut leg line will help achieve an hourglass figure and lengthen your legs.
• If you would rather disguise your booty, try a boyleg or skirted bottoms – they'll provide great coverage.
• If you are looking for fuller coverage, mesh sarongs or cute boardshorts are perfect!
• A more voluminous top area will balance and take attention away from below. Try trapeze, blouson and A-line shapes.
• Bright fun prints up top paired with a solid hue or dark printed bottom will draw the eye up and minimise your bottom half.
Ready to go shopping now? Our best advice is to go in with a rough idea of what you want to emphasise or hide and the knowledge of how to do that. Then really look for those features while looking through swimsuits and don't discount anything until you try it on. Because how something looks on the stand isn't a true reflection of what it looks like on you - and you could be pleasantly surprised that the suit you thought was not for you, is actually perfectly suited to you!
And once you've chosen, how best can you protect yourself from the sun while wearing so little? Sarongs and cover-ups are ideal when you're not in the water, and long-sleeved all-in-one rash-vest swimsuits are great for the water babes. And your head? Good news for those with heads on the smaller size - our swim hats go up to size 58cm and come in a great range of easy-to-coordinate colours such as Peach, Slate Grey and Aqua. And this season, we think our Tropical and Hibiscus are especially great for mums who love to match their little ones or who want a bit more protection while in the beach or pool. Grab them before they sell out! Shop our Swim styles here.
Image credit (top): @kate.cook.xo