Every half hour, an Australian is diagnosed with melanoma. And every five hours, an Australian dies from it. It's a form of cancer that has most likely affected someone you know - or yourself. And it's one that is especially on everyone's minds more as summer approaches.
As a kids hat company, we know the importance of starting sun safety early - get kids happy about wearing hats as a baby and they'll accept it as part of their everyday outfit, setting them up for a sun-safe life. And while our focus is on kids and babies, we know it really starts with the kids' role models: us. As parents it's not just our job to ensure our kids have slipped on a shirt, slopped on sunscreen and slapped on a hat - we need to ensure we do it too. Sometimes it's not until you're directly affected by melanoma that you make those changes, so as part of our #sunsafeforlife, we're sharing our stories - out of our small office, half of us have been impacted by melanoma. Let our stories be a wake-up call to you to up your sun-safety awareness, rather than someone close to you...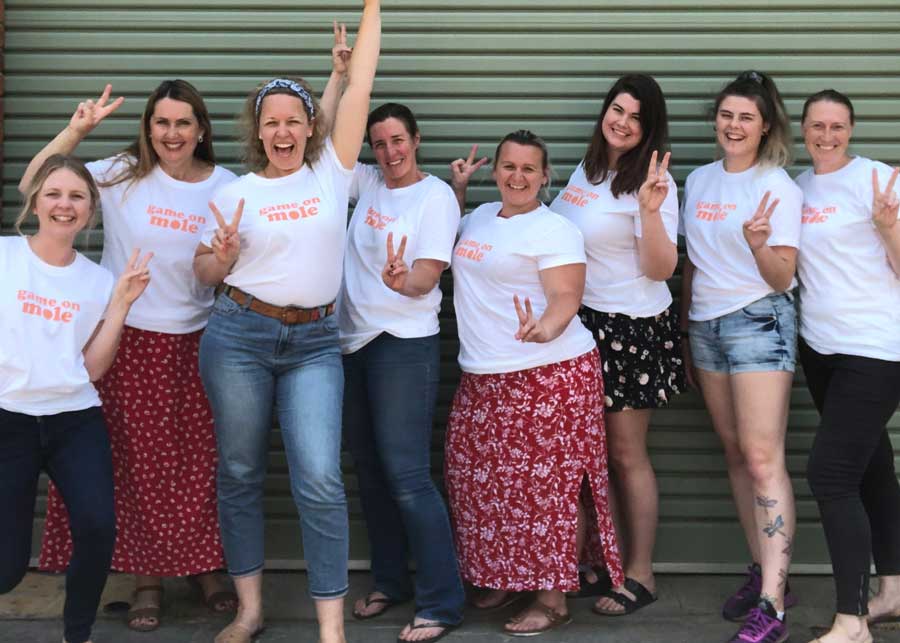 "My Mum has fair skin and always been quite 'spotty' with raised moles. Growing up I used to draw on her back with my finger, joining up all the 'dot's' like they were stars. I have also been 'blessed' with her spotty-moley skin as I've aged (thanks Mumma!). A few years back at I noticed a spot on the bridge of her foot. That wasn't the unusual part - it was the colour of the spot was what caught my eye. She brushed it off and was like "oh that old thing". The stubborn part of me persisted (never apologise for being stubborn when it comes to health – always listen to your instincts!). I demanded that she have it seen to by the doctor. Much back and forth of stubborn-ness ensued. Mum had been pestering what she could buy me for my upcoming birthday. I trumped her right then and there: "Get that mole checked out – that's what I want for my birthday!" So she did. And it was the best birthday present I've ever had. Because she is still here. That 'old thing' was now pre-cancerous. Left any longer and it would be a very different story. Mum ended up needing surgery to have the area removed. She was on crutches for six weeks which drove her crazy but it was a small price to pay for her being fixed up so easily." Richelle, CEO and founder
"Three years ago, I lost a childhood friend to Melanoma. In 2012 she noticed a change in her mole and sought the opinion of two doctors - both told her it was nothing to worry about. By the time it was diagnosed, it was a stage four Melanoma. They removed it and she continued regular check ups. She got married in 2016. I'd just helped with the flowers at her wedding (at the time she had no idea her cancer had come back - and spread). She lost her battle just three months later at 29 years old. That was my wake up call. Get regular check ups, and if you think something is wrong trust your gut and don't take no for an answer." Danielle, digital and graphic designer
"Growing up surrounded by beaches, I was always out in the sun. Sun safety wasn't a 'hot topic' growing up - the more tanned, the better. But at 26-years-old I had multiple scars covering my back from mole scares. It's been a wake-up call to embrace my fair skin and be vigilant with sun protection. Now a mum to a gorgeous fair, red-haired lil' girl, I am educated in how to protect her the best I can ​with a hat, sunscreen and even what time UV rays are more severe in the day." Jemma, graphic designer
"For my 31st birthday I got a hole in my head. In what was possibly the worst timing ever, I found out at 39 weeks pregnant with my second child that a little scab on the top of my head was a skin cancer. A plastic surgeon couldn't take it out for another three months so I begged my lovely doctor to do it ASAP before the baby arrived – I wasn't vain enough to care about the top of my head being butchered – I just wanted it gone. Despite reassurances this tiny little basal cell carcinoma was probably the mildest form of cancer, it was still the dreaded "C" word and hearing it had my imagination running wild, turning the little growth into a full-blown brain tumour and having me gone from this world and not able to see my children grow. I stressed; I cried and worried until it was all gone and I was cleared of any issues. My family have been big hat wearers since – we have a huge box of all sorts of hats (even more since I started working at Bedhead!) and make sure we wear them when out and about. I've always wanted to be a hat person - love them, but thought they looked terrible on me. Which is why I never wore one until my eldest was born and I felt the need to be all responsible and set examples. It was still a bit late though, my skin cancer scare was just 18 months later – clearly the damage had been done. Now, we all wear hats year round – and you should too. Because it doesn't take much to protect the one part of your body that's most susceptible to the beaming-down sun." Belinda, social media marketing and events coordinator
"I learned about sun safety the hard way. As a teenager I would spend hours out in the sun and sunbaking. I remember my mum would be nagging me to get out of the sun and I was hosed down by my mum many times in an effort to get me to come inside. I never listened as a result, I have so many sunspots and lines. I really regret my teen years. In hindsight, mums always know best! Nowadays we are lucky there is so much more knowledge about the harmful effects of the sun and melanoma so when my kids were born with that perfect skin I started the routine: hat, sunscreen and sunglassses - so many people forget about the protecting the eyes. My own routine is tinted sunscreen moisturiser, sunscreen, hat, sunglasses and regular visits to have my skin checked each year around my birthday - Happy Birthday to me!" Pippa, accounts and admin
Bedhead is commited to sun safety. It's what our products are for, and what our month of November's #sunsafeforlife campaign is all about. We want to give babies their first hat to start them on a sun-safe childhood and hope they remain sun safe for life. On a similar mission, The Melanoma Institute of Australia has launched its Game On Mole campaign. It's a call to action for Australians to take skin checks seriously and to look out for changes to their skin - especially moles. They suggest taking a picture of your skin at the start of summer and again at the end of it - if you notice any chances, hot foot it to a doctor and get a check up. Because early detection can save lives and every life is important. Here we are rocking our Game On Moles shirts in support of this great iniative. You can read more about it here. And don't forget our own #sunsafeforlife campaign - lots of great giveaways are happening and entires close at the end of this week.