Love it or hate it (and after a while, you'll likely feel both of these feelings simultaneously!) social media shows no signs of going away. So use it to your advantage!
Aside from online shopping itself, nothing has really changed the way people shop quite like social media. Consumers now spend so much of their time online researching, comparing, learning, communicating, being entertained and inspired, as well as buying products and services. If used right, social media platforms allow great brands and businesses to become all-in-one hubs for their followers. YOU could become that source of entertainment, inspiration, learning and communication to those in your niche area if you try. But how does one get it right?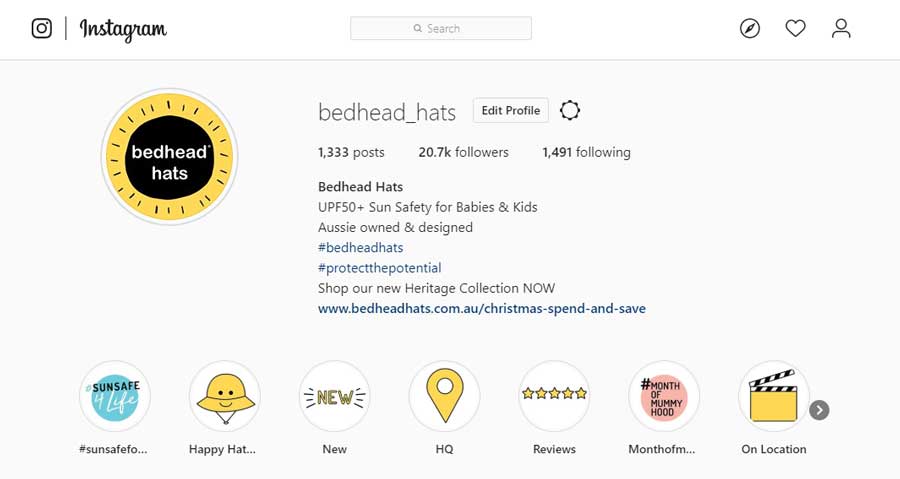 Well… No one expert will be able to explain a foolproof formula – because there is none! Like in all aspects of life, what works for one person won't always work the same for someone else. The game changes constantly and to be honest, that's part of the fun AND frustration of social media. The main thing for any kind of business these days though is to BE ON IT. Set up a Facebook and Instagram account if you haven't already. Or set up a second account if you have one for family and friends – both Facebook and Instagram allow you to easily switch between accounts. Get your business out there on the World Wide Web – whether you're an online store or a bricks and mortar, having an online presence and connecting with current and potential customers is a must.
Facebook or Instagram?
Both! They're slightly different markets of people, aesthetics and ages, but there is also a lot of crossover. Younger generations will choose Instagram over Facebook for its ease of use, scroll-happy nature and quick bites of entertainment. Instagram is a very visual platform and the focus is often on images in order to stand out and be noticed. Facebook is a lot more family-and-friends based, fairly casual and full of fun memes! Most will get on to see what their friends are up to and what is happening in the groups they've joined. You can't go past Facebook for die-hard groups! Set up one to run in conjunction with your Facebook page – you will need to approve those who wish to join, but they're great for people to show off their purchases, ask questions to other mums about products or ideas and generally talk amongst themselves. You could also offer them a place to buy, swap or sell their old purchases from you, and offer members special deals occasionally.
Be sure to… Set up a Business account in both Facebook and Instagram. This will give you the "insights" information where you can see when your audience is online which will help you with the best times to post. It will also tell you their ages, where they live, figures such as engagement, reach and actions on each posts.

What kind of content should you post?
Mostly working out what content is going to be a hit with your followers is trial and error! But it can't hurt to start with the basics: being true to your personality, yourself and your brand/business. A successful business usually has some kind of the owner's personality reflected in it anyway! So if your shop is brightly coloured, has lots of fun, funky, eclectic things, make that be reflected in your feed with lots of colours, cheery icons and branding and fun images. Likewise, if you're all about organics, the simple life and muted colours, make your feed feel that same way. Have fun with it. Bring your personality to your feed and you will attract like-minded people. Here are some ideas…
Combine personal and business If you're a one-man-or-woman show, you have the ability to bring that extra personality to your platforms. If your business is relatively new, talk about the process, some of the struggles you've had, show us your office or the plans for your shop renovations. Show the human side of your business - snap yourself packing orders at 11pm or uploading stock to your computer while you're feeding the baby, or what your living room looks like when you've run out of storage room for your stock. It doesn't have to be on your main feed, show us on Stories. This is where Stories on Instagram and Facebook are great – it's sharp, short-attention span content that people happily sit and watch. This is a great place to chat to your customers and show them behind the scenes of where they've been shopping!
Share a good mix of posts Don't just stick to the one kind of image. Too many product shots can get boring. Too many of the same lifestyle image can look messy. Really look at your feed and see how you can improve the look of it. Maybe it's too people-heavy, so break it up with some white space, product shots and maybe even just a nice image of beautiful scenery! Or maybe you're missing that personal side of it, so pop yourself in front of your shop or at the counter and introduce yourself properly. Show off your new business sign, show us behind-the-scenes of a new in-store display. There are tools to help you preview how something will look and allow you to move things around to get the best flow (see tools at the end of this post). Remember that Instagram particularly is a very visual tool and your feed is the first introduction to your brand to a lot of people. If they like what they see in those first nine squares, they might follow you. So each image counts – and each image in the right placement counts more. I've often sacrificed a square on my feed for a kind of nothing post because the flow of the feed won't work. It sounds ridiculously petty, I know, but the look and flow of your Instagram feed can be the determining factor in someone pressing "follow" or not. So look at the feed as a whole when you're planning your content - you might notice too many of the same colour in a row, or the same pose in two shots side-by-side. Try and make the images look different, but flow. Unum is a great tool to let you play around with the feed. And also really try and plan your content in blocks so you're not just slapping any old post up there! Maybe you've had a run of questions about a particular product lately - a post explaining it in detail and answering those questions would be a good idea. Or maybe you want to highlight each of the brands you sell one by one - do so but create space in-between those posts with a beautiful picture of a new product, or your kids wearing cute shoes you sell and let them review it for you. Think about what you want to achieve that month and plan it out. Or, try a ready-made content calendar (google it for more links!) that gives you suggestions for the month such as Plann's calendar (it's for March 2019, but you can adapt and adjust as required).
Get creative with the products you sell Make your own flatlays and show us how you'd style a particular jumpsuit. Challenge the purchasers of that same suit to show you how they style it on their child. If you sell a kids cookie cutter set, make cookies out of them, get your food-styling skills on and then share your recipe with your followers. Style some of the kids furniture you sell in a little scene and throw your kids a party just because showing off all your wares – add some activities based on things you have in your store or inspired by something in your store. These are the ways you can provide added value to your customers – you're educating and entertaining them at the same time and showing you're not just about selling something. As an example, I made super-easy cookies inspired by our Bees hat print with milk arrowroots, icing and liquorice – it was the one of the biggest engaged posts that wasn't a giveaway or competition. Play around with different things and see what your audience is liking and then try replicating it in various ways.
What's more important? Followers or engagement?
This one of those catch 22 things – more followers will lead to engagement, but you often don't get followers without engagement. Ultimately, I'd prefer great engagement over number of followers. It's all well and good to have a high number in your followers box, but if no one is talking to you or about you, they mean nothing. And it can be slow going at first – you'll get to a point where it feels like a hard slog to get those followers up. But invest some time into thinking up some great posts or competitions that might lead to an increase of followers and then think up some ways to keep those new followers engaged. And it is a matter of trial and error – with a side of surprises. What I think might be a well-received post sometimes results in crickets. Other times I um and ahh about posting something and it will go nuts in terms of likes, comments and shares. The main thing is you take notice of what is working and not working consistently on YOUR platforms, rather than get hung up on what others are doing. Be yourself and keep persevering – once you get to a certain amount of followers, that amount will increase a lot quicker. There are more people in the pool, more people engaging and more frequently, therefore your name is getting out there more and your follower count will rise. Once ours got to 15,000 it went pretty quickly to 20,000 but between 10,000 and 15,000 it was hard work.
The biggest thing is not sitting back and waiting for people to come to you. Go and like someone's comment on a post of someone you follow and comment back if something they said tickles your fancy. There will be lots of businesses and brands you know that you stock, and influencers that use these brands – get involved in their conversation. They will come and have a look and if they like what they see, they are going to stick around and follow you.
Be sure to… Understand how the algorithms work. Instagram and Facebook used to work on a timeline algorithm – so everyone you followed would show up in order of when they posted. Now, it's the accounts you interact with the most that show up in your feed. So the more people who interact with you, the more you will be shown in their feeds and others associated with them. And the more successful a post is in terms of engagement and shares, the more likely it will be shared on the "featured" page as an account to follow. And sometimes that is how people get successful – from a pure lucky great post!
How much thought goes into your images?
Hopefully, a lot! You want the images you post to reflect your store but you also want them to be great quality. Ask if the image you're planning to use is the best it could be. Is it blurry? Does it need editing such as lightening or cropping? Does it have a watermark on it? Filling your social media platforms with other people's images and memes is definitely the quickest and easiest way to post on social media, but it's not showing your customers your business. So have a play around with what you post and mix it up to ensure a mix of brand images, UGC (user-generated content from people who have bought something from your store), deep-etched product images, flatlays, store shots, lifestyle images and more. Some tips:
Product images: Make styling simple – make the product the focus but introduce other elements to dress it up a little. Flat lays are popular with clothing brands – to see an outfit combination, gift set or themed collection. People want to see the product up close – followers love our up-close images of our hats so the print, colour and detail is seen. Then we follow it up with some lifestyle shots to show the product in-situ so they can see what it looks like on a child.
Shoot in natural light as often as possible: and use the grid feature on your phone to line up your subject so it's straight. If you're wanting to take images of products for flatlays or just to show new stock or put your own spin on the brands you're selling make your own mini photo studio next to a window in your home. Find some tips of how to take great product shots here.
Get creative: Think of other items to use as a backdrop for your images. You can buy vinyl photography backdrops, but coloured cardboard, fabric, wooden floorboards or panelling also work well. Get creative!
Don't forget your hashtags: Use relevant hashtags on your post to get your post further – many people use Instagram hashtags the same way they do Pinterest – for inspiration and information. If you post a flatlay of a great outfit, rather than tag #flatlay which has over 7 million tags and will see your post vanish down the order in mere seconds, get more specific like #babyflatlay and then check out the "related" hashtags for more suggestions such as #kidsstufftolove or #magicmotherhood which have different but related reach. A good goal is to skip the hashtags that have too many (millions) or too little (a few thousand) and go for somewhere in the tens to hundreds of thousands. There is a better chance of interaction from that mid-range than the two extremes. Some scheduling tools also allow you to save your hashtags in groups so you don't have to write them out all the time and you can create different categories for different types of posts (parenting memes, baby goods, kids fashion, etc).
Choose your brand reps wisely
Get a good mix of people who will be good brand ambassadors for YOU. Not who you think another brand would love to have – what do your brand rep applicants have that you want in a brand rep? We don't choose by the highest following, but for a variety of reasons. We've chosen brand reps with little following but they had great engagement on their posts, take great images, respond to commenters, tag correctly and are excited and passionate about what they're posting – they're the people you want representing you because their job is not to gain you followers or sales, as such, but to get your brand out there a bit more. Ultimately, choose those who are passionate about your busiess or brand – make it a requirement of those who are entering your search to be a customer already. They're the ones who will do the best job as a brand ambassador.
HOUSEKEEPING
Tag correctly and always check it
To tag someone in Instagram simply start with the @ and keep typing until you see who you're looking for and click on them. If you want to tag in a story you need to click the profile image of the person otherwise it won't hyperlink and show up properly. In Facebook you need to start with a @ and begin typing the brand/person until their name comes up in a list. If it doesn't come up in a list for you to click, it won't come up as tagged. And always check you have tagged correctly once you've posted - it's so easy to accidentally send people to very wrong places (says the girl who sent followers to a slightly inappropriate fan page of ladies in swimwear rather than an actual swimsuit company. Oops.) Using great (relatable) images from an influencer or brand you love is also a great way to gain new followers as people will often check the "tagged" page of brands and people they follow to find like-minded pages.
Upload your product category so people can shop your feed
By doing so you can tag your products with name and price within Facebook and Instagram to make shopping easier for your customers. You'll need a Business account and also Business Manager to do so - you can read more about this here.
Be polite, helpful, honest and authentic at all times
Be the nicest version of yourself and keep in mind the negative side of social media (screen caps, reposts, the viral nature of "bad press" etc). If someone has an issue with you or your product/service and leaves a comment about it, address it briefly in the comments and then take it to the DMs to nut out the real problem.
Use highlights on Instagram
This is where you can save your Stories onto your profile so it doesn't just vanish after 24 hours as Stories do. Click the little heart/highlight button on the bottom of your Story and you can set up new categories or add it to existing. Categorise appropriately and keep things that you think will still be of interest in the long term: new products, behind the scenes, DIYs or funny moments. If you're clever with graphic design, you can create some icons that reflect those categories that fit with your store's branding or just use a great image to sum up the contents of that highlight. The more your feed looks and feels like your store, they better! You want that branding to be on point.
Check your DMs (direct messages) and try your best to keep track of mentions, tags and comments
Respond to everyone as often as you can via DMs and comments. Always check your DM requests in Instagram – they can't see you've read it yet until you approve them, so if they have asked a curly question or you really need to think about your answer before responding, do so but get back to them, because people expect an answer now and they can get angsty if they don't get it! They need to know there is a human behind the account and not just a bot! If you're tagged in a Stories, they are easy to share on your own Stories and a good way to encourage other customers to purchase from you - because you might feature them on your page too! If someone has sent you an image via DM (ie, it is not mentioned publicly on their stories), always ask before you use as they might be private or not wish for you to publish, but might just have wanted you to see how cute their purchases look on their little one! Always credit images you use with a tag (when you make their instagram handle show up on the picture itself) and a mention (in your caption).
A FEW FYIs
"F" in the comments of a Facebook post means someone wants to follow the comment stream and so will be alerted whenever someone else comments on the post.
You can pin an important notice, a competition or favourite post to the top of your Facebook page so it's the first post people see by clicking on the three dots to the top right-hand side of your post and choosing "pin to top of page".
Instagram won't allow you to link to something in the caption or comments. You can use the Swipe Up feature in your stories for direct links if you've reached 10,000 followers or you can add a third-party link feature such as

Linktree

or

Linkinbio

from Later which allows each Instagram post to click through to the relevant link, making it great to send people to blog posts, product pages, info pages or external sources such as recipes or articles.
GREAT SOCIAL MEDIA TOOLS
Unum: A great free app that gives you the ability to upload images you'd like to use in your feed and play around with the grid to see what works and what doesn't. Download it on your phone or computer.
TrustMSG: This allows you to automatically reply to anyone who has commented on a particular post in Facebook. We use it to send a consolation prize to anyone who entered a competition on a Facbook post.
Later: There are many scheduling apps out there for social media, but after a lot of research and a few trials of different apps, this is the app I chose to schedule all my content on Instagram and Facebook. It means I can schedule content in advance and it will post for me. You can set it up to do so automatically on Facebook and Instagram. It allows you to schedule multiple images (carousel images) and Stories on Instagram but will not post these automatically. Instead, it will send a reminder to your phone to simply copy and paste into the platform. It has great analytics, allows you to save images that people have tagged you in straight to a media library you can then easily schedule with, comes with a built-in Link-in-bio and also a preview of your grid so you can see how it looks before you schedule.
Boomerang: If you've seen those funny little jolty repetitive Gifs of people on Instagram stories and wondered what it is, this is it! Boomerang allows you to take short, snappy movements which you can upload to your social media accounts. Getting the timing right can take some getting used to, but once you get it, they can be great to mix in-between images, memes and videos. Good to mix things up – use when you want to snap yourself with a great customer, brand rep or influencer. Or do a team shot promoting something (like their fave gift idea for Christmas).
StoryArt and StoryLuxe Templates to dress up your stories. Here you can add different fonts, graphic elements like borders and tape, or make photo collages quickly and easily.
Lightroom/Photoshop: Great photo editing apps. Instagram also has a great editing app for images that is easy to use.
Canva: A great resource to edit images, apply text to them, get the sizes right for various templates like Facebook headers. Great for making collages or adding text to images.
Annnnd, that's hopefully enough. The information out there on social media is exhaustingly infinite. It just doesn't end – just like I struggled to end this post! The best thing to do is to try. Play around with what works for you and have fun! If you have something specific you'd like to know, ask away in the comments. Good luck!