After 10 successful years in business, what's left to do but sit back and enjoy right? Those that know me well, know relaxing is not how my head works. All the potential of our products cannot be ignored – the world is calling!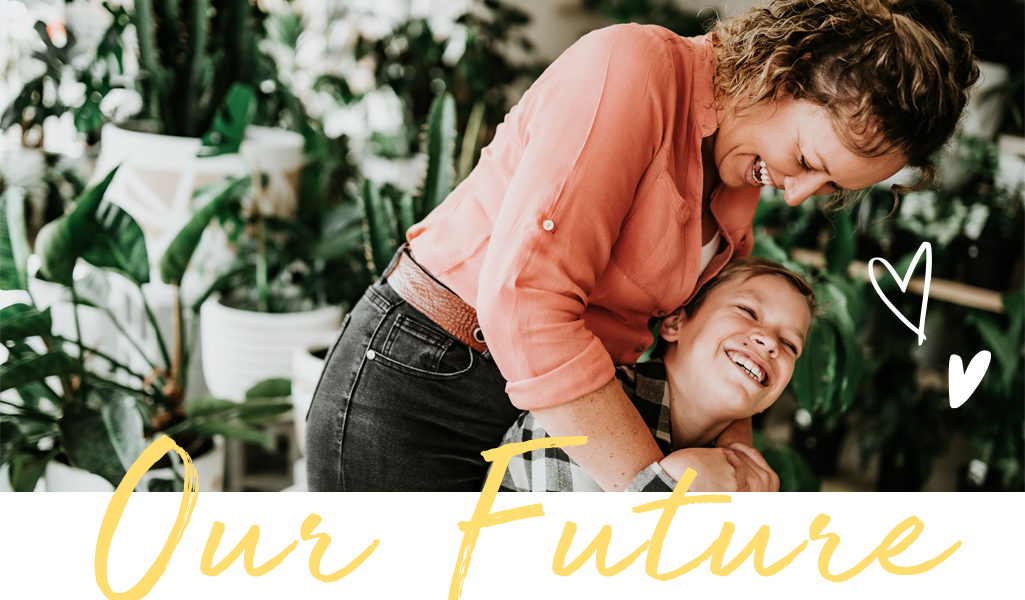 This year marks that start of possibly the most exciting development in Bedheads journey. We have started distributing our products in China!!! It has been many years in the making and many pursued avenues coming to dead ends. However, when you find the right person that shares the same passion for Bedhead – you just know they are part of our future. Enter: Denise.
Almost the Chinese version of myself, Denise started selling Bedhead hats through her own retail business four years ago. Each year when I'd visit China, we would catch up and chat product and business. As Bedhead grew, so did Denise's business. She started distributing small international brands in China and her team started to fill out – much like ours. So late last year when I was in negotiations with other potential Chinese distributors, Denise popped her hand up with a strategy to introduce Bedhead Hats to the Chinese market in a way that felt right in my heart. I'm a big believer of 'crawling' before 'walking' and then eventually 'running' in business execution – and Denise's strategy reflected this.
In March this year, we opened our very own 'Bedhead' Tmall store, and the first bulk delivery of Bedhead hats arrived at Hangzhou, China. Some of the prints sold out in hours! Denise had a waiting list with hundreds of people wanting our Ducks print alone! I diverted a heap of stock made for Australia straight into China, and it was sold again as quickly as it was listed.
This success sounds so easy right?
This success has been at least five years in the making. I have been attending export council workshops for that long refining our product offer and brand presentation in anticipation of selling to the Chinese market. With around 12 million babies born each year in China and the high level of care they give for their skin and sun protection – it always made sense to pursue. There have been many hurdles and speed humps to navigate. Trademarks and copyright legalities and stringent product testing for imported products – not to mention all the knock-off attempts (that's right – there's fake Bedhead hats out there!) There's no guidebook on how to do this – it is mostly about working with the right people. We have a wonderful team of agents, factories and logistics in China already, so without their love of Bedhead hats, I wouldn't have been able to pull off this deal (all from my little desk in the bush of Australia!)
Right now, Denise and her team are exhibiting Bedhead Hats at China's premiere Children's and Baby trade expo. The demand for our product is so high that I'm back on the sewing machine developing even more products to quench China's thirst for premium sun safety products. My dining table is yet again back to being the product development department – which is just the way I like it.
Our future and potential world-wide is so exciting – it literally keeps me awake at night!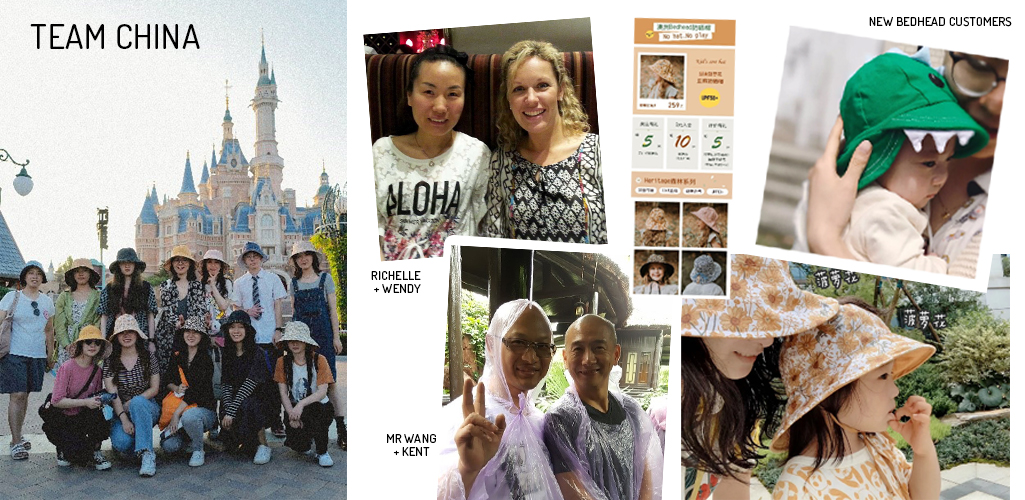 Our Chinese A-team!
Denise (center back row) and her Bedhead Hats team on a special team building day at Shanghai Disneyland (oh how lucky!!!) All in their Heritage Ladies Linen sun hats. I CANNOT wait to get back to China to meet them all!!!
Wendy Wendy owns the garment sewing factory where Originals & Heritage hats are made. She turns through every Toddle Bucket brim herself – she knows she does the best job!
Mr Wang Mr Wang runs the production, he makes sure all the fabrics trims and accessories are perfect & on time.
Kent Kent is my communication channel to the factories but more so – he is a dear friend. Initially working for a huge corporation far from his hometown & family, he has now started his own exporting company in his hometown with his family - Bedhead is his #1 client of course!
What next for Bedhead?
There is always room for improvement and always room for more great quality sun-safe products so founder Richelle finds herself on the sewing machine every now and then tinkering, tailoring and dreaming up new styles. "My dining table is yet again back to being the product development department – which is just the way I like it."
Multi-functional space
We've come a long way from founder Richelle's dining room office. Our new warehouse not only stashes all our goodies, it's a one-stop shop for all things Bedhead. We photograph our collections here, host mother's group events, have created spaces for kids to enjoy like cubbies, swings and veggie gardens. We even hold our team-building days and Christmas parties here – why go anywhere else when it's this beautiful? There are more plans and ideas to come for this peaceful rural space – just wait!
More choice
We thought it was time we expanded our core range of plain colours, so this spring will introduce a new solid colour hat to our Originals collection as well as new colour to our Swim collection. We've also increased the number of ruffle styles available and have brought out some prints in classic AND ponytail versions for even more choice. Stay tuned to our socials to see what's coming very soon!
More babies starting life safe from the sun
Every year we are committed to giving away hundreds of thousands of dollars worth of newborn hats via our Protect the Potential initiative. You might have seen it in our #monthofmummyhood or #sunsafeforlife months where we send out newborn hats to expecting mums who upload their ultrasound image to our website. Behind the scenes we also send off boxes of these same hats to various charities, hospitals and ante-natal organisations to ensure those who need them most are also having the same opportunities for sun safety. This year, we're excited to partner with BaoBag, who collate a selection of free samples and products from some of the country's best baby brands and gift them to new mums via hospitals and pharmacies across Australia. From September, 7000 newborn Bedhead Hats will be making their way to new families via 35 maternity hospitals, as well as from selected pharmacies in November. They'll also be available to purchase online. You can find out more about these great new-parent gift bags here.
Now back to the celebrating...
Here are our great competitions to enter this month – quick you have until midnight on July 31 to enter!
Win a holiday on us! Are you Bedhead's biggest, bestest fan? We've got a $2000 holiday park voucher for our MEGAFAN. Enter here
Win $100 store vouchers We're giving away prizes for the best "life in Bedhead" and "Kids in Business" picture, as well as the owner of the oldest Bedhead hat! Enter here.