Bedhead is 10! TEN years of protecting children. Ten years of letting kids be kids safely and stylishly. Ten years of employing local women, supporting other small businesses and charities, and spreading our cheeriness throughout the country. This month, we want to celebrate all we have achieved and look at where we have still to go. We're taking a bit of a trip down memory lane and want to celebrate with all of those who are growing along with us – our little customers and their families.
Here's a little of what we have planned...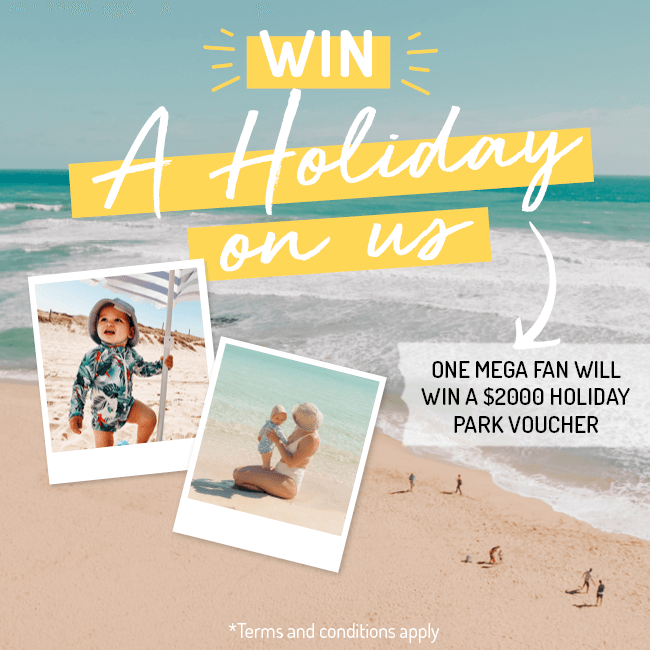 WIN A HOLIDAY
ON US!
We're looking for Bedhead's MEGA fan!

Can you think of a better prize? We want to find the biggest, bestest Bedhead fan and shout them a holiday at one of Australian's awesome holiday parks! Get your pics ready! Get that video camera out! We want to see how you and your family are our biggest fans.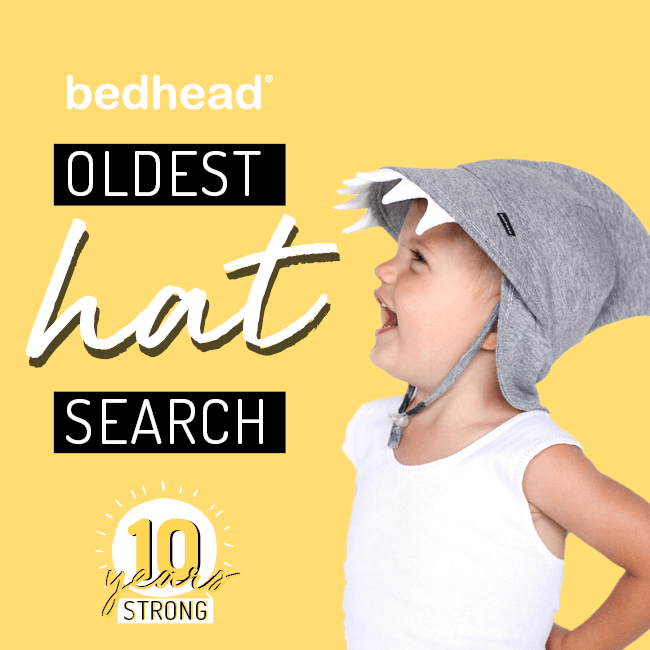 WHO HAS THE
OLDEST BEDHEAD?
Oldest hat search!

Our hats are famous for their quality – and make popular hand-me-downs. Do you have one that has a story? How many kids have worn your hat? Who has our oldest style? Start digging through your photo archives – we'll open this competition up later this month. Winner will score a $100 store voucher.

WIN $100 STORE
VOUCHERS
With our fun competitions!

We'll be opening up a range of comps throughout the month for you to win $100 store vouchers! Keep checking our socials for when they start!

Growing up in Bedhead: First steps, first swims, first smiles, holidays, birthdays, everyday adventures. So much of life in experienced in our hats and we want to see your kids lives in their hats!
Kids in business
: Setting up and running a business is as challenging, exhilarating and exhausting as raising a child! And when you're mother to both, their lives become intertwined. We're saluting the kids who've been raised alongside a business. Let's see your little ones in their matching hi-vis vests! In the delivery van in the holidays, or tagging products in the store!

A JOINT
CELEBRATION
We celebrated with our #mummyhoodheroes

We celebrated our 10th anniversary with our #mummyhoodheroes winner Amanda Seward and her supportive, amazing mother's group! Come check out how we party at Bedhead with some party tips, recipes and DIY -perfect for those about to enter the wonderful world of kids parties!

And of course bloopers from our staff pictures!


OUR
STORY
10 years and growing

Ten years ago, a teeny tiny baby hat was made by a new mum to keep the sun off her curious and very outdoorsy little boy. That hat was oohed and ahhed over – it fit really small babies! It looked so comfy! The colour and style was on point! Orders from friends were taken. Then friends of friends. In a short space of time, orders came in from all over the country. Bedhead Hats was going places. And indeed, it did. Check out how we got to where we are today.