The most common question we get (aside from which size!) is which style of hat is best? And our answer: it all depends on a child's age and stage of development.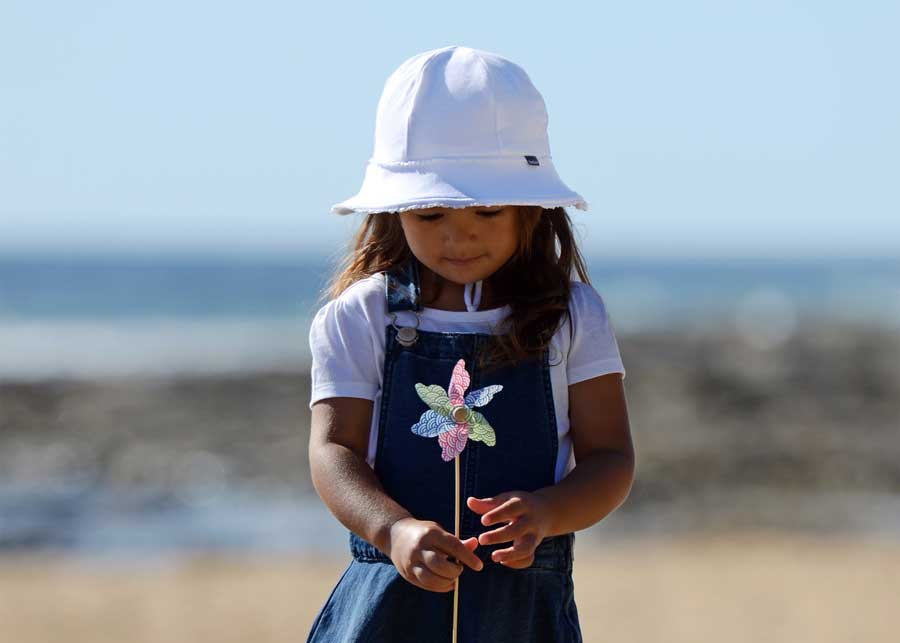 Bedhead's CEO and founder, Richelle, designed our hats with a styling journey in mind - meaning if baby starts wearing a hat from day one, they'll move through most of our styles as they grow up. Our hats will grow with your child. It's nice to know that whatever style Bedhead hat you purchase, they're all rated UPF50+ in fabric and design, they all come with adjustable (and removable if you wish) chin straps, and all come with a handy "Return to" label sewn in for you to add your child's name or phone number for a safe return if it's ever lost (happily, we've heard of our hats being returned when misplaced by little ones). Here is a little bit about each style and when your child will be ready for the next style...

Legionnaire
The legionnaire hat for baby & newborns is where all sun safety should start. It's the style we feel is best to teach children how to be comfortable with hats. Newborn babies have very little ability to control their head and neck muscles and spend a lot of time lying on their backs. So, the Legionnaire was specially designed to be worn in prams, carriers and strollers - the soft flap at the back sits nice and comfortably against the neck when baby lies flat, keeping the hat in the correct position. The legionnaire style is also a little lighter on little heads, making them less aware they're wearing anything at all, making them the style we recommend if you're trying to convert a hat hater - there is a lot less for them to grab onto to pull off!

Perfect for: Newborns, crawlers, prams, strollers, car seats, carriers and slings.

Available sizes: Available from 37cm (0-3 months) up to 54cm (3-6 years – in select colours) in Originals; 37cm (0-3 months) up to 54cm (3-6 years) in Swim; 37cm (0-3 months) up to 50cm (1-2 years) in Heritage.

Toddler Bucket
The Toddler Bucket Hat is the next style to move up to after your child is more physically mobile and happy wearing a hat. It has a brim that goes all the way around, so they're introduced to an angled brim in the line of sight and therefore more aware of having a hat on their head. The brim is reinforced with a felt, so it's nice and soft and can mould under little necks while they're lying down, but it's also strong enough to stay upright - no matter how many washes the hat gets! While we recommend the Toddler Bucket be a baby's second style of hat, we do offer the style in newborn sizes for those who prefer this style to the legionnaire. Sometimes it purely comes down to personal preference!

Perfect for: Toddlers, prams, strollers, car seats, carriers and slings.

Available sizes: 37cm (0-3 months) up to 52cm (2-3 years) in Originals; 47cm (6-12 months) up to 52cm (2-3 years) in Heritage.

Classic Bucket
The reason so many kids learn to hate hats is unfortunately because the brims flop in front of their eyes, blocking their vision. This causes annoyance and soon the hat is pulled off! So we've come up with an anti-flop brim with a foam insert that is fully protective but won't flop in front of their eyes – even when washed it will bounce back into shape after a few minutes in the sun. Our Classic Bucket hat is soft, stretchy and light on heads – they'll forget they're wearing it, which means more time playing and having fun.

Perfect for: Fully mobile children no longer requiring a stroller.

Available sizes: 52cm (2-3 years) up to 58cm (13+ years) in Originals; 52cm (2-3 years) up to 58cm (13+ years) in Swim.

Ponytail Bucket
Another reason kids refuse to wear hats? They can be uncomfortable to wear when hair is in a ponytail or bun. So, we decided to do something about that! We created a ponytail version of our bucket hat – a nice deep, panelled crown similar to the Toddler Bucket, but with a ponytail slit in the back for longer hair to slip through to get it off their hot necks on a summer's day. And it's finished off with our anti-flop brims to ensure the brim is kept out of eyes, meaning more time for playing and less time fussing!

Perfect for: Fully mobile girls no longer requiring a stroller with longer hair they like to tie up.

Available in: 52cm (2-3 years) up to 58cm (13+ years) in Originals; 52cm (2-3 years) up to 58cm (13+ years) in Swim.

Broadbrim Sun Hat
Featuring a more upright brim with a little more depth to it, the Broadbrim Sun Hat allows a little more protection to the shoulders, neck and chest as well as the face and head. It's a classic style with a modern edge with its stripes of stitch detailing on the brim. The more upright brim keeps it a little more out of the line of sight for the child. It also features our anti-flop technology in the brim and can be shaped a little bit more than our regular Classic Bucket hats. Also available in Ponytail Broadbrim with a panelled crown.

Perfect for: Fully mobile kids no longer requiring a stroller.

Available in: 52cm (2-3 years) up to 58cm (13+ years) in Heritage only.

Originals, Swim or Heritage?
We know, it can get confusing! We have different prints for all of these collections and sometimes slightly different styles – our Heritage Toddler Bucket hats, for example, have a sweet ruffle trim around where the crown meets the brim. But essentially, the style is the same as the Originals Toddler Bucket. The fabric, however, does differ.
Originals: Our super-soft cotton jersey knit is nice and light on little heads. It stretches up to four centimetres and so often lasts longer than you expect! It's perfect for everyday wear and preschool or daycare.
Swim: Made from 100% nylon, our swim range is stretchy and soft. It's chlorine resistant so is perfect for the pool – just be sure to wash and wring it out after each pool use. The fabric used means it will dry nice and quickly, but is not suitable for everyday wear as it can get a little hotter under there and doesn't allow the skin to breathe as well as cotton does.
Heritage: Our newest collection is a little fancier – our fabric is a nice luxe-feeling cotton poplin which doesn't stretch quite as far as our Originals or Swim fabric. We've also toned down the prints and colours a little with our Heritage collection – it's for those who like their colour and pattern to be a little more subtle! Perfect for special occasions or for those who like to feel a little fancier in the everyday!