Swim Hats vs Cotton Hats - What's the difference?
Date Posted:11 September 2018
---
If you've ever browsed on our website you might have seen our Swim Hats and wondered "what's the difference?"
Maybe you've thought "Why do I need a separate hat for the beach or pool, the one he wears every day is fine." Or "Can't she just wear her swim hat to the park too."
Well ponder no longer, here are all the answers you need to know about what the difference is between our Swim hats and Cotton hats.
So, what's different?
Breathability
Our Cotton hats are known for their breathability (because no-one wants a sweaty head). Our cotton hats are made from 90% cotton – a natural fibre that breathes and allows for self-cooling.
Our Swim hats however are made from a stretch nylon knit, while this means that our swim hats are chlorine resistant and quick drying, unfortunately, this also means that our Swim Hats aren't self-cooling like the Cotton Hats. Which is fine when the water at the pool or beach is keeping them cool anyway!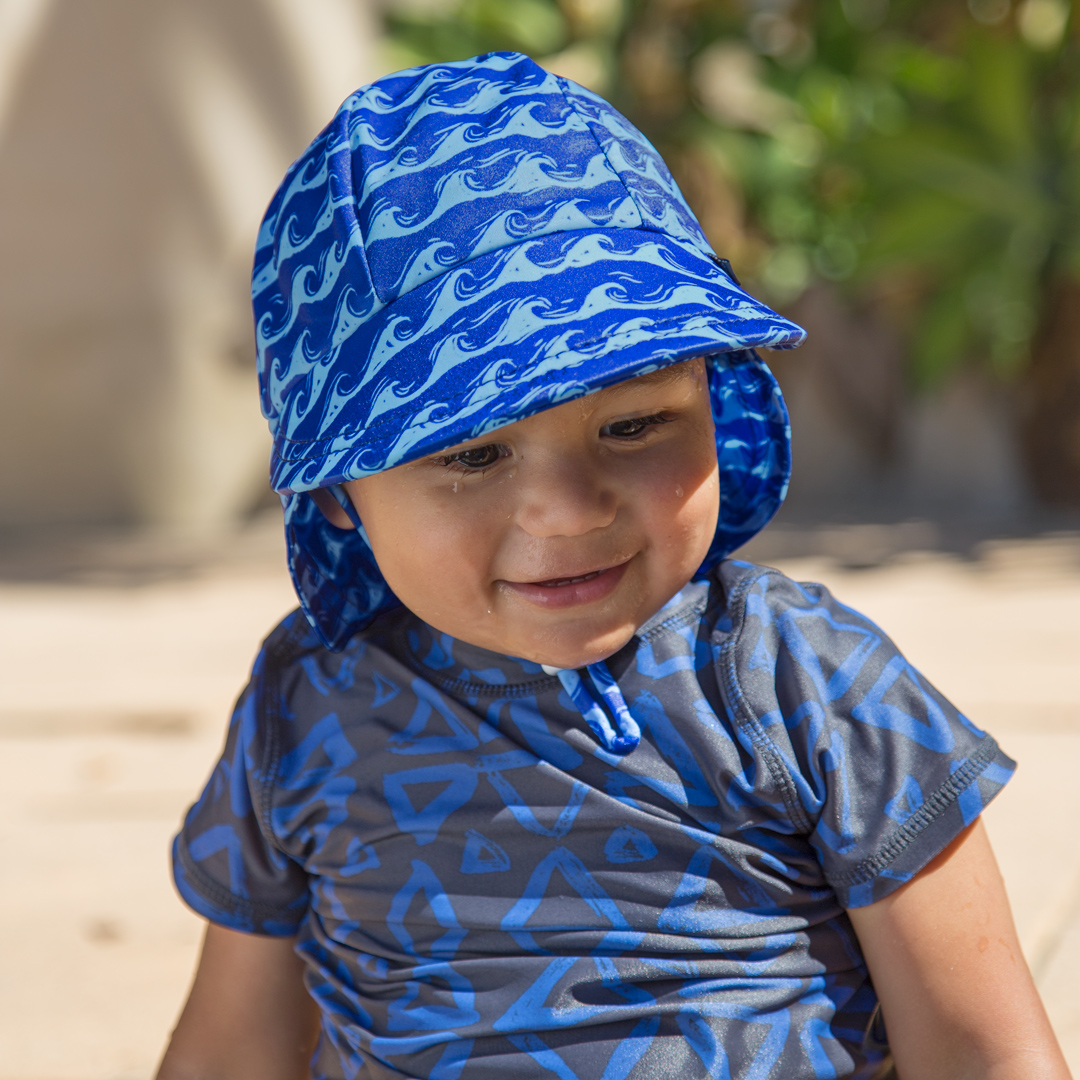 In order to keep little one's head nice and cool day-to-day, we suggest the Cotton Hat, but keep the Swim Hat handy for those spontaneous beach trips!
Chlorine Resistance
As I mentioned before, the high quality stretch nylon knit used in our Swim Hats is chlorine resistant meaning that repeated use at the beach and pool won't damage the hat.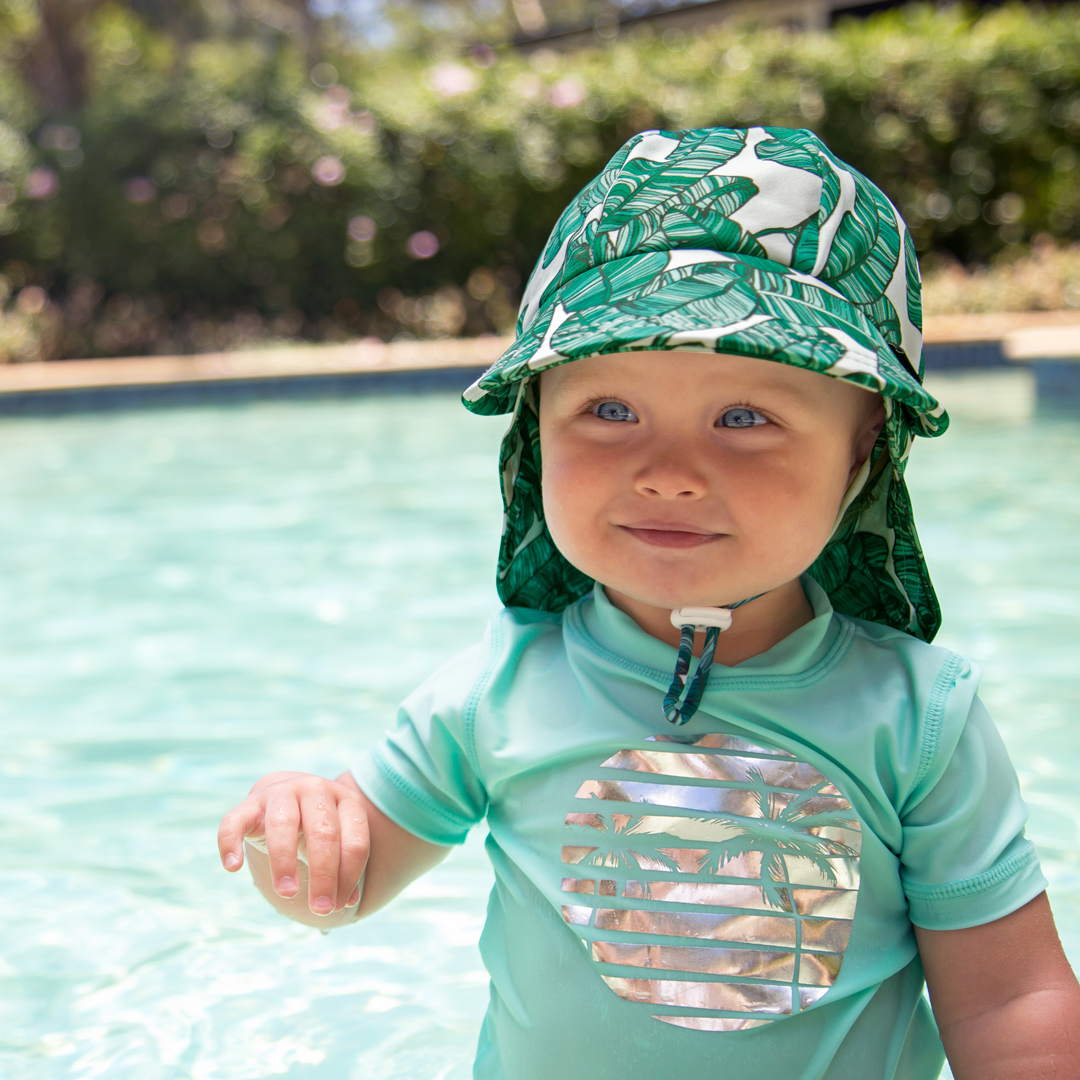 Repeated use of our Cotton Hats in chlorinated water will, over time, fade the hat damage the stretch elastane, making the hat go all floppy.
Quick Dry
The nylon in our Swim Hats repel water, ensuring they dry quickly and remain lightweight no matter how much time they spend in the water.
Our cotton hats however will absorb as much water as it can, weighing down the hat and causing it to drop down over the child's eyeline.
Prints & Colours
Not only do our Swim hats come in a different range of summer and ocean themed prints but we print our Swim Prints differently.
Our Cotton Prints are a water or rubber print based which is applied with a screen press however our Swim Prints are digitally printed (fancy stuff right?!).
The digital print allows us to be so much more detailed when designing the prints for our Swim Hats – we think they've come out beautifully, what do you think?
We've also designed our swim hats to be in popular swimwear colours to coordinate with what you already own or what's readily available in stores… OR our brand new Rash Vests!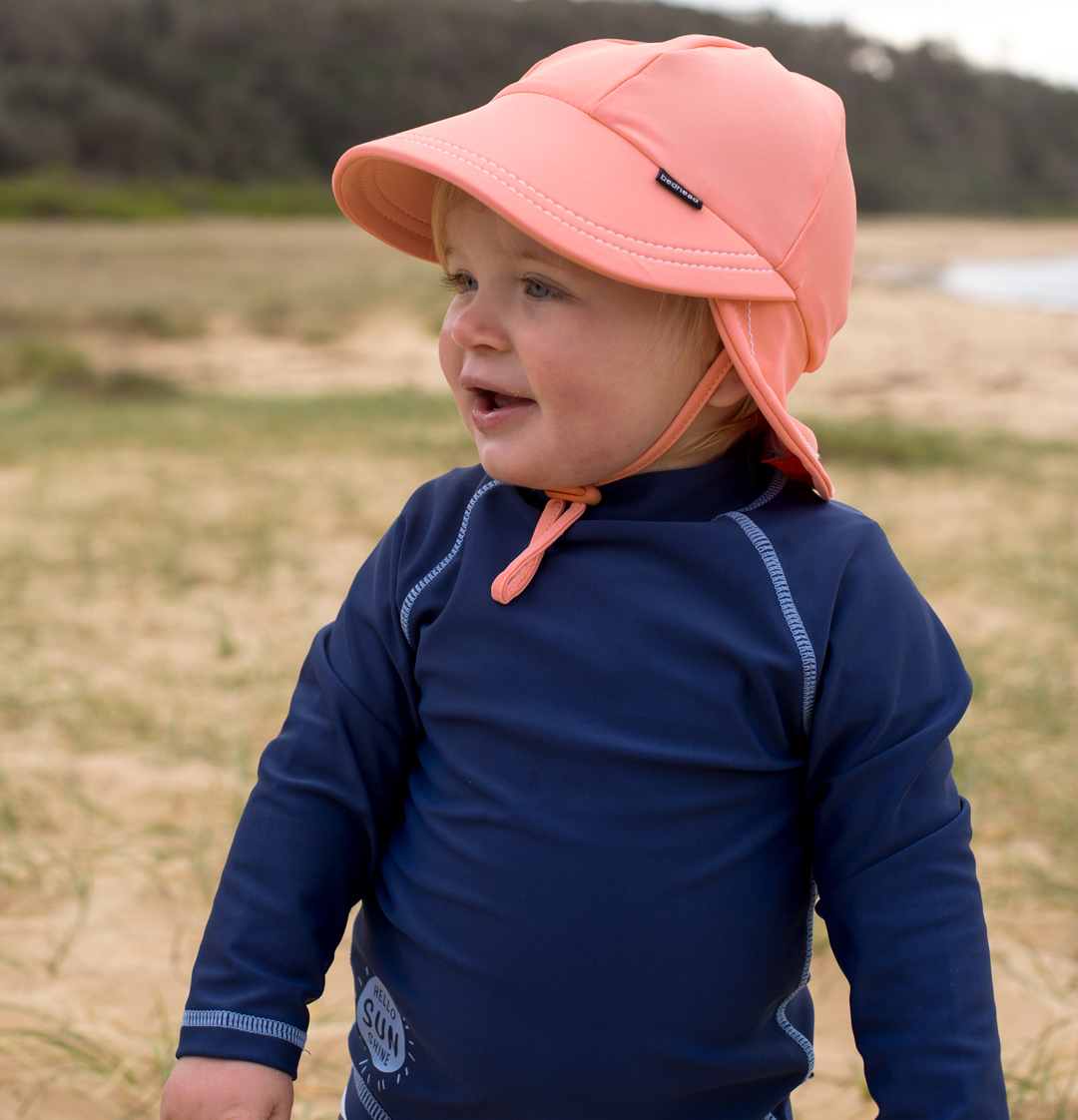 Shop our Swim Bundles to get all your Summer gear in one!
Or for everyday use, shop our Originals Bundles and get a printed cotton hat and a plain cotton hat - everything you need for a day in the sunshine.
Now you know what's different, here's what's the same.
The UPF and SunSmart rating
All styles of our Cotton and Swim hats have been tested on their Sun Protection and have been rated UPF50+ Excellent Protection which means that our hats will filter out UV rays from penetrating through the fabric and into the skin.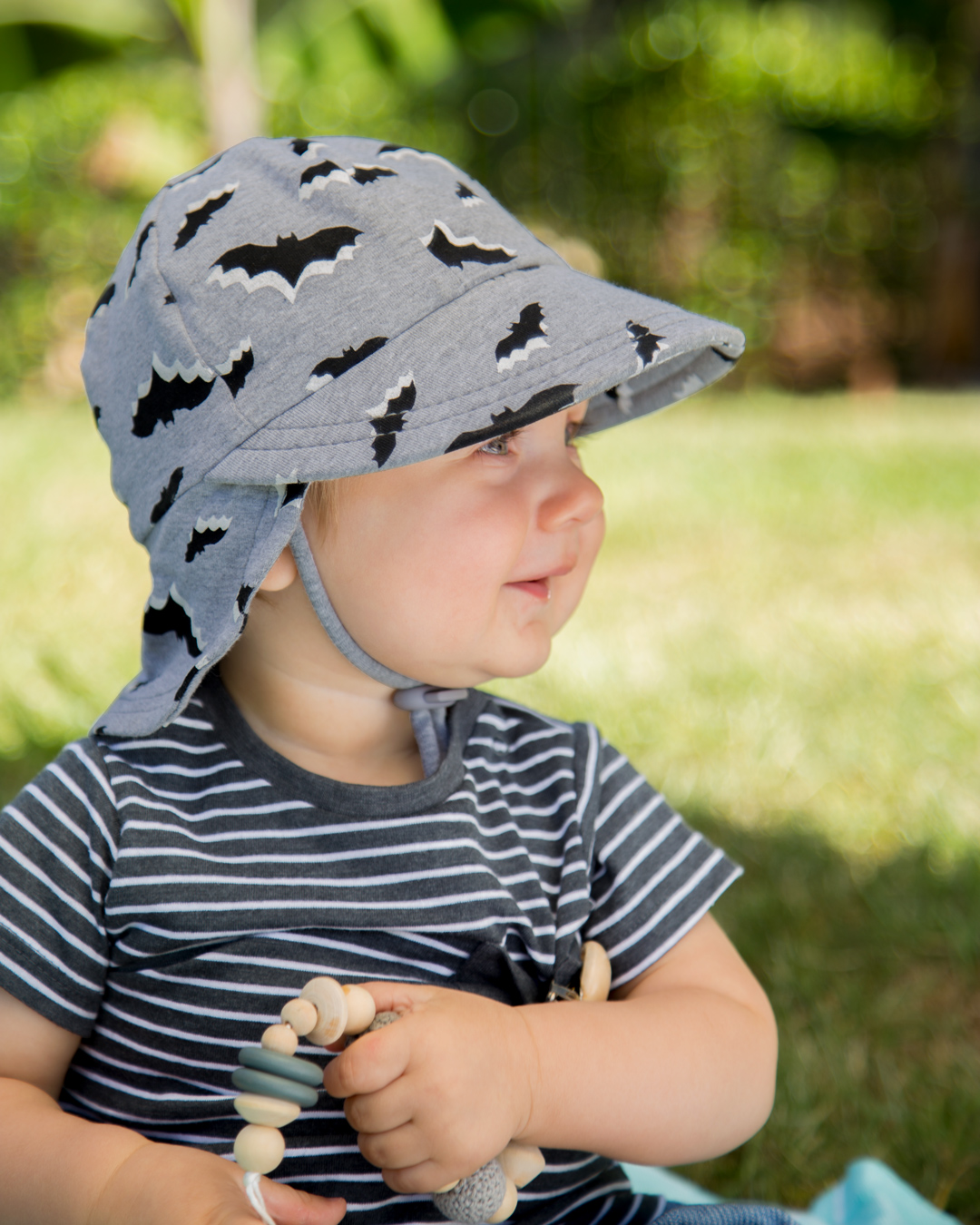 All Bedhead Hats also have brim depths that meet SunSmart requirements, meaning you can rest easy knowing that your little ones will be protected. This also means that Bedhead Hats are suitable to wear to day-cares! (Some day-cares prefer children to wear hats without a chin strap, in which case our chin straps are easy to take out without damaging the hat or we have a day-care range with a safety clip!)
Stretch and Comfort
Both our Swim and Cotton hats are made with soft fabric that stretches to fit, giving a comfy fit every time and ensuring that the hat grows as the child does.
Anti-Flop Brim
Our Cotton hats are known for their anti-flop technology especially developed to stay firm and remain out of the child's eyeline so they can enjoy non-stop play!
We've applied the same anti-flop technology to our Swim Hats so that the brim still won't flop even when wet.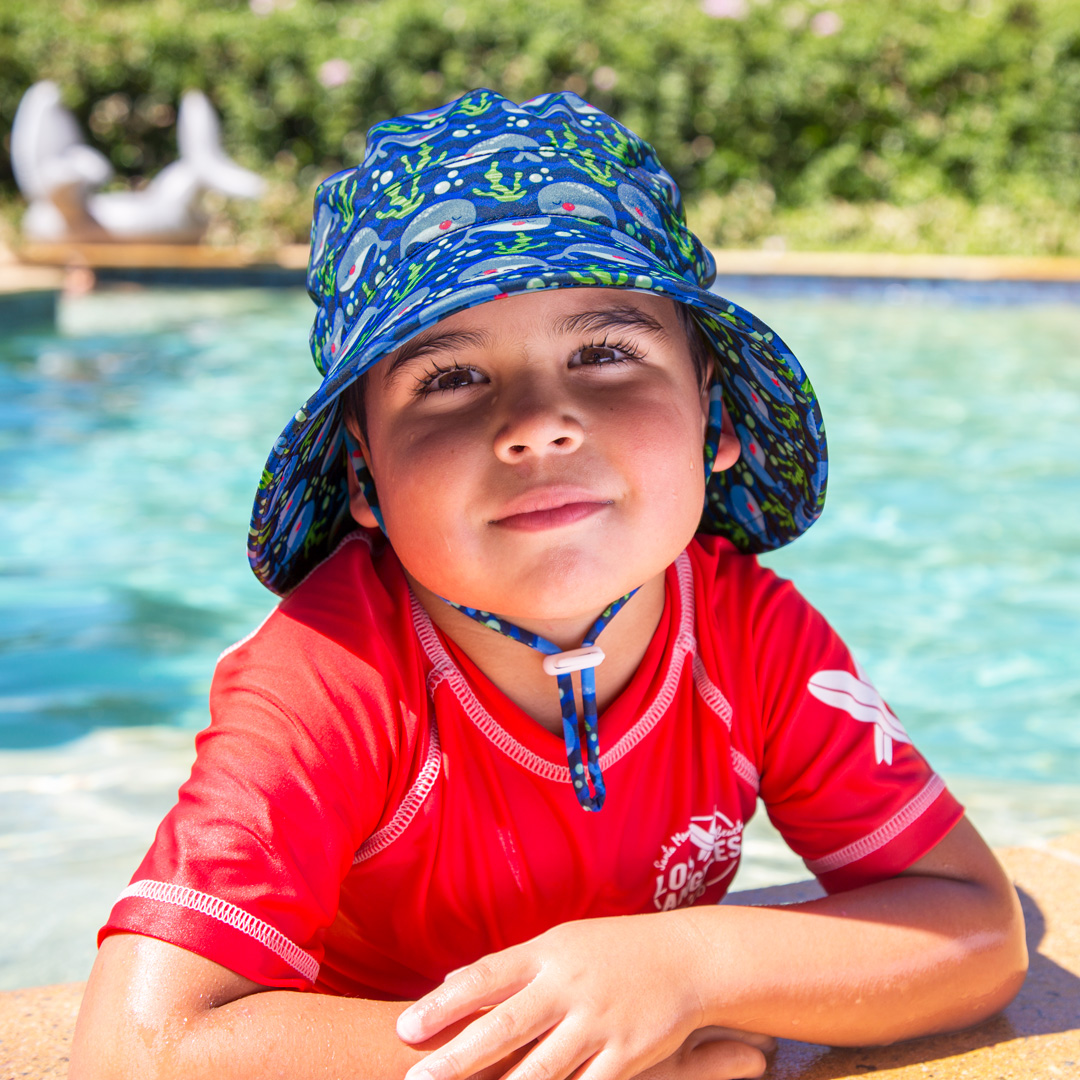 Wash and Wear
Both our Cotton and Swim hats are made with busy families and that never ending pile of washing in mind. Just pop the hat in a wash bag in the washing machine on cold wash and hang it out to dry on the line.
---
Comments (2)
Swim hat

11 September 2018

Love the swim hats! Never thought I'd need one until we tried it, now well never go back to using a sun hat in the water! Can't recommend enough!
---
The only hats my daughter would wear!

11 September 2018

I had tried multiple different brands of hats before bedhead hats and these were the only ones my daughter would keep on her head! The cotton hats are perfect for everyday activities and I found the swim hats perfect for those water adventures! I never had to worry about her taking her bedhead hats off which was such a relief!
---
Leave a comment