Thanks to their delicate skin and demands for comfort (read: being held!) it's hard to work out what to dress baby in when the weather gets hot and sticky. Too little and they'll burn; too much and all that body contact can make them (and you!) uncomfortable. We've got some top tips…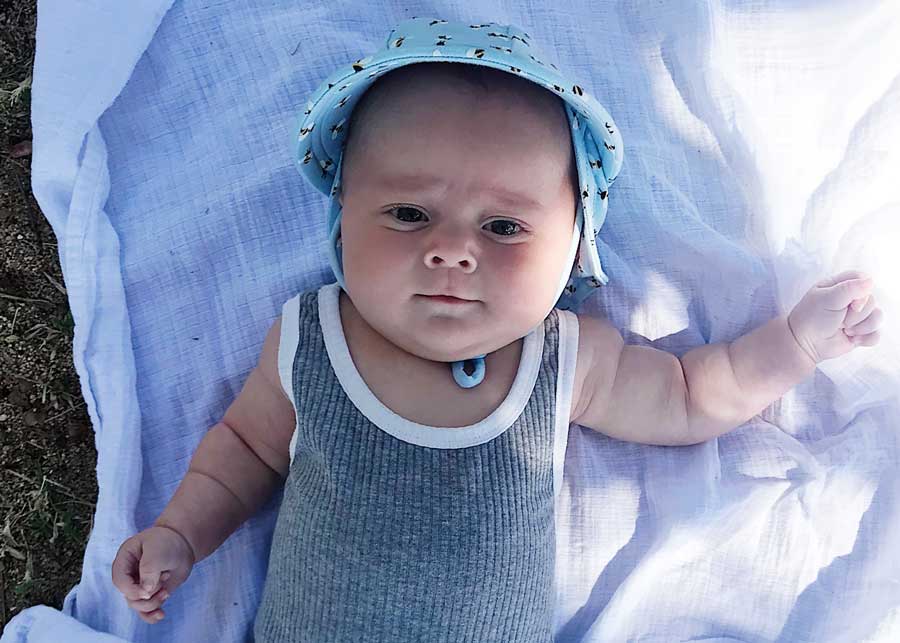 Think lightweight layers
Start with a single onesie and work your way up from there. If you know bub is likely going to be out in the sun during some part of the day, find some nice light long-sleeved clothes such as a thin cotton muslin top and comfy drawstring linen pants. Keep the layers a little looser so they're not sticking to the skin – also a bit of a wide-legged pant or sleeve allows a bit of air to breeze in and keep things a little less hot. Remove or add layers as the day's temperature varies – and it really can; particularly on those hot days when a southerly hits and everything drops dramatically.
DO: Keep a cardigan or long-sleeved onesie in your baby bag/pram/car for those kinds of days. We think our Wet Bags make great nappy wallets – simply pop a spare nappy, change of clothes or extra layer and some wipes in and it will fit in your handbag, pram bag or glove box of your car.
DON'T: Put them in socks. They're not needed on hot days as they'll trap the heat and make them even warmer.
Use yourself as guide
If you're feeling as though it's one of those swimmers-only days, dress baby similarly – a nappy and singlet or singlet onesie is totally appropriate some days! For sleep, just wrap them in a thin wrap over their nappy and leave a little of their body uncovered.
DO: Use 100% cotton only wraps and avoid anything with a lining.
DON'T: Dress them in nylon, polyester or anything else you'd find itchy and uncomfortable in summer – chances are they will find it itchy and uncomfortable too. But they're unable to tell you!

Add a hat
That fresh baby skin is like a magnet to the sun's rays – it'll burn in no time. And with not a lot of hair to act as a barrier, a hat is the most important everyday essential when leaving the house. The right newborn sun hat will prevent bub from burning and also shield glare from the sun or those fluorescent lights in the supermarkets. They're also great for use in the car – facing the rear window means babies are often exposed to more sunlight than you realise.
DO: Start with a legionnaire style for your baby's hat-styling journey. Bedhead's hats start at newborn sizes so baby can wear them from day one. The soft back flaps lie comfortably against baby's neck while they're lying down in a pram or in a carrier, and the brims are able to be angled slightly to shield from the glare in a car seat.
DON'T: Cover their heads while sleeping. It's hats off when they're in their beds or indoors as heat escapes from their heads and wearing a hat unnecessarily can prevent them from cooling down naturally.
Consider their daily surroundings
Is baby carried in a carrier a lot? A breathable material is best for summer days as all that extra heat from the body-to-body contact and the wrap itself can cause a baby to overheat. Also consider every other place baby lies at home. Is the playmat or bouncer they lie on too fluffy and warm? Is that baby swing's plastic seat too hot? Is the plastic change mat too sticky and in need of a towel? Is the pram lined with heavy fabrics or a cool cotton sheet?
DO: Ditch all the heavy blankets and wool liners – stick to cool linens, cotton or bamboo blends as they feel cooler on the skin.
DON'T: Forget the car – if they have a black car seat, consider adding a white sheet to reflect some heat the black would otherwise absorb. Also use shades on the window or a cleverly placed muslin wrap to shield them from the sun (muslin wraps are gold for all things baby!)
Have your own top tip for keeping baby comfortable (safely!) in summer? Share away in the comments!
Images: Thanks to @ourmaggielife and @my_sweet_tribe_of_five