It's been a trying time for the world. With the postponement of several of our PBC expos this year, we thought we'd bring our hat expertise to you in another way. All the popular questions we get asked at the baby expos – answered!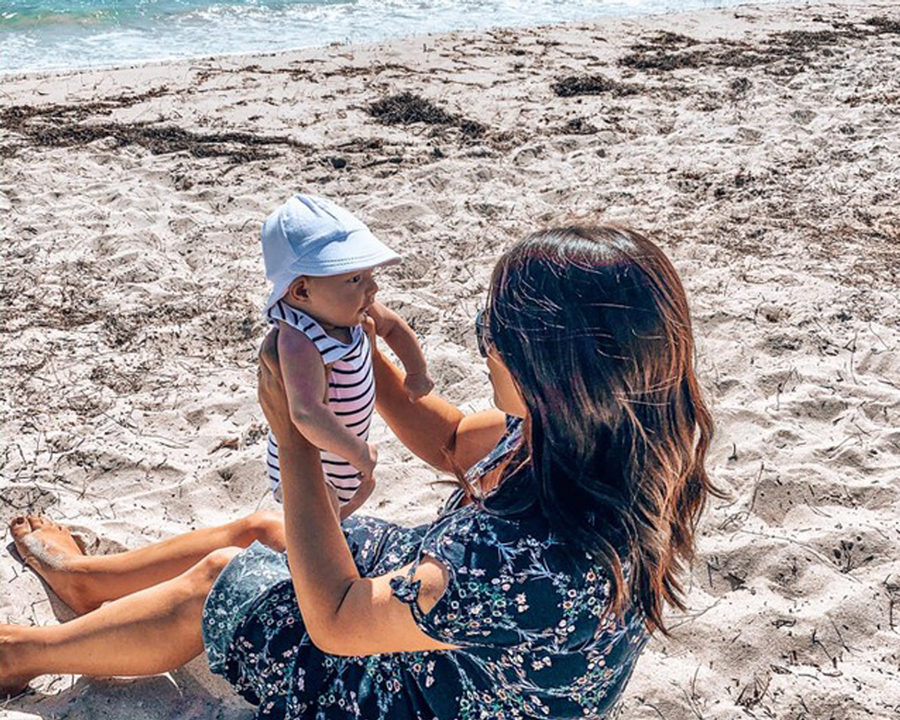 What's the difference between the styles?
We go into a lot of detail about each hat in this blog post but here is a quick run down of our hat styling journey and who each hat is best suited to.
Legionnaire and Baby Flat Hat: The best introduction to hats. Light on heads with a soft flap that lies flat while baby is lying down, keeping the hat in the correct position. Perfect for: Newborns, crawlers, prams, strollers, car seats, carriers and slings.
Toddler Bucket: For happy hat wearers, this style introduces children to an angled brim. The felt-reinforced brim is soft for when they're lying down, but stays upright for independent play. Perfect for: Toddlers, prams, strollers, car seats, carriers and slings.
Classic Bucket: Once children spend more time out of the pram than in it, the classic bucket is perfect. The brim is reinforced with foam so it will always be at that perfect protective angle and won't ever flop in eyes – once of the biggest reasons for hats being pulled off. Perfect for: fully mobile kids no longer requiring a stroller!
Ponytail bucket: Similar make up to our Classic Bucket but with a panelled, more feminine crown, and a little slit at the back for polnytails to be pulled through for extra comfort. Perfect for: Girls with long hair who like to wear their hair up but don't like the feel of a hat over their ponytail.
Broadbrim: A little more depth and uprightness to these brims gives them slightly more protection to shoulders and chests. Available in Classic style or ponytail styles. Perfect for: Kids who don't like angled brims in their eyes.
For more on each style, head here.
What's better? A legionnaire or bucket hat for babies?
Our recommendation is that babies start out in a legionnaire style and move on up to a bucket style once they're a little more independent (sitting/crawling) or are used to wearing a hat. This is due to the style of the hat making this new thing on their head easier to get used to as they're lighter on heads, a little more upright so they can see out more, and harder to get off due to less fabric to grab onto! That said, we do make bucket styles in the tiny newborn sizes too (and they're as adorable as you'd imagine) just as we make the legionnaires all the way up to size 54cm. Both styles have the same UPF50+ protection in fabric and design so they're both equally as safe – it's just some people prefer a particular style of hat, so we do our best to accommodate that.
We don't need a swim hat too, do we? We can just use that at the playground or for daycare?
We know, some of those Swim prints are so pretty, you want to wear them all the time! But we don't recommend it. The Swim hats are made from a Nylon knit fabric that won't fade or flop and is quick-drying and chlorine-friendly - all the things you want in a waterplay hat! But, the nylon knit is not as breathable as cotton, and so you'll find little heads will get hot and sweaty if they're used for everyday wear and not being cooled down by the water. A cotton hat for daycare or everyday allows the head to self-cool as it has that natural airflow through the weave.
How many hats do we need?
At LEAST one. A hat is an everyday essential item – it should be as big a part of your daily routine as brushing your teeth or putting on underwear. When you go outside, you should wear a hat – everyone should; not just the little ones. But, that said, there are times you might need more than just one. Some people like to keep them everywhere and for every occasion: the car, their handbag, in the beach bag, at Grandma's house, for daycare, for special occasions, to match their different outfits… But for most families, we suggest our three-hat bundles as they're ideal for most situations. You get a print hat and a plain-coloured cotton Originals hat which are ideal for everyday wear, the grandparents house, to keep in the car or for daycare. And a Swim for waterplay – the beach, swimming lessons or just running under the sprinkler in the yard! The bundles are priced at a discount. Check them out here:
Which is more protective? The legionnaire or bucket hat?
All of our hats are rated UPF50+ excellent protection, meaning they're all as sun safe as the other. Some people do prefer the legionnaire for the extra-long flap and slightly more upright brim, but as long as the hat is used in conjunction with other sun-safe protective items (sunglasses, sunscreen, clothing, shade etc), all will be as protective as the other and it comes down more to what stage they're at (see first question).
My baby has a big head – do you have something to fit him?
YES! We have various sizes for big and small-headed babes! It's always best to measure your baby's head rather than go with the age-range on the sizing. That is a guide only, but we always recommend you purchase the hat size closest to your child's head measurement. See here for measuring tips:
Is it a one-size fits all?
Nope! A newborn is not the same size as a 12-month-old and so shouldn't be in the same size as one either. That is when floppy, in-your-face hats or too-tight hats come in and we don't like those! We have nine different hat sizes to range from newborns to kids 13+. Even some adults fit out hats. We believe kids will be more inclined to keep a well-fitting, comfortable hat on their heads, helping them to become #sunsafeforlife – which is why we made them that way!
Do I really need a hat for a newborn? Maybe I should wait until they're sitting up?
You could wait, but then you risk those little mobile hands grabbing onto the hat and throwing it across the room followed by a bit of tantrum because they don't want to wear a hat all of a sudden. By introducing babies to a hat when they're still little blobs that don't really move, you're getting them used to having something on their heads, so by the time they're able to be aware of things, they've already accepted a hat as daily wear – just as they have a nappy or clothes. This will save you the battle later on and start them on an important journey of sun safety - hopefully for life. Babies are also outdoors a lot in prams on walks or carriers - and a hat designed for both of these purposes will keep them protected from direct UV exposure. A legionnaire hat is also ideal for rear-facing car seats which often times don't have a lot of shade - a hat with a brim angled just so will keep the sun and glare out of baby's eyes.
Should I buy by age range or size?
While we have age ranges on our hats, they should be used as a starting point or guide. Children are so different in sizing what lasts for years on one child, might only last months on another. We've had 9-months-old still wearing their newborn hats, while we've had two-year-olds in 56 hats. It really just depends on the individual, so we always recommend you measure your child's head and choose the hat size closest to that measurement for the best fit. So for our Originals and Swim hats there is a lot of stretch so if your child measures 48cm, we'd suggest they get the 47cm hat because the 50cm would likely be a little too big. If they measure 51cm, they could go really go either up or down as it is only one centimetre in-between the other sizes, but going up to the 52cm is probably wisest as they'll get to wear it for a little longer. If the hat is a little loose at first, pull it right down at the back of their neck and use the chin strap. For our Heritage range, it's a lot less stretchy and a much smaller fit. We recommend you size up for Heritage. So if your child is measuring at 49cm, normally they'd be a 50cm in Originals, so we suggest they go up to a 52cm for Heritage.
It's always easy to try hats on to get the best fit, which is why our expos are so popular! But there are also our many stockists who have hats in store you could purchase from too. The other bonus of expos is not only getting to try on our hats, but scoring a great price on them too! We have you covered for that a bit too at the moment - we have a 3 hats for $60 (plain colours only) sale on right now - which just happens to be our plain-coloured hats at expo prices! Quick, head over here to shop the sale.