An unlikely childhood. Not a bad one. Just different!
Owning a small business isn't just a job, it becomes part of your family. The cog in the back of your head never really turns off after hours, as you care for the business like you do someone you love. That's why I refer to Bedhead Hats as my 'other' child quite often.
But what about the real-life actual children? The majority of Australian small businesses are owned by mums & dads.... and their children. These children of small business are, in my opinion, the un-sung heroes. I'd like to share my own little hero with you all: Ty.
Ty is the reason Bedhead Hats exists. It has been a part of our family since he was a few months old and they have grown up together. He learnt to count at age two by doing stocktake, rugged up in his winter woolies in a cold warehouse in winter. Always wanting to get in on the action, Ty was opening stock boxes with a Stanley knife by three – safely I assure you (check out the video, top!). By four, he was onto packing orders and directing photoshoots (more so, telling me what I was doing wrong!). At five he pitched 'upsell' marketing strategies to me - "I'll make birthday cards that people can add to their order of hats and you can give me the money" - sneaky genius!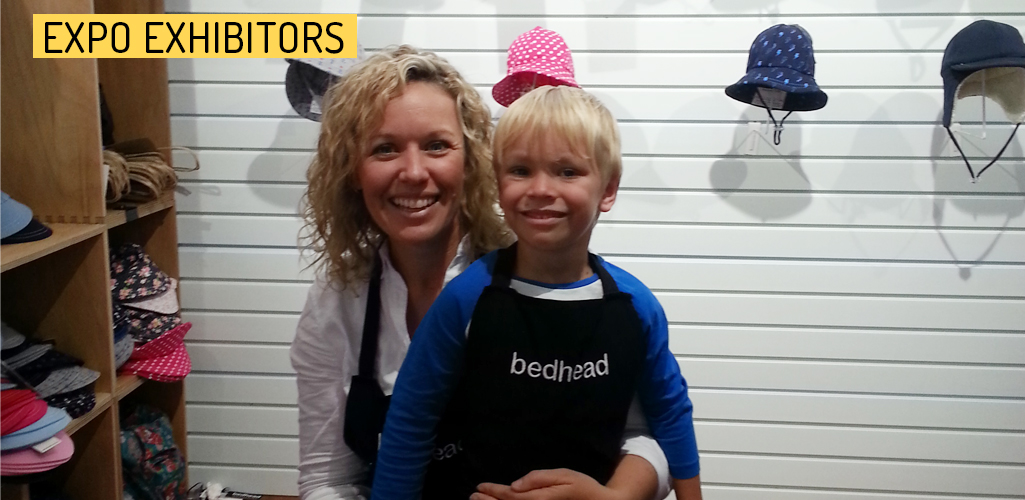 The travel bug struck him by age six and he joined me in visiting our factories in China. He was hooked by the culture shock straight away. The following year at age seven, sitting in Starbucks enjoying his fave treat, Matcha Frappuccino, he asked "What's the exchange rate, Mum? So, if I divide the Chinese price of the muffin by 5, that makes it what it would cost in Australian dollars?". I could see the penny dropping in his head. He just GOT division in a practical way. He spent the rest of breakfast calculating the cost of items and dropping a few "tell 'em they're dreaming!" at the converted prices of little everyday items.
He has an extended family in our factories in China. They spoil him – rotten!!! He gets the most amazing gifts – usually taking up all my luggage space! Theme parks, shopping sprees, joy rides in luxury cars – Ty is the surrogate son of both my agent Kent, and factory owners Mr & Mrs Wang.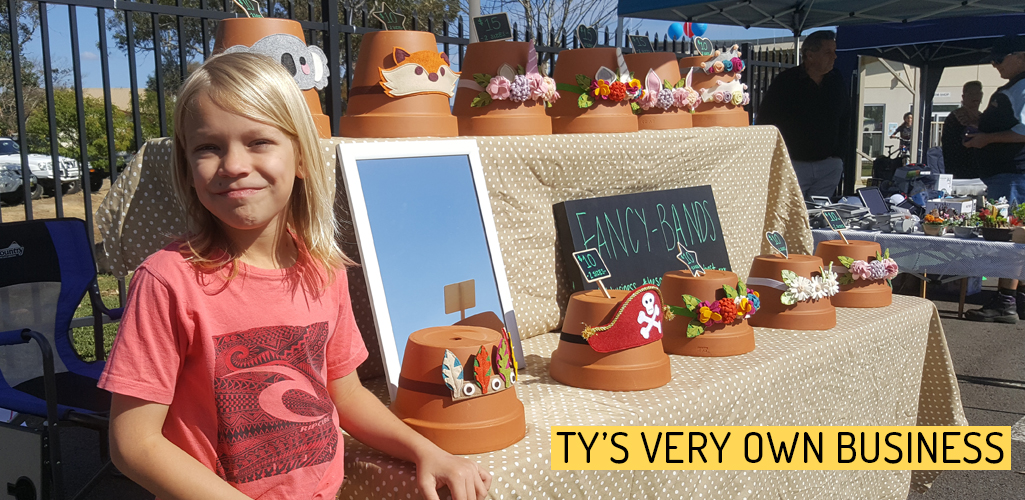 Ty had bugged me for a few years that he wanted his own business. And so Fancy Bands was created: he repurposed some left-over felt garlands into cute little headbands. Within a week he had sold $2K worth! He designed new styles and ordered more stock from the factory. He exhibited at multiple expos and local markets, learning how to service a customer face-to-face. Although the novelty of having his business lasted a year or so, he learnt the hard work and commitment it takes early in life.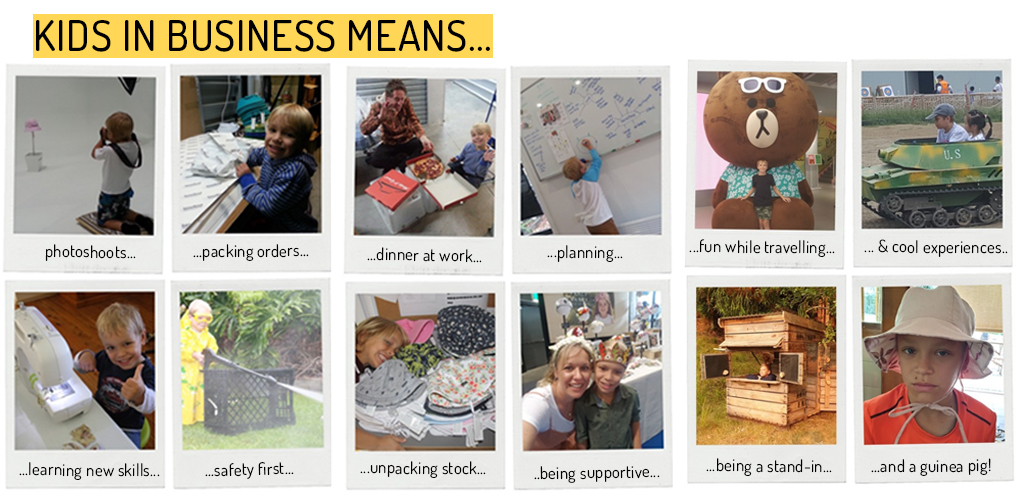 He's got street smarts. Ty can navigate an international airport from check-in through to departure. He can calculate in his head the exchange rate of Lego in Shanghai to justify if it's worth the baggage space. Oh, and the kid can sew... really well too. He just finished sewing nine meters of fabric bunting for a school project and his seams were neater than mine. Nowadays he helps out in the warehouse in his school holidays. He enjoys being our guinea pig – testing out new workflows and operating procedures like a newcomer to our business.
Ty has seen it all. He more so than anyone, knows how hard I've worked for Bedhead to become what it is today. The happy tears, the frustrated tears, the wins, the disappointments, the highs and the lows. Ty is the most patient person I know. He knows that his hug fixes an entire day of my working frustrations, so he remedies me often.
So here's to all the children of small business. May your smiles, laughter and hugs be the fuel of Aussie small businesses with big dreams. A million thank yous in advance xxx
WIN!
We want to see those little mini business babes - your little one in the hi-vis vest like Dad; stocking the shelves or riding in the delivery truck! Show us your "helpers" and we'll choose a winner to receive a $100 store voucher. You can enter here.