Teaching your kids sun-safety is something that every parent should do from day one, but, like Vicky, when your baby comes out with glowing and fiery red hair, you realise just how harsh the Australian sun can be, and how important sun-safety is.
This is Vicky, Lexi and Flynn and this is their sun-safety journey.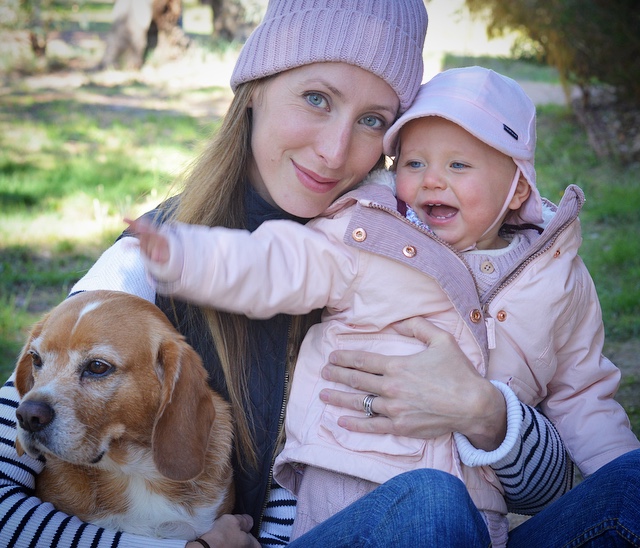 "When the doctors held Flynn up and exclaimed 'he has glorious red hair' I must admit there was a small part of me that was disappointed. Not disappointed about his beautiful hair colour, but disappointed that he will always have to be extra careful when out in the sun. I never anticipated having a red haired child as neither my partner nor I are red heads, so he was a complete surprise.
My now three year old was always very good at wearing a hat as a baby, and being very aware of the damage the sun cause to delicate baby skin, he was wearing hats and sunglasses from day dot . But as Flynn grew and became more aware of his clothing and the world around him he started to pull off any hat that was put on his head. He started day-care and although I sent him with numerous different designs of hats the report at the end of the day was always the same, "Flynn wouldn't wear his hat" or " he wore it for a bit but then kept taking it off". It stressed me massively as occasionally he would come home with a slightly sunburnt hairline or extra rosy cheeks.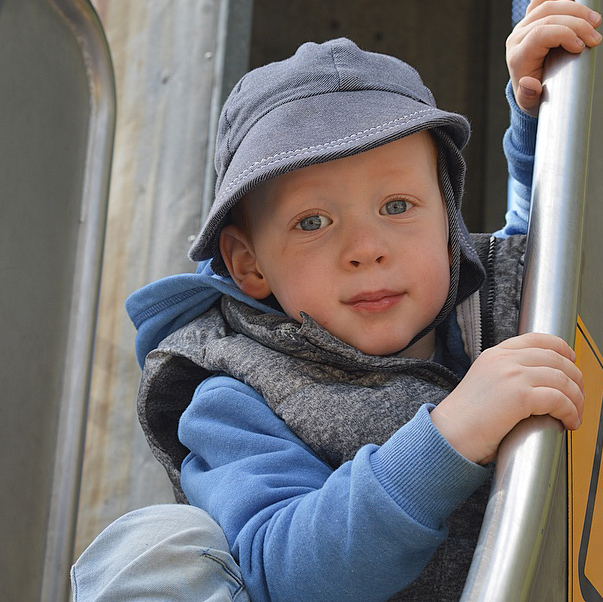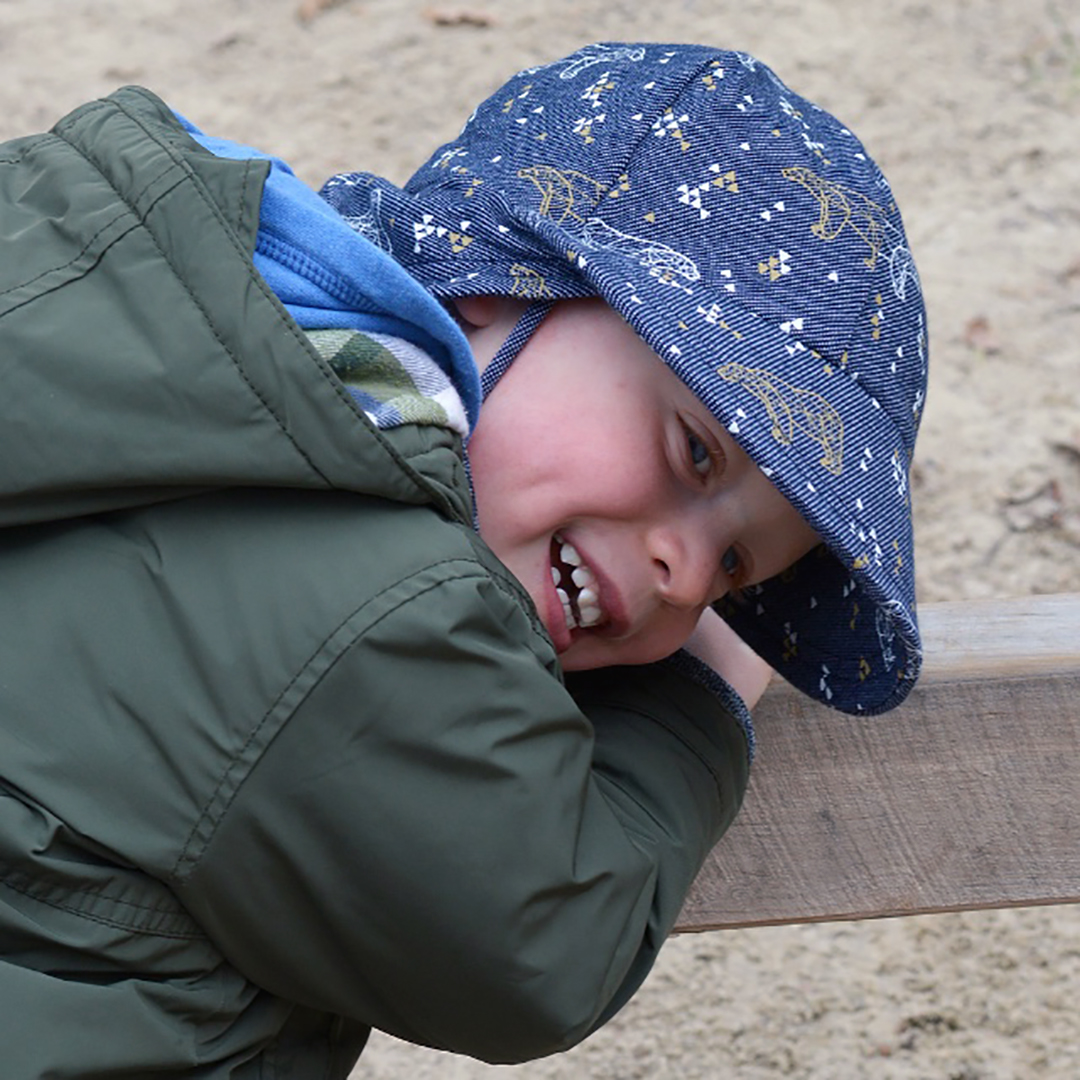 I started to research legionnaire hats as an alternative to the bucket hats that kept on being rejected. I found Bedhead hats online and purchased a navy blue legionnaire hat, not genuinely thinking that it would be accepted by my son. The hat arrived and was immediately put on Flynn's head, he liked the novelty of having a hat with a toggle under the chin, and although initially he removed it a couple of times to take a better look at it, the hat mostly stayed on. We started putting the hat on in the house and then going for walks with it on. Within a day or two Flynn would forget he was wearing it and I would literally have to take it off him to prevent him wearing it to bed!
The big test however was day-care, I walked him in on that Monday with the hat on his head, and picked him up ... with the hat on his head! Flynn had worn the hat throughout the day, taken it off for nap time and then had been happy to wear it again for the afternoon. The rest really is history. Flynn has been wearing his legionnaire bedhead hats now for 18 months, he wears them outside, he sometimes wears them inside (which in the summer can be handy as he can get sun burnt through the windows of our home) and he always wears it in the car. It's a part of his daily routine, and I am so glad it is. In 18 months he has never got a sun burnt face or neck. The hats give me confidence that when I am not around to plaster him with sun lotion, that he is sun safe.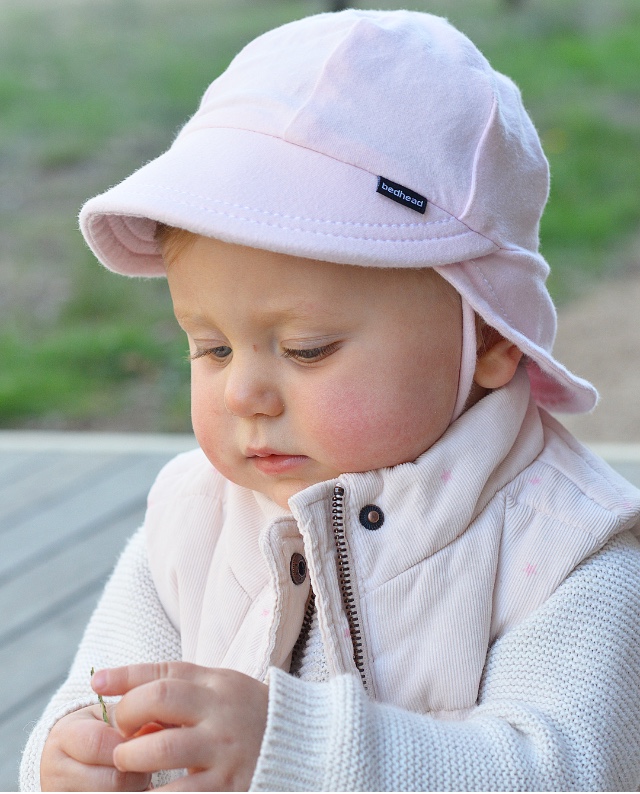 We now have a second Bedhead legionnaire hat wearer in our house, little Lexi. Her pink legionnaire hat was one of the first things I bought her. Like Flynn she doesn't even know she is wearing it. I regularly carry her in a backpack style baby carrier and I know that once her hat is on, it is on. She doesn't have the super fair skin of her brother but really that is irrelevant, her baby skin is so delicate that any damaging sun exposure will have a lasting effect.
I don't believe in keeping children indoors, or wrapping them up in bubble wrap, but educating them to be sun smart and keeping their little heads protected is fundamental to keeping them healthy whilst they enjoy the great outdoors."