We know the importance of easy-care items – who wants to spend all their time pandering to high-maintenance clothes? But while we've made our items washable in the machine for easy-care, there are still some things you need to know in order to ensure your Bedhead item is given the best chance for a long, adventurous life. And we know, life happens and things can go wrong. We've also got some ideas for fixing mishaps too. Here's all you need to know…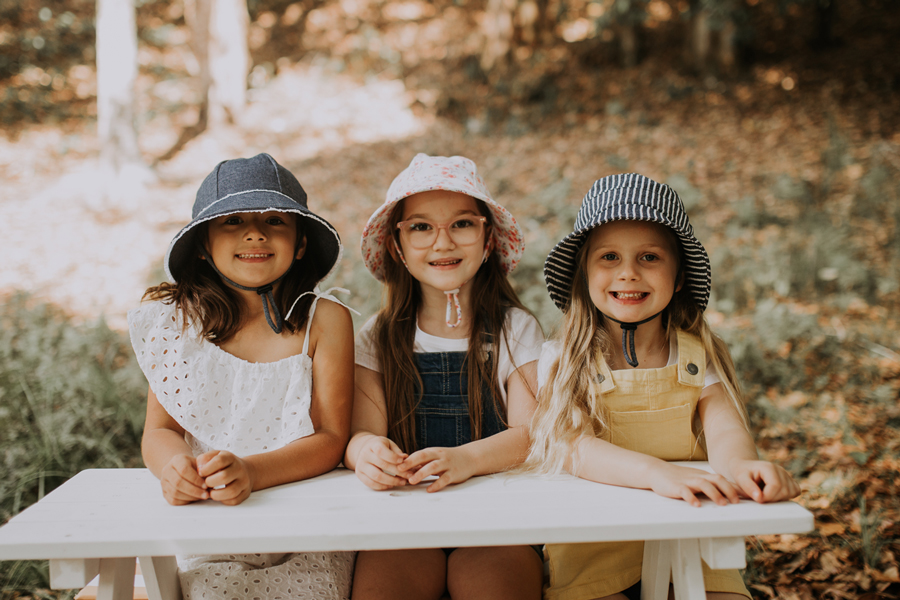 FOR ALL BEDHEAD GEAR
DO
Wash in a wash bag to ensure the ties don't tangle with other items and break. This will also prevent other items in the wash – like Velcro or zippers – from snagging the fabric.

Dry in the shade.

Wait a little bit for sunscreen to soak into faces and hands before touching the hat. The chemicals in some sunscreens don't play nicely with fabric and can stain.
DO NOT
Bleach. To brighten whites, add a half a cup of bicarb soda to your regular washing powder and wash as normal. Bleach can damage the fabric, causing discolouration and fibre breakage which leads to thinning and stretching.

Tumble dry. The fabric will shrink and the foam in the brims will melt, causing a ripple effect.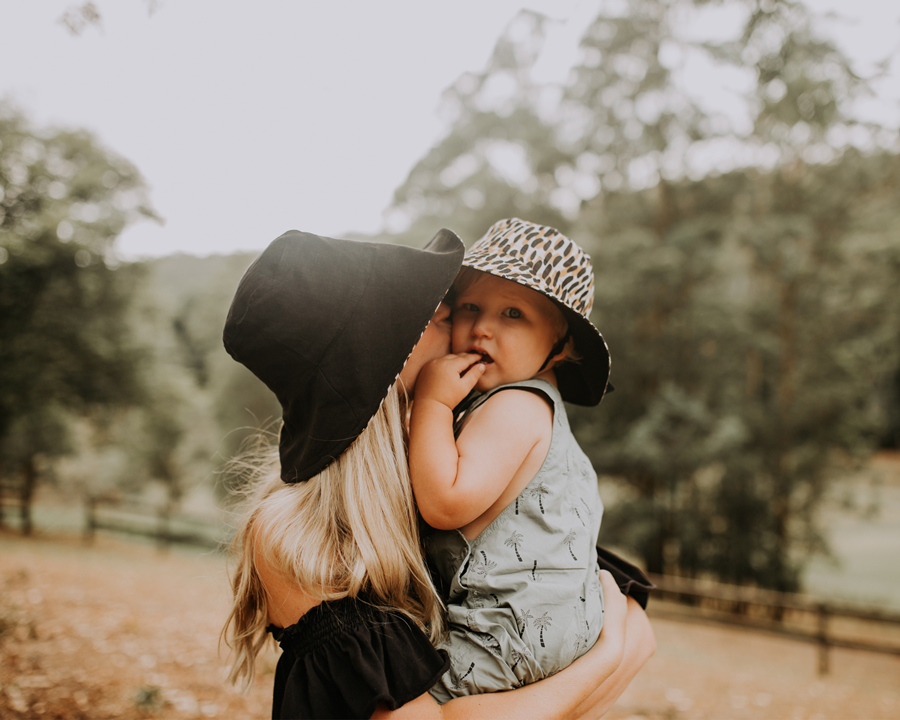 CARING FOR NEW HERITAGE
Our new Heritage range is made from 100% linen and is reversible. With long ties and leather hide return-to labels, they do require a tiny bit extra looking after.
DO:
Use a THIN Sharpie to write your child's name on the leather return-to tab. A thicker Sharpie or felt-tip pen will bleed when left wet for too long which can not only bleed through the leather, but onto the hat fabric too.

Wash in a quick, gentle, cold-water wash and remove immediately after the wash finishes.
DO NOT:
Leave in the washing machine for too long after the wash ends. This is when the all-natural hide of the leather or the Sharpie ink can bleed and rub off on your hat, staining it. We tested this and found the longer the hat was left in the machine or basket with damp clothes, the more the tag bled onto the fabric.

Soak. Again, keeping the hats wet for too long can cause ink or the hide to bleed.

Tumble dry or use hot water to wash. These can cause the linen to shrink beyond repair.

Wear in the pool or surf. The pool chemicals as well as a mix of sea water and sun can cause fabric to discolour, stretch or fade – particularly if not rinsed out immediately after use.
You can find more about care of your Heritage hat (including how to reverse it) here:

CARING FOR ORIGINALS
Our everyday cotton originals hats are super-stretchy, soft and comfortable. Here is how to get the longest life out of them.
DO
Lie toddler buckets and legionnaire styles flat to dry in the shade. For classic and ponytail buckets with the anti-flop brim, stand upright on their brims and leave to dry in the shade.

Rinse immediately in clean water if wet from sea water. The combination of salty water and sun can cause discolouration. It's always best to use one of our Swim hats for waterplay.
Place in the sun for a few minutes if the brim has bent a little. The sun will warm the foam up and should remove the kinks. You can also reshape them by slightly manoeuvring the hat with your hands.

DO NOT

Wear in the pool. The pool chemicals can eat away at the fabric causing it to stretch, fade or discolour. Stick to one of our lovely Swim hats for waterplay.

Forget to regularly check your return-to label still has its name and number clearly printed. Reapply with a thin Sharpie and gently iron over to seal once dry.

CARING FOR SWIM
Perfect for waterplay, our swim hats, rash vests and wet bags are quick-drying and chlorine-friendly but require a little extra care.
DO
Take care against rough edges such as rocks or concrete pool edges. The fabric of our Swim hats and rash vests is quite delicate and can "pull" if rubbed up against rough materials.

Wet hats to keep little heads cooler – the Swim hat fabric is warmer than cotton, so it's nice to wear them wet!

Rinse all swim items after use – particularly after use in a pool to remove traces of chlorine.
DO NOT
Wear as an everyday hat. Like most swimsuit lines, our Swim range is made from a stretch polyester which doesn't breathe or self-cool the same way cotton does. Wearing at daycare or regularly can cause your child to sweat, making it feel uncomfortable for them. These hats are best worn in and around the water where they can wear them wet to keep cool and not worry about the fabric being damaged by the sea salt or chorine.

Leave wet items in the wet bag! Always wring items before adding to the bag so the bag removes leak-proof (sopping wet will eventually leak through), and remove as soon as you get home and wash with clean water before drying to extend their life.
WHOOPSIES!
Sometimes things go wrong, here are some problems that have cropped up and (hopefully!) a solution!
"Help! My Heritage hat shrunk!"
While prewashed to remove most of the shrinkage, it's still possible linen may slightly shrink when washed. The wrinkled look and feel linen has after washing will also cause it to look and feel a little smaller. Like denim, though, it eventually relaxes again with wear and a little stretching. Using a garment steamer can also quicken up the relaxing of the fabric as well as iron out any kinks that occur with linen!
"Eek! The leather tab has bled and marked my hat!"
Our leather return-to labels are made from natural animal hides that vary in colour, thickness and look. So how they react to prolonged soaking will also vary. We tested several of our white linen Heritage hats in different scenarios to see if the tags would damage the fabric. Here's what we found:
Washing in a wash bag in a quick cold wash and removing from the wash once the cycle had finished and leaving to dry in shade (as per our instructions) = no bleed.

Washing in wash bag and leaving items in washing machine for 2+ hours = slight bleed of leather tag onto fabric.

Soaking hats for half hour+ and then leaving hats in a bundle in a basket = bleed through of thick Sharpie and leather tag onto white hat.
So basically, the longer the exposure to water, the more likely the tag will bleed. There is hope though! With a little gentle rubbing, most of the leather stain was able to be removed. Here is what we did:
Mix a teaspoon of bicarb soda with half a teaspoon of liquid castile soap to form a paste (the best to have for all kinds of cleaning is Dr Bronner's Liquid Castille soap). A liquid washing detergent may also work. If too thick, add a little water or extra bit of soap until it's the consistency of royal icing. If your hat is white, add a few drops of lemon essential oil. Do not use lemon oil on darker colours as it can cause colour to change. Gently rub into the affected area and rinse. Wash again as our normal instructions and leave to dry in the sun. The sun acts as a natural bleach and can remove more of the stain.
"The writing on my leather tab smudged and bled over my hat fabric."
We recommend a thin Sharpie to use on your leather tag. But just in case, we tested the removal of a few stripes of thin Sharpie on our white fabric to see if we could get it out. While it didn't remove it completely, gently blotting the stain with a little bit of nail polish remover did get most of it out.
You can find all our care tips and tricks on our
Product Care

page.