Easter gifts without the sugar rush
Date Posted:1 April 2019
---
Easter = chocolate eggs. Not sure how they managed to get to that maths equation but we're happy to roll with it.
When kids are involved, however, it quickly becomes waaaaay too much of a good thing. Thanks to the Easter Bunny's gifts, your gifts, the grandparents and aunts and uncle's chooclate bunnies and countless egg hunts, there is soon a chocolate mountain sitting in your living room and one crazy hyped-up child proclaiming to be King/Queen of Chocolate Kingdom.
We're not suggesting you banish the sugar altogether (everything in moderation!) but there is a way to tone down that sugar rush a little by mixing up your chocolate supply with a few non-edible gifts - both as their main gifts and during the Easter Egg Hunt. Here are a few ideas.
Main gift
Wrap up a basket with a chocolate bunny, some little Lindt carrots and one or two of these fun, functional and funky items.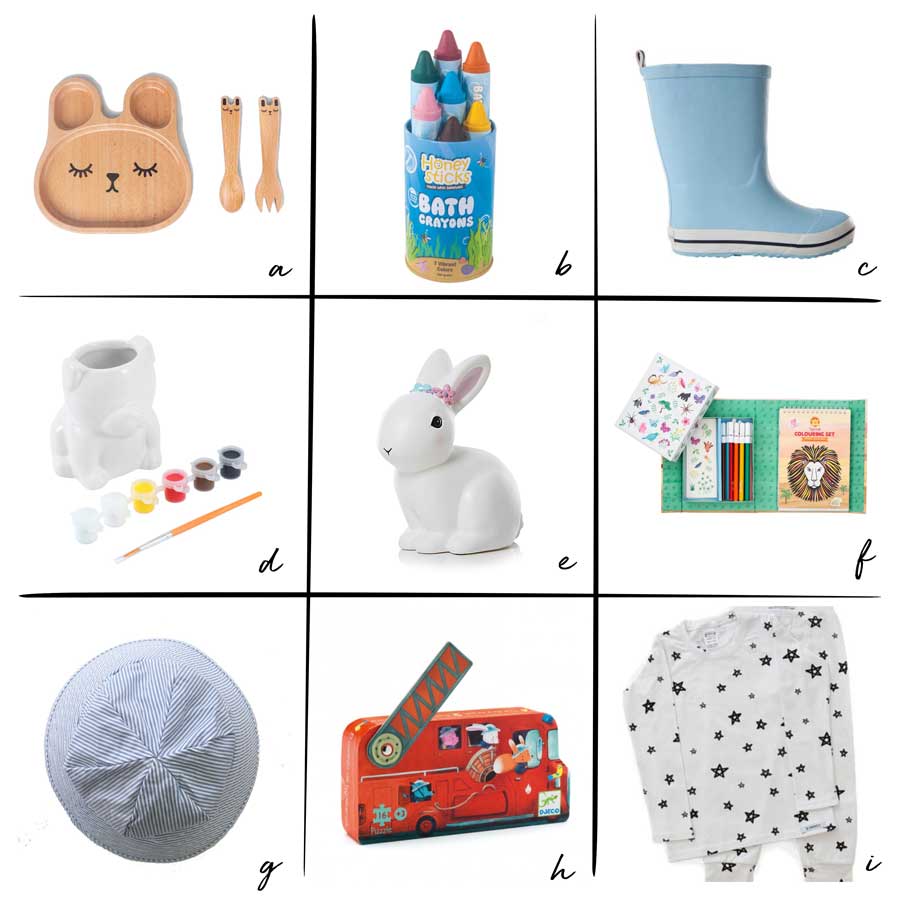 (a) Wooden Bunny Dinnerware Set, $19, Target Too-cute beachwood bunny plate with matching fork and spoon. Use the three little dividers to ensure NO FOOD TOUCHES! Because we all know how traumatic it can be when your mash mixes with your carrot sticks.
(b) Bath Crayons, $19.99, Honey Sticks These seven cheery colours will turn any bath surface into an absolute masterpiece - temporarily, of course! Made from an all-natural soy and beeswax blend, they have a lovely honey scent and wash off easily once bath time is over.
(c) Kids Rubber Gumboot in Pale Blue, $25 (on special), French Soda Made for playing, these sweet gumboots come in a rainbow of colours, are fleecy lined and waterproof on the outside. Quick! Some colours are half price at the moment.
(d) Paint Your Own Ceramic Pug Pot, $5, Kmart This is just too cute. You could either brave the very colourful end result and gift with the paints, or you could be mean and just gift the pot without the paints because it's cute either way! Pop a packet of seeds in too and then spend Easter Monday planting them.
(e) Pretty Bunny Night Light, from $27.99, Adairs Kids Even if your kids don't care about their rooms being dark (and if so, what is your secret?!), it's a nice addition to their bedside table for reading time.
(f) Colouring Set Animal All-Stars, $20, Tiger Tribe Car trips, restaurants, waiting rooms - or even just at home on the kitchen table, this compact activity book features beautiful colouring pages, textas and stickers. A good birthday gift too for alllll the kids birthdays you''ll be going to this year!
(g) Heritage Broadbrim Sun Hat in Stripe, $36.95, Bedhead Hats Of COURSE we put ourselves in here, but really, Easter is the perfect time for a new hat. It's holiday time, a lot of people are camping and it's that in-between temperature where you spend more time out in the sun because it's warmer than the shade. But that sun can still bite! So a hat is an essential. We have hats for every occasion, style and taste - this one just happened to go with our colour theme!
(h) Djeco Fire Truck 16-piece Silhouette Puzzle, $16.95 (on sale at the moment!), Discount Toy Company Djeco puzzles are great quality, sturdy pieces and always have beautiful images. There are sizes for all ages and they often come in interactive boxes like this which can be zoomed around the house.
(i) G.Nancy White Star Long PJ Set, $55, G.Nancy You might think us crazy for putting white pyjamas on the list. But really, PJs of any kind are a super-popular Easter gift and everyone gets excited about a new pair. Cotton On Kids and Target often have great styles - especially around Easter you'll find a bunny or 8 featured! But if you like the more simple aesthetic and want a long-lasting pair, we know from experience that these particular ones last the distance - despite being white! - and have even lasted several children. New styles will be added this week, but we can't go past the stars!
Egg Hunt
Mix up some of those yummy choc eggs with the fillable plastic eggs you can buy from craft shops and give them real surprise eggs! We used the blue/green fillable Easter Egg Hunt Eggs, $5 a tube, Kmart (also available in pink/purple)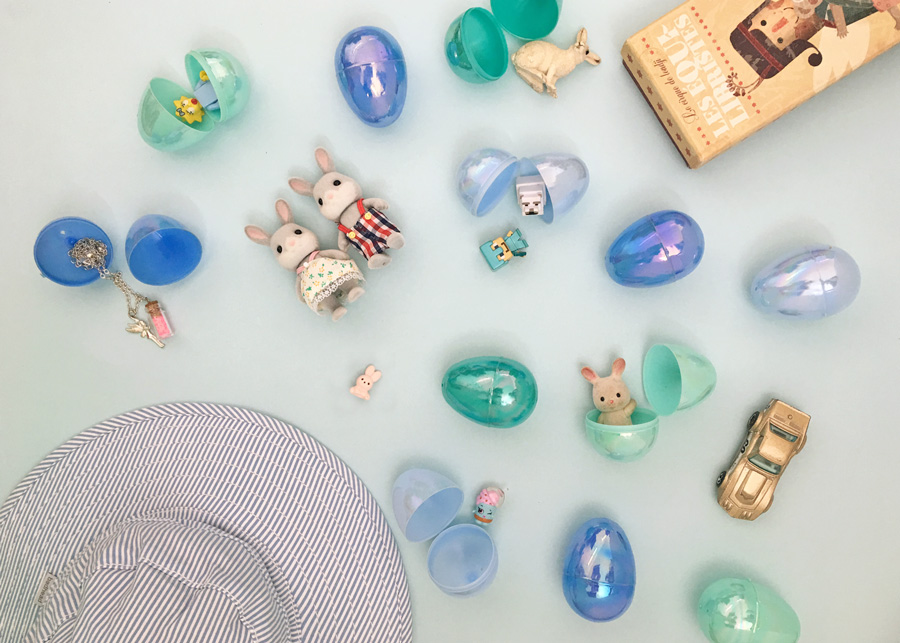 Filling suggestions:
Schleich animals (the baby animals - they're smaller AND they're cheaper. Always a plus.)
Baby Sylvannian Families - tiny bunnies are always a fave.
Jewellery - it doesn't have to be expensive, but a nice pair of earrings or cute fairy-dust necklace will get them excited!
Shopkins
Minecraft minifigures
Lego minifigures
Tiny toy cars
3 more Egg Hunt ideas
1. Hide a whole puzzle
Obviously you'd have to find the right size puzzle - not just for the fillable eggs, but you don't want to be hiding 500 pieces! But you could divide the puzzle up into the eggs, hide them and then spend the afternoon putting it altogether!
Idea 2: Hide tiny craft supplies
Got crafty kids? Stuff those eggs with little jars of glitter, gemstones, paper flowers, stickers, woobly eyes, pom poms and anything else teeny tiny. Then once they've gathered everything together, give them some glue and cardboard and leave them to it while you go and relax! (Until clean-up time, anyway!)
Idea 3: Hide cake toppers
Ok, so this idea is edible and sugar-filled, but still. It'd be fun. Fill the eggs with an assortment of lollies, sprinkles, icing flowers and other cake decorations then let them decorate their own Easter cupcakes.
Got any other ideas? We'd love to hear them!
---
Comments (1)
Brilliant ideas

1 April 2019

How exciting to have our gumboots featured with this amazing gift ideas. We love exploring at Easter!
---
Leave a comment