Whether it's charitable initiatives, donations to a cause close to your heart, considering ethical and environmental issues, or simply connecting with and helping your community, the ways in which businesses big and small can give back are endless. And the benefits far outweigh any financial outlay.

More than ever, consumers are faced with an ever-growing list of considerations before making a purchase: is it needed? Is it affordable? Is it good quality? Am I getting any extra value? Will I be adding it to landfill soon? Is it local? Is it made ethically? Is the company environmentally friendly? Is postage free? Phew! There are a LOT of questions they ask themselves. With so much to compare - and the ability to do so - sometimes the final decision on whether to purchase or not can come down to a company's philanthropy - or lack of!
Think about it: if two stores had the same product, same price and shipping price but one gave a small percentage of proceeds to a charity that helps families in need, that might be just the thing that tips the scales of the purchase in their favour. Environmental issues, the minimalism/Marie Kondo trend, the kindness movement, and a general wariness about overconsumerlism has pushed brands and companies to improve their eco-footprint and stand for something more than "sales, sales, sales!" A recent survey by Kids Business Communications discovered that 84% of mums care about purchasing products that are environmentally friendly. They're most concerned with a company's commitment to eco practicies, whether the packaging is eco-friendly, and how a product is made. In short, giving back in some small way is a big thing. So we thought we'd share some ways in which your company could leave a positive stamp on the world - and some of the ways we do so.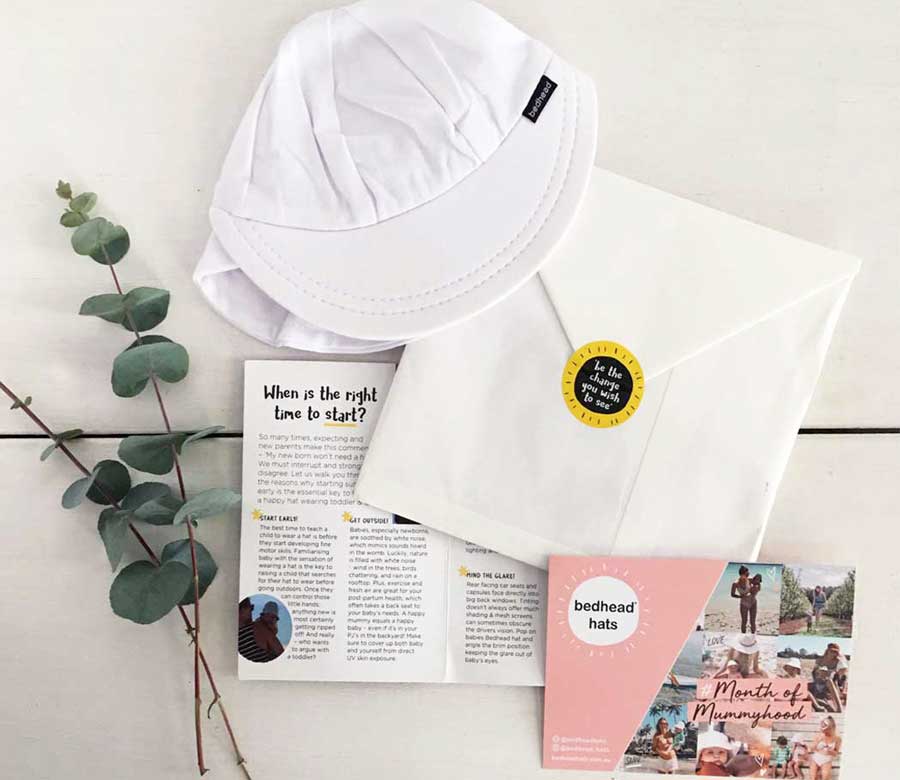 1. Create a product
If you have the means, you could create your own product to sell, gift or donate to charity to raise awareness of your company and help those in need. It could be a sweet decorative calico bag to replace plastic shopping bags you could sell for $1 and donate proceeds to a charity or cause close to your heart. It might be a branded item of clothing, self-published book or magazine - something you can create that reflects your company and has a clear charitable cause to it.
For us, Bedhead's passion is introducing babies to sun safety, so we created a special newborn hat, printed an information booklet and wrapped it up in an envelope to give away to thousands of babies around Australia each year through charities, ante-natal clinics and our own website. We use them as promotional materal or gift to other relevant companies and organisations holding events such as Babyoloy and Silver Cross.
Top tip: Create a movement or hashtag and promote your good deeds. We decided to celebrate all things mums and babies throughout the month of May - we called it #monthofmummyhood and spent the month giving away our chartiable hats, had a gift with purchase, gave away other product from our company and generated a lot of buzz and engagement around a topic that is close to all of our customer's hearts! It was a successful initative that we hope to imitate in November with a sun-safe summer-ready month for mums, bubs and kids.
2. Hold a fundraiser, sponsor someone or give a portion of sale proceeds to a cause close to your heart
You might know of someone in your community already who is having a tough time - why not be a little light in their life and host a fundraiser of some kind to help them out? Ask neighbouring stores to contribute, give away product or services, or advertise that for one weekend a percentage of your sales will go towards that particular family/cause. Advertise it on your socials to ensure word gets out - you'll be surprised how many people wish to contribute to a worthy cause.
3. Be a collection point for a local shelter
Speak to local-to-you shelters, charities or other organisations that benefit from the donations of other's second-hand goods. Many of our own charities we work with rely on the generosity of their communities to donate so they can in turn collate care packages for families in need. Offer to take in second-hand goods at your store and volunteer to make the delivery personally each month or so. Some good examples of national initatives are The Nappy Collective and Share The Dignity.
4. Buy, Swap, Sell
More often than not, mothers want quality items they can pass down to their future children or to friends and family members. Selling good-condition second-hand clothes is also a big thing in the social media world - you could help them along by hosting a kind of market every now and then in your store, or setting up a group on your Facebook page where your customers can buy, sell or swap older/outgrown items amongst themselves. We have one for Bedhead and it works really well - we often direct customers to that group when they are after something out of stock or discontinued.
5. Hold giveaways
Giving away products generates goodwill, shows generosity of your company, and attracts new customers. Have one to launch a new product or season, for a special occasion (anniversary of your store opening, Christmas), or just whenever you feel like it! We hold regular givewaways of one hat per new print we launch as well as new product launches on top of our chartiable initative. Giveaways are a good draw for engagement, followers and creating a buzz around a launch.
6. Be loud and proud about what you're supporting
If there is a theme to what you're selling in your store - organic only, eco-friendly, locally made, mum business, etc - make that known to your customer base that this is what you're supporting; that is is your jam and you are doing your best to support those issues and you hope they do too by purchasing from you.

7. Improve your ethical and environmental footprint
Do you know the backgrounds of the products you stock? Where they're made? If the people making the products are treated and paid fairly? How sustainable are the items and how is your company helping the environment? It's good to consider these things nowadays because it's such a hot topic and customers are not afraid to ask! It's not always viable to change every aspect of your life to be eco-friendly, but there are certainly small ways you can introduce these practices into your business. We produce our hats in China, yes, but it's a small family factory. We know the machinists personally, have met their kids, visit them every year, know they're happy, healthy and are living a comfortable life. They do a great job with the production of our hats and are open to helping us keep things a little more sustainable too. We ask the factory to ship our hats with as little plastic as possible - and we reuse those bags and boxes for our wholesale orders when they arrive. We do everything we can to not create excess waste and have recently just started using Better Packaging Co for our retail orders. The compostable bags can be reused, used as planters for seedlings or can be placed in with green waste where they'll eventually break down and not create excess landfill. If you have a store, there are other ways you can improve your environmental footprint: use paper tape instead of plastic when you wrap, look into recycled tissue paper or even beautiful fabric scraps for wrapping!
8. Give away seconds/discontinued/old stock
Sometimes there are things that just don't sell - slow sellers, discontinued items, seconds... Rather than get frustrated by their inability to move, give them away. We recently found homes for our discontinued range of school hats with a local children's services that makes care packages up for fostered children during the holidays. A local kids camp also took some for their little participants - they're appreciative of your generosity, and you know it's gone to a great cause.

9. Share, teach, work together
"Do not covet your ideas. Give away everything you know, and more will come back to you." Paul Arden, an advertising and motivational guru, believes the more you give away, the more comes back at you. So by sharing your wisdom, your ideas and your skills, you're forced into looking for more ideas, wisdom and skills to fill that void. In a business sense, you could do much with this advice - we are doing it right now with our Biz Tips series and support of our stockists. If you have a secret skill related to your business, look at ways you can share that. Perhaps you could offer decor advice for kids rooms if you sell a lot of children's furniture. Maybe you're a strip shop with a bunch of great businesses that could hold a VIP shopping and information night - discounts for those who attend, free tea and biscuits and maybe even some free advice from local experts along your strip. Look at running a workshop or teaching a course on something you have a lot of knowledge on. Work with your community, within your business genre and with your competitors occasionally and you'll find good things will come of it!
However you do it, giving back will always come back to you in good ways. Of course, we've barely scratched the surface on the number of ways you could do it. We're sure some of you have some great ideas of your own that you're already implementing - we've love to hear them! Let us know in the comments. And always talk to your financial advisor first to see what is needed and what kind of tax benefits you might be entitled to. Until next month!
Did you miss: Bedhead's Biz tips 1: preak-season prep