Behind every success, there's a story. And with all stories, there's euphoric happiness and soul-searching lows. This is the condensed version of our story – and it has a happy ending!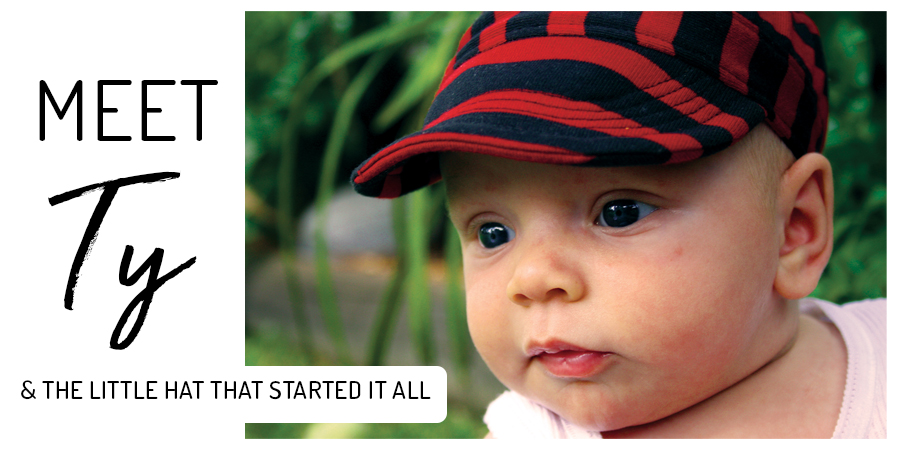 It all started with a little baby boy, Ty, and a hat that I made for him. We would receive so many sweet comments from people about his little hat. So much so, that I made some for my mother's group friends. They loved them and received the same wonderful feedback wherever they went.
Some of the markets and expos Bedhead has exhibited at throughout the years.
Now their friends wanted hats too. I started a little online marketplace page and sold them online. Created a few new styles – the Bucket and Legionnaire. They were selling well – to complete strangers! However, orders were just dribbling in so I headed to local markets to get in front of more people. This was a huge success – I even scored our 1st stockist! But it was HARD work doing markets and expos every weekend whilst working three days a week and parenting a toddler. Something had to change - I was constantly exhausted!
Bedhead's very first photoshoot and some of our first little hat wearers
In my professional career, I worked in ladies fashion manufacturing & wholesaling. I knew for my hats to reach more customers, they needed to be in stores all over Australia. In February 2011, I created my first full Summer collection, had it photographed and locked in sales agents to represent Bedhead Hats. We secured over 30 pre-orders for the collection – I was over the moon!
I used all of my savings to place our first factory order in China - $10K in total! The samples were beautiful. The bulk arrived and opening the boxes, my heart sunk. Every chin strap had been sewn in back to front – the toggles were facing the wrong way. I cried for a long while. My hubby hugged me and said, "We can just call it a loss, dump them and move on if it makes you feel better?" But my stubbornness pushed him away and gave him that stink-face that I'm sure you know of. Unpickers in hand, we removed and reattached thousands of chin straps through the night. For months. It nearly killed me, but it also showed me how much I believed in these little hats.
All great businesses started at a dining room table!
By some grace of the universe, I was connected with my business mentor and now friend, Tanya Titman. I had won a business mentoring scholarship and Tanya was the financial mentor. An incredibly successful accountant and businesswoman herself, I was in awe and hung on her every word. All of the barriers I had in my head in terms of money and success – she broke down quickly. I can honestly say that without Tanya's guidance, Bedhead Hats would not be where it is today.
Bedhead HQ has increased as the business has. From a storage unit, to a purpose built backyard studio, to an industrial area warehouse.
As great as it was to have stores stocking our hats, I knew we still had so much potential. In 2015 I hired my first staff member and we went about creating our website. It was fantastic that no matter where a customer lived, they could access our hats easily online. Before long, we had four staff and couldn't fit into my little backyard shed/office anymore. Growth in business is great, but if you grow too fast, it can be really painful (think pregnancy and stretch marks!) We moved to a factory bay in an industrial park and grew to a well-rounded team of eight.
Our new-look premises are on a rural property with plenty of fresh air, visiting wildlife and beautiful scenery. We are lucky to work here!
Another move was imminent and as everyone knows – moving is awful! I knew this wasn't a hamster-wheel I wanted to get stuck on. This was my business and I could make the rules. Heck, I could just throw out the rule book! I remembered what I loved most when starting out my business – working from home. I walked my son to school every day. I could duck out for those special presentations. I was home for deliveries or tradies. My home-life and personal-life were integrated – rather than being opposed to each other. I wanted that back again. And if I wanted it, well it's likely my staff wanted it too. In November 2019, we transitioned 70% of our workforce to a working-from-home arrangement. And we all know how 2020 went down – again by some grace of the universe, we experienced very little disruption to our workplace and business throughout COVID-19.
All dressed up for our 10th birthday party!
On one of my many 10-hour drives to Brisbane for a baby expo, I listened to an audiobook that changed both Bedhead and myself. Start Something that Matters by Blake Mycoskie was the catalyst for our purpose programs – Month of Mummyhood and Sun-safe for Life. To date we have given away over $700,000 worth of newborn baby hats to families all over Australia in only the last four years. Through partnerships with community projects and charities, our little hats reach mums in need and those in the most remote communities. Starting life sun safe isn't a privilege – it's a right for everyone. This year we will give even more by partnering with BaoBag so our little hats will be gifted to new bubbas in hospitals all over Australia.
Good story hey? I told you it had a happy ending! But really, I consider this happy ending just the beginning.
We're 10 years in and I feel like we've just 'worn-in' the perfect pair of jeans. The world is screaming out for Bedhead Hats, I just know it! And we're ready to really hit our strides, aim big and reach our full potential. Because in the right pair of jeans, these girls can conquer the world.