Over the years we've garnered helpful tips in all aspects of running a business which we'll be sharing here with our lovely stockists each month! Enjoy!
Being a hat company, our busiest time of year is always going to be spring and summer! But with Christmas crammed in the middle there, and with most brands launching new products in the spring, we're guessing it's also your company's busiest time of year. So now is the time to start prepping for peak sales season. We've highlighted three areas you can work on right now before things get crazy - being an admin queen, getting creative with visual merchandising and making the most of your website imagery. Here we go...
1. Be an admin queen
There are a few behind-the-scenes things you can work on to ensure you're giving customers the best information, product and customer service you can!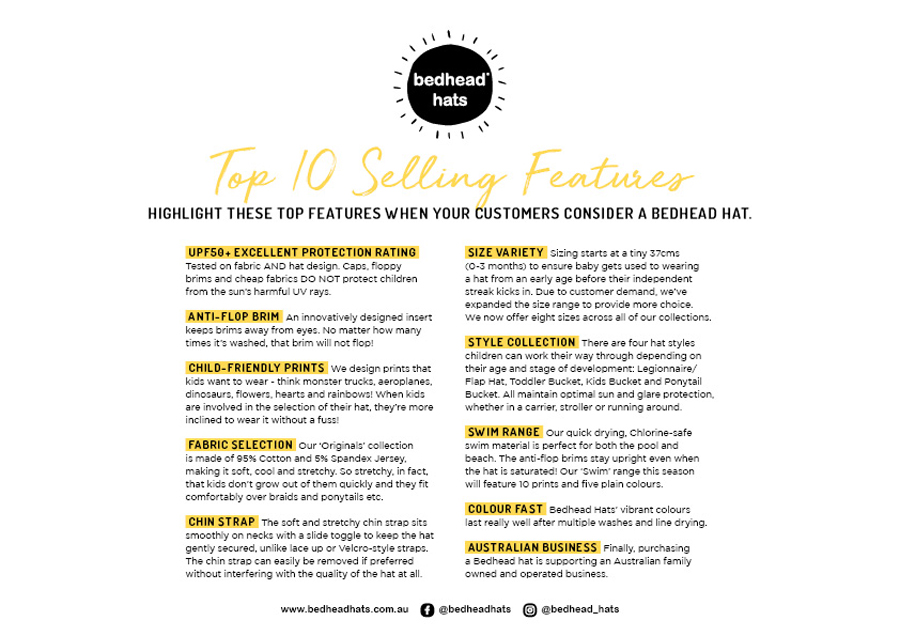 * Get to know your products Really know them – understand what they do, what they're made of and be able to rattle off the unique selling features. Predict the best-sellers and keep an eye on trends so you can push your items that fit those trends if you have them. Know how to care for tricky items (for example, we recommend people use wash bags for our hats to avoid the chin straps tangling). Become the expert on whatever you're selling because customers will ask you questions and you want to be able to point them in the right direction or make the right recommendation. With your wholesale order that you receive shortly, we've included a laminated card explaining our top selling features (pictured). And if there's something else you want or need to know, ask away!
* Order right Have you ordered the popular sizes and styles that are guaranteed sales? Find out what a brand's best-sellers are and work around those. If you need a top-up of hats, in-season orders can be placed via our wholesale portal. At Bedhead our most popular sizes are:
Legionnaires: 42cm, 47cm, 50cm
Toddler Buckets: 52cm
Ponytail and Classic Buckets: 54cm
And our best-selling hats are usually solid colours! While our prints sell out fast, our core stock of plain-coloured and novelty hats sell well all year round – they go with everything, suit more people's tastes and never go out of style.
Our most popular:
Blush
Grey
Denim and denim ruffle
White (especially in newborn legionnaire)
Chambray
* Keep on top of your stocktake We recommend – from personal experience! – to conduct regular stocktake of your products. Wrong counts often mean unhappy customers. Aside from the big yearly/half-yearly check, it's ideal to double check stock in small batches every few weeks. Particularly if you have an online store and bricks and mortar business!
Further reading: The differences in our hat styles
How to get kids to keep their hats on – without superglue
2. Put your stylist hat on – visual merchandising tips to get shoppers shopping
A little bit of visual merchandising can do wonders for business. All it takes is one really great visual to draw someone into your store for more - then it's up to your products, customer service and overall vibe of the store that converts them to buy. If you're an online-only store, don't discount these ideas – many can be adapted for flatlays and mini photoshoot sessions in your home to create great images for your social media accounts or website. And one little set up can be photographed from different angles giving you bonus images to use.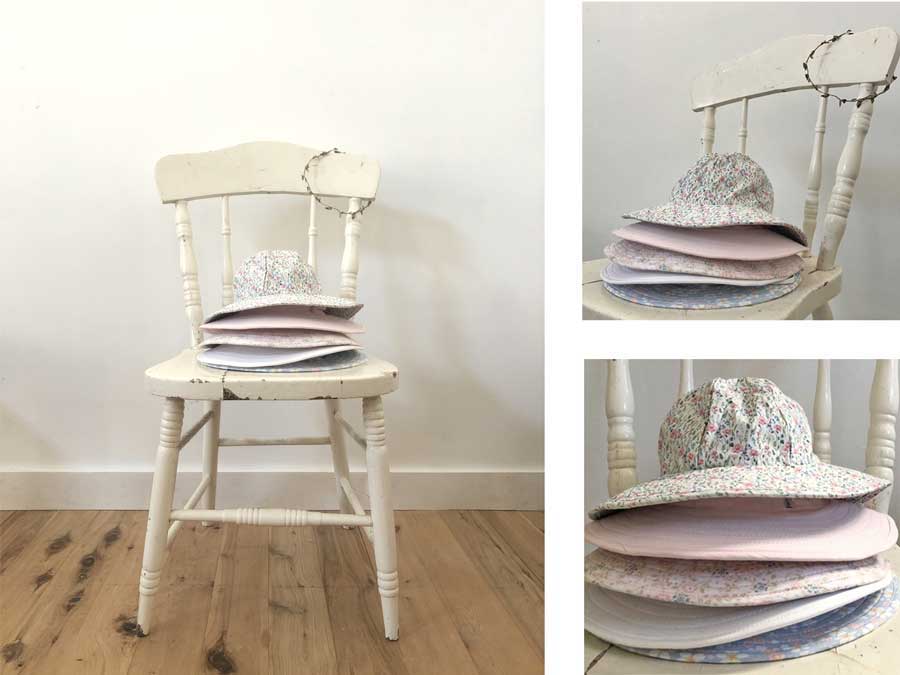 * Think vintage Window and store displays can be made to look great with very little financial outlay – hit your local op shops for great affordable pieces you can work into your store to show off your wares like vintage chairs, tables and wardrobes. A bit of chalk paint will make anything look great! And seeing items in a setting similar to how they may be in their own home is a good selling point. A hat casually sitting on a benchseat with a stack of books makes it feel a little more homely than shopfront.
* Dress up your windows In a physical store, look to make a statement with your windows as the first introduction to passers-by. If you're nervous about where to start, simple is best: look for common themes in your products – like a popular colour or motif - and create a display around that to tell a story. Or take advantage of the prettiness of springtime blooms and fill your window with all the floral things! Our Cherry Blossom and Bees are good ones to use in a Spring-themed window. Paper flowers are simple to make and always look great en masse on a wall, in a window or hanging from the ceiling. You can carry your theme in-store somewhat around your counter area or on display shelves.
Tip: All your efforts will pay off in social media posts too – take lots of pictures of the process of creating the displays, quiz your followers on Facebook or Instagram about which colour or theme to feature this month, and then of course take lots of close-up images and pulled-back shots to use throughout the season.
* Get creative Fallen branches from your garden hanging from fishing wire make great floating clothes racks for pretty clothes on sweet wooden or cane hangers. Second-hand wardrobes and sideboards make great display cases for cute baby and kid things – pull the drawers out and poke some softies in them with great books propped up behind them. Hang a hat or kid's bag off the drawer handle. Folding screens and ladders are great backdrops and can be home to throws, muslin wraps or a beautiful dress on a hanger.
* Style it up While it's great to have all the like products together, one or two vignettes instore that can be changed up every few days is a great way to spotlight certain items. For these styled set-ups, make sure there is some kind of story or that the items relate to each other in some way. Maybe it's things you could take on a picnic, or fun things for Dad-and-kid with Father's Day coming up. Ensure the colours and materials work well together and there is a good mix of shapes, sizes and heights. Overlapping items slightly and using an odd number of items is a good rule of thumb to stick to when styling anything! Have fun playing around with pieces to create different settings – and photograph everything!
* Don't forget the kids! If you're a children's store or selling kids goods, try and make your store pram and kid-friendly. There is nothing worse than being uncomfortable in a store because you can't move around easily! It's a barrier to a sale, so ensure your the layout of your store flows well all the way through. If you have the space, create a little area for the kids to sit and colour in or play with some of the items you sell in your store.
Ways to display our hats
Hat stands are the simplest way to house our products and we do offer them to our wholesalers – but it's nice to mix it up a little with some other ideas throughout the store…
DIY display walls Why not borrow from a popular interiors trend – hat walls – with your own spin on it. Simple hooks in rows are the simplest way, but to make more of a feature, try these ideas:
$ Wooden pegs and thin rope – simply tie the rope between two wall hooks or nails and peg the hats on. We have so many prints and colours you could display them in rainbow order. Or, just choose the styles that best work with the rest of your store.
$$ Peg board – the classic workshed's pegboard can easily be erected instore and s-hooks, dowel or even decorative cupboard knobs used to hang hats from. Mix it up with some shelves or hanging cubes, paint the pegboard to match your store or even frame for a bit of interest. Hang hats, jewellery, bags, clothes hangers, picture frames and scarves.
Hat stacks Our customers love a good hat stack! Using larger hats on the bottom and a nice mix of prints and plain-colours, create a sweet stack of coordinating hats and leave casually on a chair or table for customers to peruse.
Further reading: The basic principles of visual merchandising
3. Make your website images work better for you
Images do more than just show people what they're buying – they draw customers in, make or break your website's load time, and can help with people finding you too! Our web guru Dani has these top 5 tips...

1. Keep your category page imagery uniformed for a better user experience For example, stick to either product shots or lifestyle shots rather than a mix of both. If you choose product shots for the category page, you can use the lifestyle images on the product pages.
Tip: If using product shots remember to drop the background to white to help create a uniform look (Bedhead's product image backgrounds are dropped to white for you!).
2. File size matters! You need to strike a balance between quality and size. Smaller image file sizes help to keep your website load time down (ideally less than 3 seconds). If customers have to wait too long you're at risk of losing them. See how your site performs here
To decrease the size of images, try these steps in Photoshop, using the "save for web" option and adjust:
Quality: Find this in the top right-hand corner
File format: Find this in the top, right-hand corner. We recommend .jpeg for product and lifestyle images.
Optimization: Find this checkbox in the top, right-hand corner
Color: Find this checkbox in the top, right-hand corner. Use sRGB image profile for web images.
Downsizing: Find this in the bottom, right-hand corner. Using the width and height options can reduce the file size.
Expected file size: You can preview the new file size in the bottom, left-hand corner.
Tip: Make sure you check the preview to ensure your image has maintained its quality.
3. Utilise the image editing programs available It's not just all about Photoshop! Adobe has a more affordable image editing application for smartphones and tablets called Photoshop Express. This tool doesn't have all of the capabilities of the desktop version of Adobe Photoshop, but it covers all the basics of image editing. Other alternatives are PicMonkey, PIXLR and Canva.
4. Meet customer's expectations Customers expect to see clear imagery from multiple angles on each product page.
Tip: Bedhead supplies our wholesalers with a minimum of 3 x lifestyle images PLUS 6 x product images (front, side, back, chin strap, swatch and return label) of each hat.
5. Make your images SEO friendly When it comes to image SEO it's important to use relevant keywords to help your web page rank on search engines. Search engines don't stop at crawling the text on your webpage, they also crawl your image file names, so make them count.
Further reading: How to set up your own affordable home studio for product shots
Anything about business or Bedhead you're curious to know? Ask away in the comments and we'd love to hear your own top season-prepping tips!
Next month: Building a community with your business