All about our Heritage collection
Date Posted:5 March 2019
---
We're well known for our bright and cheery prints in our famous Originals and Swim collections, but we felt there was something missing in our range. We wondered: what about the more subtle stylistas? The kids (and their mums!) who like their patterns a little more muted and their colours a little toned down? We wanted to create a hat for them too! And so Heritage was born. But it was quite the long labour to birth this baby!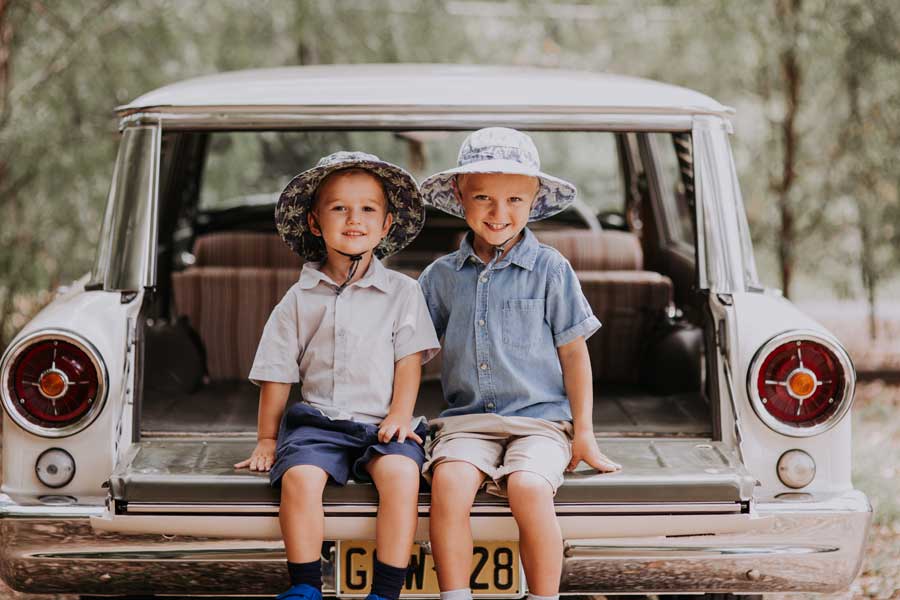 In fact, it took more than a year to go from idea to launch, which was early last month. Nutting out the new pattern in the new fabric took the best part of a year. Then we had to actually decide on the colours and design the prints which was done in October last year. Then it was off to manufacturing and the long wait to get the samples back into our hot little hands for photographing on very cute models. And THEN, once the huge crates of product arrived in the warehouse, we could finally add them to the online store where our lovely customers snapped them up!
The response to Heritage has been incredible - you love it! Which is a great relief, because we do too! But it IS different and we want you to be aware of that. We have included all the famous Bedhead features such as anti-flop brims, UPF50+ Excellent Protection and adjustable chin straps, but we have all new styles, prints, colours, fabric and names. Phew! Here is a little run down of the main differences for you.
Heritage Woven Cotton fabric vs Originals Cotton Jersey fabric
The main difference with Heritage is its fabric. It's a little more luxe and is silky to touch, while the Cotton Jersey we use in our Originals range is allllll about the stretch and comfort. Heritage's cotton woven fabric has an eight-way stretch, but it just doesn't stretch quite as much as our Originals and Swim ranges. So don't choose a size based on what you're used to, get out that measuring tape and begin again! Once you know the size, we suggest purchasing the next size up to allow extra room for growth if you're wanting a longer-lasting fit. For example, if your child's head circumference measures 54cm, you should go the 56cm, giving you plenty of future wear.
Top tip: Check out our video on how to measure your child here.
Heritage Broadbrim Sun Hats vs Originals Bucket Hats
Our Heritage collection introduced you to a brand new style of hat for the bigger kids: the broadbrim sun hat. Featuring a more upright brim with a little more depth to it, the Kids Broadbrim provides more protection to the shoulders, neck and chest, as well as the face and head. It's a classic style with a modern edge thanks to its extra stitch detailing around the brim, ensuring it doesn't flop. In comparison, our Originals Classic and Ponytail Bucket Hats have a more angled brim that sits around the face a little more. They also have a bit more flexibility in the brim as they don't have that extra stitching. Both of the girls versions have ponytail slits and we especially love the almost yesteryear feel of our Heritage Ponytail buckets with their deep panelled crowns and wide brims - very ladylike!
Top tip: Heritage is the perfect choice for special occasions - weddings, Easter egg hunts and birthday picnics... or when you just want to feel special in the everyday!
Heritage Baby Flap Hats vs Originals Legionnaire Hats
Yep! We changed the name, but that is really about it in terms of differences, aside from the fabric, of course. But we thought we'd take this opportunity to remind you that either of these hats are what we recommend as baby's first hat. They're light, comfortable and so soft babies don't notice they're wearing them. They're also specifically designed to be worn in prams and baby carriers - the flap lies flat under baby's neck when they're in a pram and doesn't bother them at all.
Top tip: We have whole system of hat styles that grow with your child and keep them sun safe throughout their childhood. Babies should start with the legionnaire/baby flap hat style then work up to a Toddler Bucket/Baby Bucket then onto the Kids Broadbrims or Bucket styles. The sizing availablility of our Heritage Collection reflects this system with fewer larger sizes of the Baby Flap Hats and no newborn sizes of the Toddler Buckets.
Heritage's subtle and earthy prints vs Originals bright and cheery patterns
Heritage is your go-to for patterns and colours that are little more toned down. We joke that it's the range that keeps kids AND mums happy, while our Originals are louder, busier and made up of prints that kids want to wear. For Heritage we were mostly inspired by nature and designed a collection of timeless classics like florals, stripes and palms for our launch. Colours are more muted and easy to pair with almost everything.
Top tip: Our prints are just the right blend of busy enough to be the stand-out of an outfit, but subtle enough to be worn with other patterns. Mix and match with linens, muslins and crisp cotton for super style.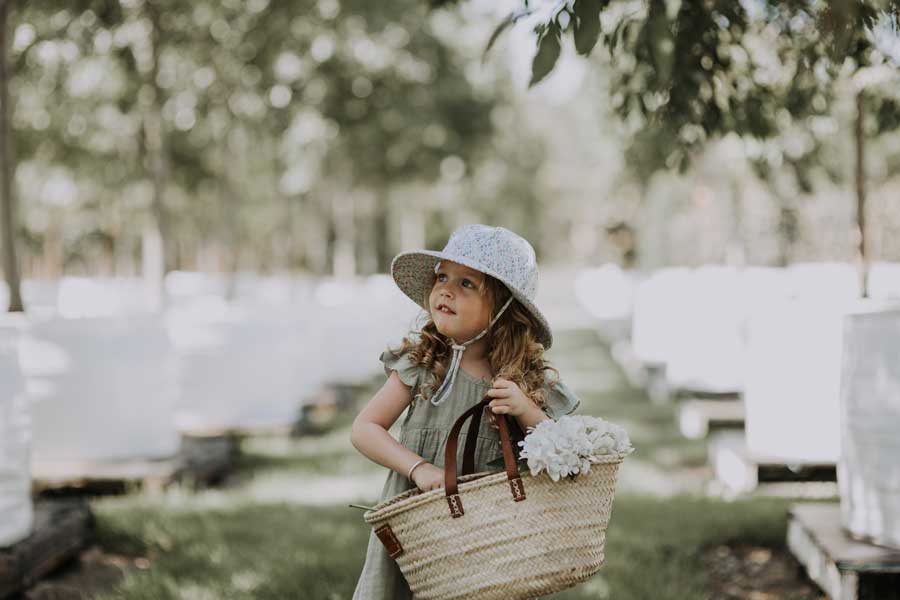 What do you think of our new collection? Have we covered all styles, tastes and needs now do you think? And more importantly, what's your fave print? We're struggling to choose just one!
You can shop our Heritage collection here.
---
Leave a comment